Tzatziki sauce- Mmmmh, sounds delicious, yeah? You can call it a dipping sauce, a creamy salad, or salted yogurt filled with tons of flavor. You must have enjoyed it at a Greek restaurant and craved to try it at home. On that note, here's the guide to an authentic Tzatziki sauce recipe that simply comes together in just under 20 minutes!
Ingredients like fresh cucumber, Greek yogurt, and dill weed- all of them come together in just one bowl. So, let's get going!
How To Make Tzatziki Sauce At Home- Step-By-Step Guide
Creamy, decadent, and crisp Tzatziki sauce is an excellent complement to pita bread, gyros, kebabs, roasted potatoes, or anything whatsoever! So, follow our step-by-step guide to make the best Tzatziki sauce you have ever tasted!
Preparation time- 10 minutes | Cooking time- 00 minutes | Additional time- 05 minutes
Step 01
Get ready with the required ingredients and equipment.
Spices and herbs needed:
One to two whole garlic cloves
1/4 teaspoon of ground black pepper (you can also use ground white pepper)
One tablespoon of freshly chopped dill weed
Other Ingredients:
Two cups of Greek yogurt (regular yogurt is also good to go, but Greek yogurt gives the ideal creaminess)
Half of an English cucumber
One teaspoon of white wine vinegar
One tablespoon of extra virgin olive oil
One teaspoon of kosher salt (divided)
If you are curious to know what this Tzatziki sauce really is and what ingredients make it so unique in flavor, click on this link and read this article.
Required equipment:
A mixing bowl
A garlic mincer
Box grater
Cheesecloth or a mesh strainer
A wooden spoon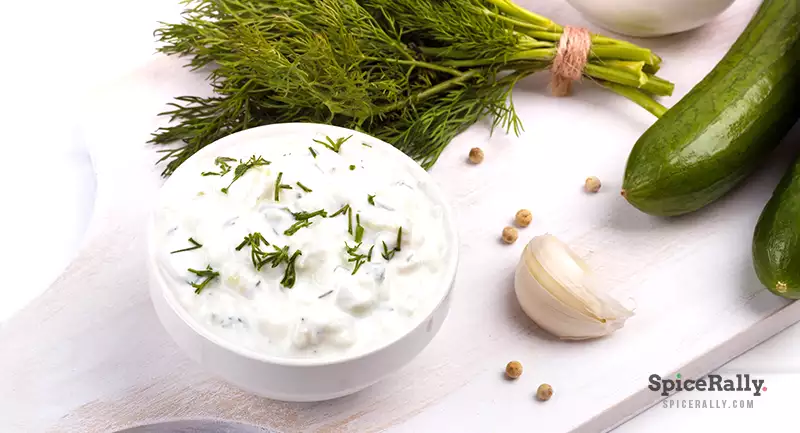 Step 02
Peel the cucumber and grate it using the box grater (a regular grater works too). Sprinkle half a teaspoon of salt into the grated cucumber and set aside.
Step 03
Roughly chop the garlic and put them into the garlic mincer along with the olive oil. Mince them together until well blended. Then, keep it aside.
Step 04
Empty the grated cucumber into the cheesecloth or the mesh strainer. Squeeze out the juice of the cucumber into another bowl.
Did you know that homemade mojo sauce is as flavorful as tzatziki sauce? So, if you need to try this at home, click on this link and get the complete step-by-step guide.
Step 05
Now, in a mixing bowl, incorporate Greek yogurt, strained cucumber, garlic-olive oil mixture, white wine vinegar, black pepper, and the remaining amount of salt.
Step 06
At last, mix in the chopped dill weed and give a good mix until everything is creamy and well-combined. Do the taste check and add more salt and pepper if needed.
Tasty Notes…
We have just taken the minimum amount of garlic in our Tzatziki recipe. But, if you think you need to go with more garlic, go ahead and use about four cloves.
Instead of mincing the garlic with olive oil, you can also finely chop them. If you go that way, mix the olive oil with the rest of the ingredients.
If you like a more chunky bite of cucumber, you can chop your cucumber into small pieces without grating and strain them afterward. 
This sauce is best served cold. So, put it into an air-tight container, refrigerate, and use it within four days.
When serving, drizzle some extra olive oil for added flavor and texture!
Related Topics