Sometimes you may run out of your favorite Tzatziki sauce and worry about not having an accompaniment to your pita or kebabs. Hence, the Tzatziki sauce substitutes that we will bring to you from this article will come to the rescue!
The best possible alternatives that you can use instead of Tzatziki sauce include the following:
So, let's dig into more information to see how these easy swaps will work for you.
The 6 Best Tzatziki Sauce Substitutes
Rich, creamy, and refreshing Tzatziki sauce is a popular condiment around the world for its amazing ability to work as a great appetizer. The traditional Greek sauce usually comes together with ingredients such as:
Greek yogurt
Cucumber
Olive oil
Vinegar (white vinegar/ white wine vinegar) or lemon juice
Garlic
Salt
Consequently, the alternatives listed below will give a closer flavor to this condiment. Check them out and pick your favorite.
01- Ranch Dressing
Ranch dressing usually comes with a thick and creamy texture which is very similar to our topic leader. And the classic ranch dressing would typically include ingredients such as:
Buttermilk/ sour cream/ mayonnaise/ yogurt
Onion powder
Black pepper
Parsley
Dill
Chives
Salt
Distilled vinegar
Oil
The flavor of this alternative is also very comparable to Tzatziki sauce, so it goes really well with vegetable-based dishes. 
However, this substitute will not be so favorable with meat-based items like gyros or kebabs, and you don't usually get to savor the cucumber in it. But it is still good to go as a side dip. Ranch dressing is readily available in any store, and you can easily put it together at home.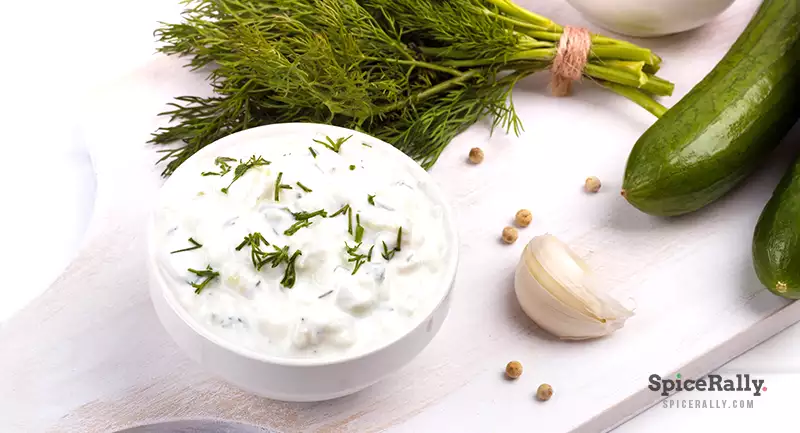 02- Lebanese Tarator Sauce
Coming from the same root, Lebanese tarator sauce is like the Lebanese version of Tzatziki sauce. This option has many variations, but the Lebanese tarator can be considered the closest variety to our topic leader.
The base of this substitute is tahini sauce which brings a creamy consistency to it. It is then mixed with lemon juice, garlic, parsley (in most recipes), and salt, which gives a similar flavor replication to our subject leader. However, in this option also, you won't be getting the cucumber.
Moreover, you will also savor a more nutty flavor due to the sesame in tarator sauce. Nevertheless, this is best used as a Tzatziki replacement for fresh vegetables, pita bread, meat, and seafood dishes.
Tahini is the main ingredient used in tarator, and do you know how tahini differentiates from Tzatziki sauce? Click on this link to learn how exactly these two are distinguished.
03- Hummus
Hummus is another viable option when you can't find or don't have our topic leader. In fact, this is a popular food among the vegan community and is often used as a condiment.
This substitute shares the same texture and a comparable appearance with Tzatziki sauce. But this could be different in flavor since it is made by combining tahini, garlic, lemon juice, and olive oil.
Accordingly, you can get the same tangy and garlicky bite from this alternative. There are a lot of ways to use hummus. And its rich flavor profile works well alongside fresh vegetables (carrot, cucumber, celery), flatbread, sandwiches, etc.
Are you interested in learning some interesting ways to use Tzatziki sauce? If so, click on this link and refer to this article for more information.
04-Tartar Sauce
Tartar sauce is never out of the question when it comes to the possibility of replacing our topic leader. It is versatile and comes with easy accessibility to buy from any store and to be made at home.
This is a white sauce usually made with:
Mayonnaise (Greek yogurt can be substituted for homemade options)
Chopped pickles (dill, cucumber),
Lemon juice
Mustard
Capers
Herbs (dill, parsley, tarragon)
You can get a similar savory and creamy flavor from this alternative that you usually get from our topic leader. However, this option is great with seafood like salmon cakes, fish filets, or even as a side dip with crispy baked vegetables.
I think one of the terrible things today is that people have this deathly fear of foods: fear of eggs, say, or fear of butter. Most doctors feel that you can have a little bit of everything

Julia Child
05- Sour Cream + Cucumber
If you can't literally find anything else mentioned in our list but have some sour cream and cucumber at home, these two also can make you a viable substitute! All you have to do is to mix chopped or grated cucumber with sour cream.
For added flavor, you can throw in a pinch of garlic powder and season with some salt and black pepper. This combination can make an excellent Tzatziki sauce replacement for gyros, pita bread, chips, kebabs, vegetables, etc.
Just like these alternatives helped to bring out the flavor of tzatziki sauce, there are a few substitutes that could work in place of kimchi. Click here to discover them all!
06- Homemade Tzatziki Sauce
If you expect to have the exact taste of the Tzatziki sauce which you enjoyed in a restaurant or some other place, the best possibility is to make your own. In fact, this condiment is very easy to make and comes together in a few minutes.
Above all, you can customize it based on your taste preferences and enjoy it in whatever way you like.
So, are you interested in having the goodness of a fresh homemade batch of Tzatziki sauce? If so, click on this link and follow our step-by-step guide.
You Just Discovered The Best Tzatziki Sauce Substitutes!
There's nothing quite like Tzatziki, but you can always count on these substitutes whenever you can't find the original item around. Lebanese tarator sauce, ranch dressing, homemade Tzatziki sauce, hummus, etc., can give a similar flavor experience just like what you get from our topic leader.
Related Topics
5 Best Ways To Use Tzatziki Sauce For A Tasty Divulgence!