A little bit of guac here and a little bit of guac there- in fact, this magically-flavored dip can be the ultimate way to satisfy your food fantasies! Thus, let us show some amazing ways to use guacamole that goes beyond the ordinary.
You can make a step forward and enjoy guacamole in the following interesting ways:
We know you are super excited now- so let's jump right into the article without wasting any more time!
7 Amazing Ways To Use Guacamole
Guacamole is actually one of the best ways to enjoy avocados if you are a true avocado fanatic. In fact, it is an utterly effortless and inexpensive way to add healthy fats and a massive amount of nutrition to your daily diet.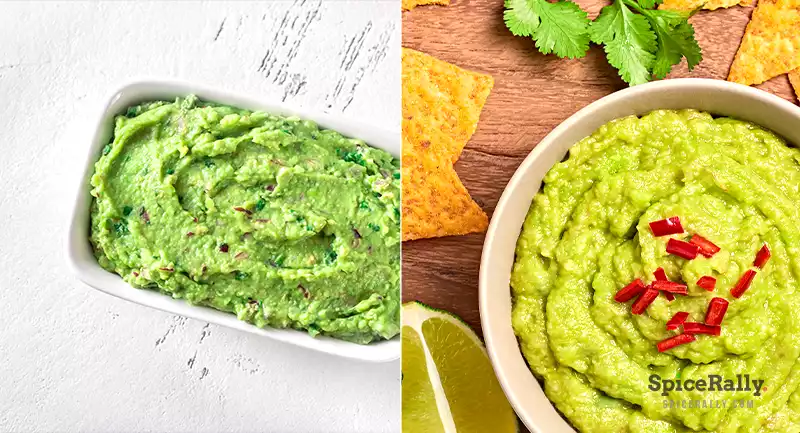 If you are obsessed with this delicious dip, you must be thirsty to find new methods to incorporate this with your food in every possible way. So, all we have to say is not to be afraid to be experimental with guacamole. 
Now watch how the creamy and decadent texture of this condiment, combined with all the good flavors, can make a heavenly, healthy treat for you and your family each day.
01- Top Your Burgers And Pizzas
Back to our topic- "amazing" ways to use guacamole! So, yes, you can use this dip to top your burgers and pizzas as well. If you eat guac with your burgers or pizzas, we are sure you will never return to eating them the ordinary way.
In fact, you can add our topic leader to any burger- grilled chicken burgers, bacon burgers, cheese, and veggie burgers; you name it! Make sure to use different types of cheese like sharp cheddar, pepper jack, Monterey jack, etc.
In addition, brush some smooth guacamole on top of your classic pizza slices (it is better if your pizza has a lite topping). Or else, you can use this as the sole topping of your pizza with some extra cheese, garlic powder, onion powder, and dried oregano.
02- Use As A Filling For Deviled Eggs
Did you know that eggs and avocados are such a tantalizing combination? Well, then, you can never go wrong if you use guac as a filling for your deviled eggs!
There are actually two ways to use this condiment with devilled eggs. You can prepare them the standard way and then garnish the eggs with a spoonful of guacamole. Or else, skip the conventional mayo-mustard filling, combine the egg yolks with guac and use it as the stuffing.
You can use pepper powders like cayenne pepper, chili powder, or paprika with a pinch of turmeric and garlic powder to spice up the filling. In addition, you can also mix some sour cream or cream cheese to improve the consistency.
What is guacamole actually made of, and does it have any gluten-related ingredients? All the answers to your doubts about this tasty dip lie right in this post. Click here for more details!
03- Mix Into Salads Or Use As A Salad Dressing
Are you a plant-based eater obsessed with salads but bored with the same old recipes? Worry not- guacamole can give a delectable avocado fix even to basic salad recipes.
Just toss a spoonful of this condiment into your vegetable salad. This also goes well with classic Caesar salad, egg salads, chicken salads, pasta salads, and cooked noodle salads. You can also blend this with olive oil, cream and add more seasonings to make a perfect, creamy salad dressing.
If you have nothing but love for your avocados, and you take joy in turning them into guacamole, all you need is someone to share it with.

Jason Mraz
04- Combine With Pasta Or Spaghetti
This is obviously one of the tastiest guacamole uses if you are a noodle lover. You can simply toss some from this with cooked macaroni, pasta, or spaghetti. Incorporate fresh jalapenos, cooked bacon, or ham for an extra punch of flavor. Try the same technique with even whole-grain pasta, noodles, or spaghetti for a healthier meal.
Do you know that guacamole can be kept in the refrigerator for up to three days when stored properly? Click on this link and read this article to learn more tips and tricks to keep your guac nice and fresh!
05- Enjoy With Sushi Rice Cake
Rocking it for all sushi lovers, our topic leader can be ridiculously good with sushi rice cake in the most unexpected way! You can enjoy any type of sushi cake- spicy, crispy, or sushi cake with smoked salmon with a dollop of guac. Just top your cake with a spoonful, dip it in soy sauce as you would normally do, and enjoy! You can also try sushi burritos for an extra-special family treat.
06- As A Healthy Dip For Fresh Vegetables
Are you following a healthy diet these days, avoiding all those junk food as snacks? If so, guac can be a tasty piece of news! You can use this dip to enjoy fresh vegetables like carrots, cucumber, celery sticks, and bell pepper whenever you feel like having a snack.
And, when talking in terms of veggies, you could also use our topic leader with steamed broccoli, cauliflower, green beans, etc. Moreover, chunky guacamole can be an excellent accompaniment with oven-baked potato wedges or roasted sweet potatoes. Try them out, and let us know your experience!
Do you want to make your own chunky guac to eat your crunchy vegetables? Then click on this link and refer to this article to get our step-by-step guide to making the best guacamole recipe!
07- As An Accompaniment For Shrimp Cake, Fish Cake, Or Vegetable Patties
Tantalize your senses with guac whenever you eat fried food like fish cake, fried fish, shrimp cake, veggie patties, french fries, etc. The creamy and flavorful taste elements of this dip will complement the crunchy nature of these fried foods taking your snacks to a whole new level!
Rock Your Meals With Guac!
Insanely good guacamole can be literally the best way to make a tasty twist to your regular dishes. If you sub the typical deviled egg filling, incorporate it into pasta and spaghetti, top your burgers or pizzas, stuff baked potatoes or even enjoy fresh vegetables with this condiment.
Related Posts