Mac and cheese essentially fall into the comfort food zone thanks to its incredibly satisfying nature. So, if you were wondering how to spice up your macaroni dish, here we cover the best spices for mac and cheese in this article.
You can elevate the zing of your mac and cheese by incorporating the following spices:
We know you will never go wrong with these spices on your macaroni. So, read further to check out which ones are the best!
11 Best Spices For Mac And Cheese.
Mac and cheese is indeed a heavenly treat that brings so much joy to your table without too much effort. But your favorite dish doesn't have to be the same every day. 
Thus, you can use spices to add tons of flavor to mac and cheese. Depending on your preference and the nature of the dish, you can pick the best flavors for you.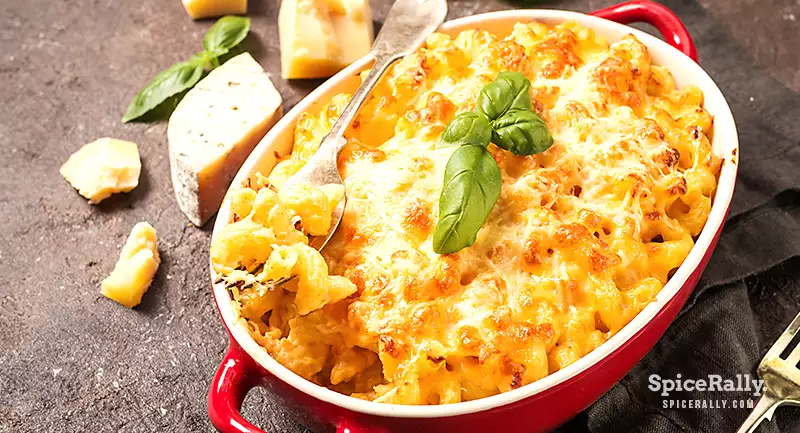 01- Black Pepper
Black pepper is one of the most used spices with mac and cheese. It gives a distinctive earthy, woody, and peppery undertone with a hint of heat. In fact, black pepper is the universal seasoning when mixed with salt.
02- White Pepper
Working as good as black pepper, white pepper also comes with similar flavor elements to black pepper. However, white pepper will not leave black traces in your macaroni dish, unlike black pepper.
So, those who do not like to change the appearance of their dish can undoubtedly go for white pepper. This spice ideally complements the creamy taste of cheese.
03- Paprika
Paprika can be one of the most interesting spices to use whenever you need a tweak in your mac dish. In fact, the flavor of this spice could depend on the variety used.
However, regardless of the type used, paprika generally has a depth of flavor. If you need your dish to have a nice color with a subtle taste, you can either go for mild or sweet paprika. Smoked paprika would give a signature smoky flavor, and hot paprika would serve with a hot kick.
04- Cayenne Pepper
This spice is ideally used when you need your mac and cheese to have a serious punch of heat. Cayenne pepper will give a profundity of flavor and also color to your dish.
You can make the perfect flavor combination by using cayenne pepper with some nutmeg and garlic powder. Spice things up and bake your macaroni dish with loads of cheese to impress your guests!
Not only spices but herbs also have an amazing ability to boost the taste of this dish. If you need to learn about the best herbs for mac and cheese, click on this link and refer to this article.
05- Garlic Powder
Garlic powder is a great ubiquitous flavoring when it comes down to cheesy meals. Interestingly, the pungent and robust flavor notes of this spice complement cheese and help to revitalize the rich taste of this dish.
You can incorporate garlic powder into the cheese sauce with some onion powder. And cayenne pepper, paprika, or crushed red pepper flakes can be used as supplementary flavors.
06- Onion Powder
Onion powder and garlic powder always work side by side. Therefore, you can use this spice the same way you use garlic powder. Onion powder has unique, sharp, and sulfur-like flavor notes that will add a significant zest to your dish.
07- Crushed Red Pepper Flakes
If you don't have paprika or cayenne pepper, crushed red pepper flakes would be an excellent addition to heat things up. Red pepper flakes are usually made with cayenne peppers so that you can expect some serious pungency on your mac dish.
Integrate this spice with the cheese sauce or sprinkle it on top of the macaroni before putting it in the oven. Crushed red pepper flakes make a divine combination with garlic powder and onion powder.
08- Chili Powder
Bold and intense chili powder can be considered one of the best spices for mac and cheese. Most chili powders come as a blend of ground red chilies, garlic powder, ground cumin, salt, etc. So, if you intend to use one of these varieties, you can actually have an all-in-one taste in your dish!
Did you know that seasonings and spice blends can bring an advanced flavor to your mac and cheese more than single spices? So, if you need to know what combinations would go well with your macaroni dish, click here!
09- Mustard
Tangy, bitter, and piquant mustard is a perfect spice for this dish since it particularly complements the cheese. Depending on your taste preference, you can either go with dry mustard or dijon mustard.
If you use dry mustard, the spice should be used moderately since its intense flavor can overpower the dish easily. And dry mustard could be essentially backed up by other ingredients such as onion powder, garlic powder, paprika, and black pepper.
10- Jalapenos
Green and crisp jalapenos will give you the most epic experience of a spicy mac and cheese dish. You can either use chopped or sliced jalapenos for a dish that is way different from the classic recipe.
Use garlic powder, onion powder, bacon, and two or three kinds of flavorful cheeses to contemplate the taste of jalapenos. Be cautious about the heat level if you intend to use other spices like cayenne pepper or red pepper flakes.
I don't do much cooking; however, one of my most loved dishes to eat is my better half's macaroni and cheese. So I would demand all my precious ones to come to appreciate the supper with us

Anonymous
11- Nutmeg
Believe it or not- warm, nutty, and slightly bitter-sweet nutmeg will give a distinctive flavor twist to your macaroni! If you still haven't tested this with your mac and cheese, we are sure you will love it once you do!
Ground nutmeg or freshly grated nutmeg can be accompanied by cayenne pepper, black pepper, or paprika. But, just like we caught things with mustard, remember not to go overboard with this spice too.
Concluding With The Best Spices For Mac And Cheese…
Your favorite food doesn't have to be made the same way each time- you can always break the stereotype! Likewise, black pepper, garlic powder, paprika, cayenne pepper, onion powder, etc., are some of the best spices you can use to take your mac and cheese to the next level.
Related Topics