Ground beef or minced beef can be the base of many delicious foods like chili, burgers, meatloaf, sausages, etc. Thus, we will share the best spices for ground beef that will help to bring out the real flavor of the meat.
Using the following spices will help to make your batch of ground beef always better:
So, keep reading to know how these spices will give you the perfect beef mince!
7 Best Spices For Ground Beef
Ground beef is a pretty versatile food that can be paired with a number of vegetables, herbs, and seasonings. In fact, it is lean meat extracted from parts like sirloin, chuck, and round.
Interestingly, most flavorsome spices go well with ground beef. But here, we have picked the best to help you come up with epic meat dishes.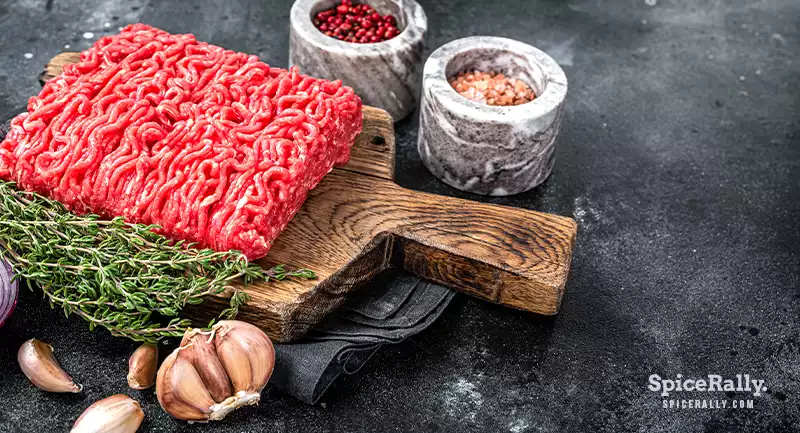 01- Black Pepper/ Szechuan Peppercorns
Highly versatile black pepper is a spice that you must definitely use for ground beef. It gives an unparalleled peppery, earthy, woody, and piney flavor to the meat that will be good to go with any dish you make.
You can use freshly cracked black pepper or ground black pepper. If you need your ground beef to be as simply flavored as possible, just season it with some salt and black pepper- and it is all good to go!
On the other hand, Szechuan peppercorns also look so similar to black pepper. But, this spice has a different flavor than black pepper, which gives a tingling effect to the tongue. And this is actually a berry despite its recognition as a "peppercorn".
Szechuan peppercorns are literally a perfect pairing with the meat, and you can toast it a bit before adding. This will boost the peppery, citrusy, sharp flavor notes of this spice.
02- Garlic
Nothing could beat the taste that garlic would give! The robust, pungent flavor of this spice could characteristically complement the rich and fatty texture of the meat.
Fresh minced or finely chopped garlic can be sauteed with butter or olive oil before incorporating them with the ground beef. You can also use garlic powder, which has less pungency than raw garlic.
However, this spice can be paired with other elements like onion powder, black pepper, paprika, cumin, oregano, green onions, etc.
If these spices alone could add so much taste to ground beef, just imagine what would happen if we used a seasoning blend to flavor the meat! On that note, click on this link to discover the best seasoning blends for ground beef that you shouldn't resist.
03- Onion Powder
Onion powder is a distinctive spice with a powerful flavor profile. And it pairs really well with raw garlic and garlic powder. 
The powdery consistency of this spice will disperse its flavor throughout to help with a uniform oniony taste. Thus, even if you don't use fresh onions, it won't be much of a problem. In addition, onion powder can be teamed up with black pepper, dried oregano, paprika, cumin, etc.
04- Ginger
Ginger is literally one of the best spices for ground beef, known for its unique aroma and citrusy, sharp, and slightly sweet undertones. Fresh ginger is very pungent and indeed makes an amazing combination when paired with garlic and onions.
However, you can also use ground ginger which is less sharp than raw ginger. Freshly grated ginger in ground beef is a popular dish in Korean cuisine. And ground ginger is an excellent flavor enhancer when you prepare the meat for pies. So, it is worth the try!
05- Smoked Paprika
A little smoked paprika can go a long way and make a huge difference to your meat dish. Its characteristic smoke, earthy and deep flavor upgrade your ground beef with a vibrant red hue.
Try this spice when you make meat for sliders, tacos, pies, burgers, and sausages. Do not forget to pair smoked paprika with garlic, dried oregano, and black pepper.
Paprika has its own way of adding up to your beef stew when paired with a few other ingredients. Follow up this link and discover what other spices go well with this dish.
06- Cumin Seeds
Ground cumin seeds simply make a remarkable twist to the meat. Its nutty, earthy, and warm flavor elements complement the richness of lean beef. 
Moreover, the best thing about cumin is that it can be paired with many other supplementary spices and herbs. You can use chili powder, garlic powder, red pepper flakes, dried oregano, dried thyme, and coriander seeds to make a delectable bowl of ground beef.
Well, I mean, it's a great recipe. I mean, it's ground beef; it's marinated with a little red wine. We've got the vegetables in there, got our champ, which is our garlic mashed potatoes baked on top

Ray Murphy
07- Coriander Seeds
Most people love the taste of coriander seeds because of their delicate nature. This spice holds mild, slightly lemony, floral undertones with hints of sweetness. 
You can season your ground beef with ground coriander seeds whenever you need to come up with a deeply-flavored dish. Pair this spice with other flavorings like ground cumin, paprika, garlic, ginger, and onions.
Winding Up With The 07 Best Spices For Ground Beef…
As you see, spices like garlic, black pepper/Szechuan peppercorns, onion powder, smoked paprika, ginger, etc., are the ideal spices to add flavor to ground beef. All these flavorings are pungent and essentially complement the richness of the meat.
Related Topics