If sweet potatoes are amongst your family's favorite vegetables, you must be looking out for ways to make more delicious dishes. So, here's a list of spice blends to season sweet potatoes for the best taste!
You can use these spice blends/ seasonings to ramp up the taste of your sweet potato dish:
Let us elaborate on how to make the best sweet potato dish for your family!
Best Spice Blends To Season Sweet Potatoes!
Sweet potato is a healthy vegetable with a gentle flavor profile with mild starchy and sweet elements. This can be made in a variety of ways depending on the cuisine. But the most popular preparation methods are baking, roasting, frying, grilling, and mashing.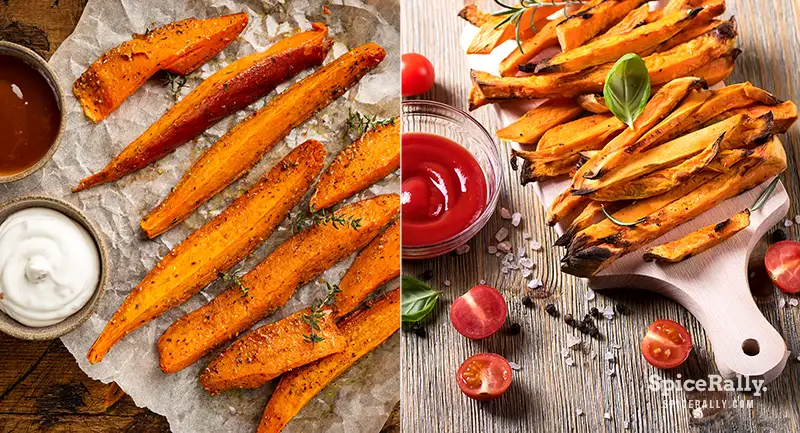 While salt and pepper serve as the most ubiquitous seasoning for this vegetable, there are many other spice blends that you can use to ramp up the taste of sweet or savory sweet potato dishes. Warm, earthy, and nutty spices and herbs go best with the flavor profile of our topic leader. So, blends of these spices and herbs can make excellent top-notch sweet potato recipes!
01- Chinese Five-Spice Mix
The warm flavors of cinnamon, cloves, star anise, fennel, and Szechuan peppercorns go perfectly with the rich and creamy taste of our topic leader. You can mix a Chinese five-spice mix of olive oil, avocado oil, or vegetables to roast, grill, bake or fry sweet potatoes. 
This is also the ideal complement to add an extra kick to your mashed sweet potato recipe. Moreover, this spice blend can also be added when making sweet potato pies, tarts, and puddings.
02- Cajun Seasoning
Versatile Cajun seasoning is nothing new to Western cuisine! Earthy, pungent, and warm ingredients are included in this blend, such as paprika, cayenne pepper, garlic powder, onion powder, oregano, thyme, etc. 
These ingredients ideally complement this vegetable whenever you need to make savory recipes such as roasted, oven-baked, grilled, or fried sweet potato dishes. You can enhance the flavor of these dishes when you combine Cajun seasoning with oil or butter and fresh herbs like chives or parsley.
03- Italian Seasoning
Italian seasoning is a blend that is enriched with savory herbs such as oregano, rosemary, basil, marjoram, thyme, etc. Some Italian seasoning variants include garlic powder and red chili flakes that add a more depth of flavor to sweet potatoes. 
You can treat your family with delectable roasted, baked, fried, or grilled sweet potato pieces/ cubes/ sticks/ wedges by combining Italian seasoning with oil/ butter and a decent amount of parmesan cheese for added taste!
If you need to know the right way to season sweet potatoes to make your favorite dish using these spice blends or seasonings, click on this link and refer to our instructive article.
04- Za'atar Seasoning
This seasoning is a unique blend of sesame seeds, sumac, chili flakes, thyme, cumin, etc., that can give an unexpected flavor boost to sweet potato dishes you hope to make during special moments. You can incorporate za'atar seasoning to create unique and healthy sweet potato dishes, roasted sweet potato salad, stir-fried sweet potatoes, roasted-smashed sweet potatoes, etc.
The nutty, warm, salty, and distinctive tangy flavor of this seasoning blend complements the rich creaminess of this vegetable. If you want more texture and taste, you can mix and match other ingredients like olive oil, maple syrup, tahini sauce, and sea salt flakes.
05- Poultry Seasoning
Regardless of the name of this blend, poultry seasoning can be an absolute flavor enhancement for many sweet potato recipes you make. This blend is usually made with ingredients such as garlic powder, onion powder, black pepper, dried rosemary, etc.
The hearty, earthy, and piquant flavors of poultry seasoning are ideal when you make sweet potato wedges, fries, chips, and baked sweet potatoes. However, you can get a tastier result by mixing and matching poultry seasoning with a sweet element like honey, brown sugar, maple syrup, and something hot like chili powder.
06- Chili Powder
Versatile chili powder is a staple in many homes, so you can easily sprinkle or toss this with the many sweet potato dishes you make. Chile powder, ground cumin, garlic powder, and salt included in this blend will create layers and layers of flavor in your recipes by getting along well with the starchy sweetness of this vegetable. So, try chili powder with any savory sweet potato you make, and thank us later!
07- Herbes de Provence
If you love to pamper your family with a rich-tasting and also wholesome sweet potato recipe at the same time, we bet that Herbes de Provence is your best pick to do the trick! This is similar to Italian seasoning, but Herbes de Provence contains a more profound flavor with a variety of nourishing herbs such as oregano, savory, tarragon, sage, etc. 
So, you can sprinkle this on top of your roasted, baked, or fried sweet potatoes or incorporate this before cooking it for a better flavor. Follow up with additional ingredients like olive oil, unsalted butter, or thinly sliced onions depending on your recipe, for an extra flavor boost.
08- Pumpkin Pie Spice Mix
Pumpkin pie spice mix is another popular fall spice mix that goes really well with the richness of our topic leader. Interestingly, this spice is not confined only to savory recipes like most others on our list! 
This spice blend mostly includes cinnamon along with other warm spices like allspice, nutmeg, ground ginger, etc. Thus, you can do wonders with pumpkin pie spice and sweet potatoes while making tasty pies, puddings, and other desserts along with the usual savory stuff!
09- Shichimi Togarashi
This Japanese staple is a flavorful blend of red chiles, sansho pepper, sesame seeds, poppy seeds, etc. Shichimi togarashi is one of the best compliments for sweet potatoes whenever you need to come up with a special recipe for a special occasion. 
This blend is the perfect balance of flavors and has a distinctive nutty element, so it could be even great when making fries, baked, roasted, or even sprinkled on top of sweet mashed potatoes. Go ahead and pair shichimi with olive oil, lime juice, maple syrup, and sea salt to jazz up the taste of your recipes. 
These Spice Blends And Seasonings Can Make It All Up For Sweet Potatoes!
If you were stuck to salt and pepper when seasoning your favorite sweet potato dishes, we hope we made you move a step ahead! As you see, spice blends like Chinese five-spice mix and pumpkin pie spice can be used for both sweet and savory sweet potato recipes.
At the same time, other blends like Herbes de Provence, Italian seasoning, chili powder, Za'atar seasoning, etc., can give an instant flavor boost to many savory sweet potato dishes you make.
Related Topics