If you are always looking forward to giving your family the ultimate goodness, this homemade turkey seasoning recipe will be super healthy and enriched with so much flavor. This blend will make your meat ultra flavorful, juicy, and tender, giving you the best Thanksgiving dinner ever!
So, let's see how we could put everything together in just less than 10 minutes. You will only need the ingredients that are already in your spice cupboard. So, let's get started!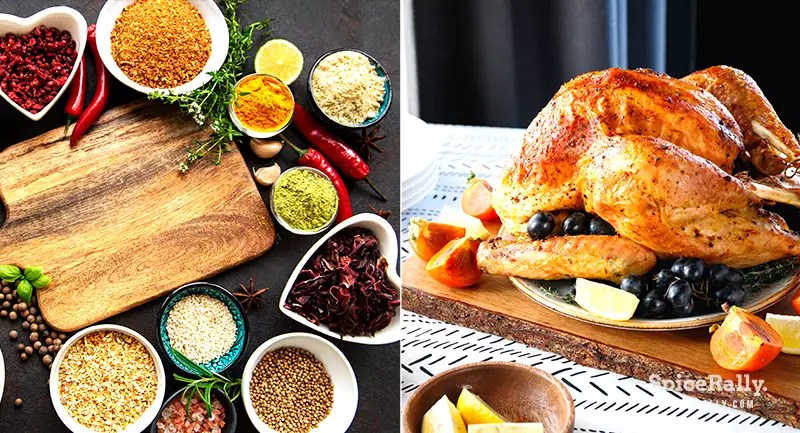 The Ultimate Turkey Seasoning Recipe
You can make this blend easily from scratch. We bet this will be the best seasoning you would have ever tried on your turkey so that you'll never return to any pre-packaged options again!
Preparation time- 05 minutes | Cooking time- 00 minutes | Additional time- 05 minutes
Step 01
Grab the necessary ingredients and equipment.
Required spices and herbs:
One and a half tablespoons of granulated garlic (you can also use garlic powder)
Two tablespoons of onion powder
Three tablespoons of paprika (hot, mild, sweet or smoked paprika)
One or two teaspoons of black pepper
One and a half teaspoons of ground coriander seeds
Three tablespoons of dried parsley
One tablespoon of dried rosemary
Half a tablespoon of dried thyme
Other ingredients:
Two tablespoons of salt
Two tablespoons of brown sugar (you can also use cane sugar)
Equipment needed:
A mixing bowl
Wooden spoon
A tight-fitting mason jar/ container
If you are interested in discovering more seasonings for turkey apart from this homemade recipe, click on this link for the best store-bought and homemade options.
Step 02
Add all the ingredients into the mixing bowl and mix everything together using the wooden spoon until well combined.
Step 03
Use your prepared seasoning on your defrosted turkey immediately, or store it in the tight-fitting container/mason jar to be used later.
Tasty Notes…
Although we have used salt in our recipe, you can omit it if you don't like it. Or else, adjust the amounts based on your taste preference.
You can use two tablespoons of this seasoning for every 1kg of turkey.
Use new spices and herbs as much as possible (avoid the ingredients which are closer to the expiry date). This will maintain the shelf life and flavor quality of this blend.
If you are planning to use this ahead of time, keep it in the spice cabinet stored in an air-tight glass container/ mason jar.
Related Topics