There are endless ways that Ras el Hanout flavors your dishes, but sometimes it could be hard to have it in your kitchen all the time. So, here're some Ras el Hanout substitutes that'll work in such situations.
It was kind of a tough job to find alternatives that could compare with the exotic spice combination of Ras el Hanout. But still, we were able to get you a few options, and they are:
Read along to learn how these replacements will help you to add a similar taste to Ras el Hanout when you don't have it around.
The Best 05 Ras El Hanout Substitutes
Ras el Hanout is a spotlight in Moroccan and North African cuisines that could add a distinctive flavor to savory and sweet dishes. It is also considered one of the world's most complex spice blends, containing the most basic and exotic ingredients responsible for its deep and rich nature.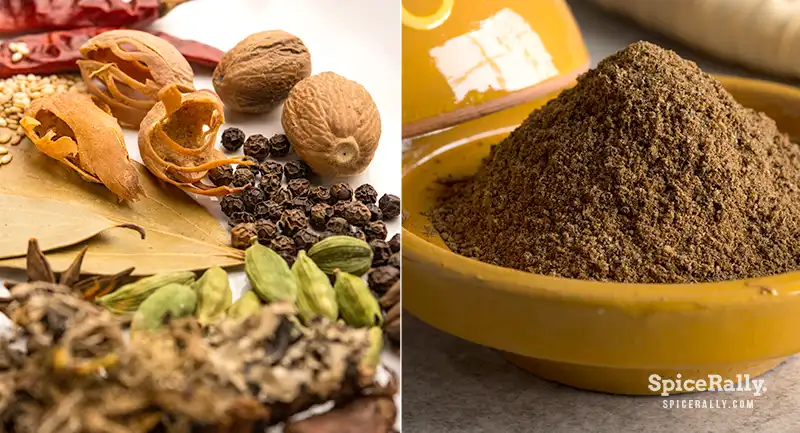 However, no two Ras el Hanout recipes are ever the same since they could vary in ingredients and proportions. But some common elements often show up in almost every recipe, and they are:
Coriander
Cumin
Cloves
Allspice
Ground ginger
Cinnamon
Turmeric
Paprika
So, check the list below and pick the most convenient option that will go with the dish you wish to use.
01- Garam Masala
This is obviously one of the most effective alternatives to use when you don't have Ras el Hanout around. Like our topic leader, Garam Masala is not confined to a standard recipe, which varies depending on the maker.
But, it shares a very similar flavor profile to that of Ras el Hanout containing ingredients such as cinnamon, coriander, cloves, black pepper, cumin, etc. So, you can use this substitute in the same amount you would use Ras el Hanout, mostly in savory recipes. Besides, it is effortless to find in groceries and supermarkets.
02- Baharat
This famous Middle Eastern spice blend is another possibility that will work as much as Garam Masala. You would be able to find many of the similar spices that you find in Ras el Hanout, such as cumin, paprika, cloves, cardamom, black pepper, cinnamon, etc.
North African Baharat variants could even contain dried rose buds, which will be a plus point if you expect the similar exoticism that Ras el Hanout would generally provide. 
This option is good to go as a rub for meat, to be included in soups and stews, and could even be used in pinches in certain traditional desserts. Start by using a 1:1 ratio and then increase the amount according to your taste preference.
03- Chinese Five Spice Powder
The simple combination of the Chinese five spice powder can be a potential substitute for our topic leader since it is another readily available product in the market. You cannot expect the same lavish, exotic flavor profile as in Ras el Hanout from this option.
Yet,  it will fulfill the essential flavor notes with similar ingredients it shares, such as cinnamon, cloves, peppercorns, and fennel seeds.  Use this alternative to spice your sweet and savory dishes that originally call for Ras el Hanout, starting moderately and then adjusting upon taste.
04- Tsire Spice
Coming from African cuisine, Tsire spice could be another possible replacement if you find it when the original product is not available. It is traditionally used as a dry or a wet rub for grilling meat, so that you can use it in place of our topic leader for the same reason.
Tsire spice includes some of the spices in Ras el Hanout such as cinnamon, ground ginger, nutmeg, and cloves. But keep in mind that it could be spicier than our topic leader, and most recipes could contain peanuts. So, be cautious before swapping this with your dishes if you have nut allergies.
Due to the spicier accent, it would be best if you start off with a small amount of Tsire spice and then adjust the amount as you build up the taste. This will not be very favorable for sweet dishes, but it is good to go with savory or super spicy recipes.
05- Curry Powder
You can find a wide variety of curry powders coming from different parts of the world. These options could contain many similar ingredients to Ras el Hanout, like cumin, coriander, cloves, cinnamon, black pepper, turmeric, etc.
So, pick a variant with more spices and replace it with your savory dishes that originally call for Ras el Hanout as a secondary ingredient. You can use it in a 1:1 ratio and change the amount as you go.
Bonus- Make Your Own Ras el Hanout Blend!
Making your own batch of Ras el Hanout can be the best option when you run out of your store-bought jar. The best thing about this is that you can customize the blend depending on your preference. 
You actually don't need a hundred different ingredients to create the flavor profile you expect to get from your mix of Ras el Hanout. 
So, if you need to try out a simple Ras el Hanout recipe with the most basic ingredients, we have shared our version here, along with a lot of other interesting facts about this special spice blend. Click here!
But you can use the spices that are available to you in your spice rack along with the must-have ingredients. Although you have some limitations when using the rest of the replacements in our list, none of that matters when it comes to making your own!
Packing Up With The Best Ras El Hanout Substitutes…
It could not be easy to make a closer match to the complex and lavish flavor profile of Ras el Hanout, but luckily enough, we have a few that could save a dish to add a similar taste. Garam Masala and making your own Ras el Hanout blend at home could be the best bet. At the same time, the Chinese five spice mix, Baharat, Chinese five spice mix, Tsire spice, and curry powder work as decent second choices.
Related Topics