Authentic Indian dishes have a habit of stealing our hearts and tempting our taste senses with their own way of unique culinary artistry. In fact, their recipes are well-renowned for the usage of a number of spices, and the nation itself is considered the "home for spices". 
So, as the title suggests, we will share the spice story of another signature dish that originated in India. Golden, juicy, and crispy chicken chunks incorporated in a thick, rich, and creamy, decadent gravy- yes, you heard it right! Butter chicken is a heavenly savory delight that is full of aroma, flavor, and color.
Spices are basically used in two instances when preparing this dish. Once when marinating the pieces of chicken and next in the gravy that the chicken goes in. Hence, the basic spices that are included in butter chicken are:
Minced Garlic
Minced ginger
Ground cumin
Garam masala powder
Red chili powder
Ground coriander
So, let's see how this dish would make your life good when incorporated with all these spices in buttered chicken. You will find out exactly why this tasty Indian food has become so special by the end of this.
What Spices Are In Butter Chicken?
Originated in the subcontinent of India as a savory dish, butter chicken or "Murgh Makhani", is basically chunks of marinated pan-fried, roasted, or shallow-fried boneless chicken incorporated in a buttery, rich, creamy, and dense sauce (gravy) that is finally being touched with cilantro leaves or Kasuri Methi (Fenugreek leaves).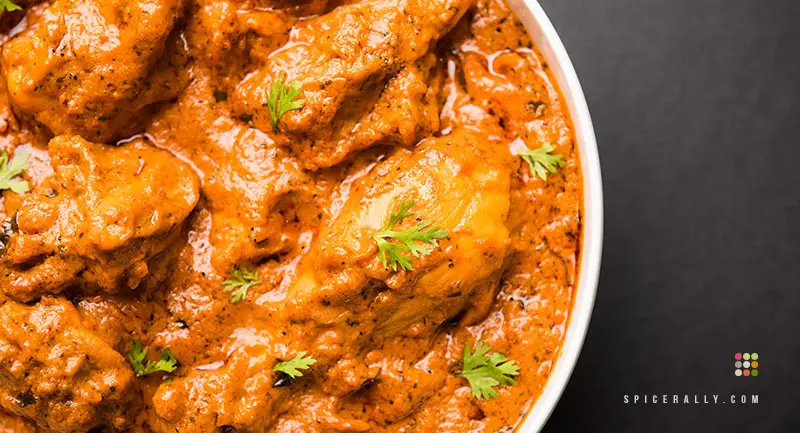 Although it took its inception in India, you have the ability to order it at any Indian restaurant scattered all around the globe. Butter chicken is very comparable to Chicken Tikka Masala. But, the gravy itself is much creamier and milder, and less tangy compared to Tikka Masala. The best thing about butter chicken is that it is so easy to put together though the taste is outlandish.
It includes spices that are around in your pantry and easy to find and comes together with a few other versatile ingredients using butter as the initial flavoring.
Usually, the process of preparing butter chicken comprises two steps, and spices are used in both instances. The basic spices that are used to marinate the chicken pieces include:
Ginger 
Garlic
Red chili powder
However, in some recipes, a pinch of turmeric, garam masala powder, and cumin powder is also used to season the chicken in order to make the chicken more flavorful. Moreover, in making the sauce or the gravy, they usually use spices like:
Cumin powder
Coriander powder
Garam Masala powder
Red chili powder
Let us now explain how these spices help bring flavor to your butter chicken dish, and if you think that the ingredients are right for you, you can go ahead and include them in your recipe too!
01- Garam Masala Powder
The most popular spice blend in India, Garam masala, is obviously taking up butter chicken too. Many dishes coming from India use Garam masala as the key spice, which could pack any dish with a spicy and flavorful punch.
Garam masala is not a single spice but a combination of many warming spices such as:
Cinnamon
Mace
Black peppercorns
Coriander seeds
Cumin seeds
Cardamom pods
Bay leaves
Cloves
Nutmeg
All the spices are taken as a whole, cleaned and dry roasted in a pan, then are ground in a spice grinder to a fine powder. However, the garam masala recipe may have slight differences varying from region to region in India. 
In fact, the Southern, Northern, and Eastern Indian cuisines possibly use slightly different spices to assemble the mixture. Whatever it is, this amazing blend of flavoring makes it distinctive in any dish it calls for.
When it comes to butter chicken, garam masala is mainly used in making gravy. 
But, some use a bit of this spice blend to marinate the chicken, and it actually adds excellent flavor to the chicken chunks when kept to be seasoned. Since it is an assortment of multiple spices, the level of nutrients is exceptional. 
If you are a real meat lover, you might obviously be interested in learning some important facts about the spices used in meatloaf. For further reference, click here.
02- Minced Garlic
Robust, intense, and aromatic garlic is another staple for butter chicken. Actually speaking, there is no other spice that would beat the strength of a fresh garlic clove.
Minced garlic distributes the flavor more thoroughly and evenly in a dish and is undoubtedly excellent when included in butter chicken gravy and chicken marinade.
While many butter chicken recipes use minced garlic, we see a majority of other recipes use garlic paste too. There is actually no considerable difference between the two except that garlic paste is smoother and more concentrated than minced garlic. If you need things to be less bothered, you could unquestionably go for the garlic paste.
Loaded with cholesterol-lowering and weight loss promoting properties, garlic is always a healthier spice to be incorporated with many savory recipes you make.
03- Minced Ginger
Making a lovely couple with garlic, ginger delivers an incredible taste to the butter chicken. Famous as a folk medicine that is loaded with innumerable health properties, ginger is a must-have spice that you should keep at home.
The flavor of fresh ginger is somewhat peppery and sweet, with an intense and spicy aroma. Much similar to garlic, fresh ginger softens with cooking and turns harsh if burned.
In most butter chicken recipes, minced ginger always goes together with garlic when marinating the chicken and making the gravy. Just like garlic, while many recipes use minced ginger, many other recipes also use ginger paste. Pulped-up ginger is easy to use, and it is quickly incorporated with other ingredients used in the dish.
04- Ground Cumin
Nutty, warming and slightly sweet cumin enhance the taste of butter chicken, blending well with other spices included, like garam masala powder, coriander powder, ginger, and garlic.
You can buy ground cumin readily from the store that usually comes in containers. Or else, you can get whole cumin seeds dry roast them and grind them to a fine powder.
Although ground cumin is generally used in the gravy of butter chicken, some also use it to flavor the chicken when marinating. However, we cannot see instances that this spice has been omitted from the recipes. Therefore, it is often called a staple for Murgh Makhani. 
These tiny seeds contain rich antioxidant properties and also help to treat diarrhea, control blood sugar, and promote weight loss.
05- Red Chili Powder
In terms of butter chicken, red chili powder is apparently the only hot spice agent that goes into it. It is essentially a spice blend consisting of one or two varieties of dried red chilies that are pulverized and ground into a nice powder. It is commonly used to add hotness to many savory dishes.
The most common variety of red chili powder we see in India is the Kashmiri red chili powder, and Kashmiri red chilies are milder and deep red in color. This is the chili powder that is used in most Indian butter chicken recipes that could give the perfect gentle spicy kick and a great color to the dish. But, you can use any red chili powder that you have at home, and it does not only have to be the Kashmiri version.
This spice is used when marinating the chicken and when making the gravy as well. Apart from its great flavor and bright red hue, red chili powder is brimful with Vitamin C, and it helps prevent heart diseases and contains immunity-boosting properties.
06- Ground Coriander
Last but not least, ground coriander is another starring flavoring in butter chicken binding so well with cumin powder and garam masala particularly.
Just like cumin powder, you can purchase powdered coriander from the nearest store, or else dry roast and grind whole coriander seeds to a fine powder.
Coriander seeds are the seeds obtained from the cilantro plant, and they are usually considered to be very aromatic with a warm, citrusy bite. 
Did you know that dry-rubbed grilled chicken is equally flavorful as butter chicken? To learn everything about dry rubbing chicken for grilling, click here for our exclusive article.
However, we do not usually see that coriander powder is added when the chicken is being marinated. But instead, it is added as a key spice when making the gravy for butter chicken.
Apart from its flavor and fragrance profile, coriander is known for its remarkable health benefits, like its ability to treat the common cold and flu, blood sugar lowering, and gut health-promoting properties.
What Are The Other Ingredients That Usually Go Into Butter Chicken?
Over and above the spices used in Murgh Makhani, several other main ingredients contribute to giving the flavor and texture of this dish.
For example, cashew nuts are added to the gravy before it is blended into a smooth paste in order to add a rich creaminess. Likewise, other ingredients that go in this dish include:
Onions
Plain yogurt
Salt
Chopped or crushed tomatoes
Butter
Oil
Sugar
Kasuri methi (fenugreek leaves)
Cilantro leaves
Heavy cream/ coconut cream/ coconut milk
Is Butter Chicken Sweet Or Spicy?
Butter chicken or Murgh Makhani usually falls into the category of curries due to its usage of multiple spices and other savory ingredients.
However, one cannot typically expect this dish to be very hot and spicy. In fact, since warm spices and ingredients are used, it generally has a mildly sweet taste with a gentle spicy note. 
Since butter is used as its base, it cuts off the intensity of most spices bringing the entire dish to an average warmth. But, if you need to make it spicy, you can simply increase the amount of red chili powder you use. Still, the traditional butter chicken is not spicy.
Did you know that gyro meat also includes a bunch of flavorful spices? For more information, check out our article here. 
Does Butter Chicken Contain Coconut?
The cream base is usually required when making the gravy while preparing butter chicken. Accordingly, the authentic butter chicken recipe contains coconut milk or coconut cream to give the sauce a rich and thick creamy consistency.
However, with the evolution of the recipes and the adaptations towards Western cuisine, we noticed that many recipes include heavy cream instead of coconut cream or coconut milk. Anyway, if you like heavy cream more than coconut cream or milk, you can use it. And if you prefer the authentic taste of coconut, you are free to use it in place of heavy cream. Whatever it is, the choice is ultimately yours! 
Wrapping Up
Warm, creamy, and juicy butter chicken is a dish that you should taste at least once in your lifetime. Blending with a number of spices, flavorings, and other ingredients; butter chicken makes a perfect dish that could accompany a warm bowl of rice, bread or naan.
So, now that you know what spices in butter chicken go in with the dish, make sure that you order one when you hit an Indian restaurant next time. Or, if you trust the inner cook in you, try making it and enjoying it with your family!