A pot of creamy, warm, and hearty soup or chili becomes a pantry staple in many homes once the weather starts chilling outside. So, if you ever thought about what spices are in white chicken chili, this feature is dedicated to bringing you the facts.
This delicious dish is flavored with spices like garlic, black pepper, cumin, coriander, chili powder, and herbs like fresh cilantro (coriander leaves) and oregano. In addition to this, it includes many other ingredients that are put together to make a nutritious bowl of your favorite chili.
Hence, the rest of this article hopes to scrutinize the white chicken chili ingredients, mainly focusing on the spices and herbs used. Read until the end to see what you can get from this!
What Spices Are In White Chicken Chili?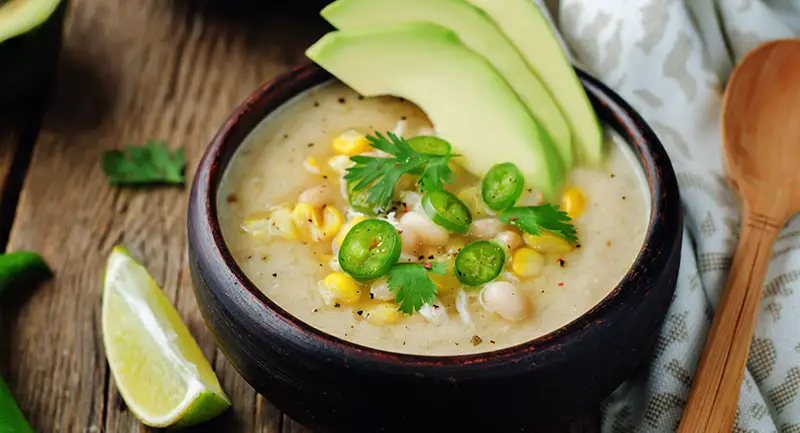 01- Garlic
Minced garlic is the staple spice of this dish. Highly flavorful, pungent, and slightly spicy flavor and fragrance of garlic blend throughout the chili, combining well with all the other ingredients used. In fact, it is the best companion to olive oil and onion used.
02- Black Pepper
Freshly ground black pepper becomes the perfect seasoning for your recipe when combined with salt, making the ideal seasoning. It has a fresh, woody, and spicy bite with a warm and robust aroma that complements garlic and onions really well.
SpiceRally understands your feelings, and we know that now you would love to try a white chicken chili at home. Click here, and we will show you the way to the best recipe that you have ever tried!
03- Cumin
In white chicken chili, cumin seeds are used ground. Just like garlic, it is another dry spice staple that provides uniqueness to the dish. It is warm and earthy with a hint of smokiness and a strong aroma that blends well with its ingredients. Ground cumin acts exceptionally agreeable with chicken and other herbs.
04- Coriander
Ground coriander seeds complement chili powder and ground cumin in this particular recipe. It has a nutty, lemony-citrusy flavor with a floral aroma. Literally, the taste elements of coriander seeds contribute to the overall flavor of this dish.
Did you know curry laksa is another hearty dish like white chicken chili? Click here and discover everything you love to learn about this exotic Southeast Asian dish!
05- Chili Powder
In this meal, there are basically three varieties of chili powders that can be used. Apart from the conventional chili powder that you can find in the USA spice market, we see that many recipes have also used ancho chili powder or cayenne pepper powder.
However, whatever the chili powder you use, the intention is to give this dish the perfect spicy kick. It is technically a white dish. But the blandness of the recipe will fade away once the taste is counterbalanced with chili powder. And also, it pairs well with other spices like ground cumin and ground coriander.
Herbs Used In White Chicken Chili
01- Fresh Cilantro
Cilantro is a herb that gives its best flavor and aroma when added at the end of the cooking process. In fact, the herbal, sharp, lemony zest of this herb adds the perfect final touch to this meal. 
This is actually not a must-have ingredient, but many would prefer going with it since freshly chopped cilantro adds a balance to the overall taste of the dish.
This recipe uses both cilantro and coriander. So if you ever doubt these two thinking if they are the same or not, we have an explanation right here.
02- Dried Oregano
Once again, this herb is also not a standard ingredient in the dish. But still, we see that many chefs and home cooks would add a decent amount of dried oregano in their recipe to complement the spices used. 
In addition, it pairs really well with olive oil, onion, and chicken, highlighting its pungent, herbal, and slightly bitter tone with its strong aroma.
Other White Chicken Chili Ingredients
With the spices and herbs mentioned above, this dish is accompanied by the following key ingredients. They are:
Chicken ( fresh boneless chicken or prepared rotisserie chicken)
Low-sodium chicken broth
White beans
Onion
Salt
Lime juice/zest
Olive oil or Canola oil
Jalapeno pepper
Poblano Pepper
Cheese (cream cheese. Monterey jack)
Avocado, tortilla chips, yogurt (toppings)
Canned, fresh, or frozen corn (optionally used)
Canned green chilies (optionally used)
Chili is not so much food as a state of mind. Addictions to it are formed early in life and the victims never recover. On blue days in October, I get this passionate yearning for a bowl of chili, and I nearly lose my mind.

Margaret Cousins
See You Again, Chili Lovers!
White chicken chili is indeed a great meal when the weather outside starts to give you chills. It is packed with many aromatic and flavorful spices and a few herbs that round off other ingredients used.
So, if you were enlightened with every fact on what spices are in white chicken chili, let us know how we helped you by posting a comment below.
If you are interested in knowing about the spices used in corned beef, we have a complete article to guide you with information.
Related Topics