Sausage lovers across the globe literally get their taste buds tantalized when they hear the word "Chorizo". It is indeed a piece of a zestful meaty treat heavenly spiced with many flavors. And most of you might be having the problem what spices are in Chorizo sausage make it so scrumptious.
Chorizo sausage is, in fact, packed with many spices and herbs like paprika, black pepper, garlic powder, ground allspice, etc. There are actually two different main types of Chorizo sausage, And, therefore, the usage of spices varies from type to type and region to region.
So, in this article, we will share all the spices, herbs, and other main ingredients used in all the leading varieties of Chorizo sausage. So if you ever wondered why this sausage is such a divine feast, you'll get your answers right down below. Keep reading!
What Is Chorizo?
Originating from Spain and Portugal, Chorizo is a type of red-hued pork sausage that has won millions of hearts of sausage lovers all over the world. It is highly seasoned and spiced, usually fermented, and sometimes smoked or cured. And, can be eaten as fresh raw sausage or cooked depending on the type of the sausage.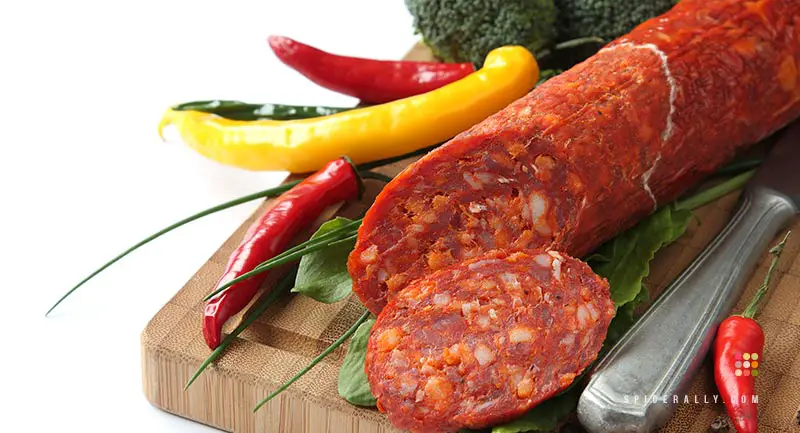 There are two main types of Chorizo sausage- Mexican and Spanish. These main types are again divided into a few other sub-varieties, and they are seasoned with different spices and herbs. 
Accordingly, the taste would have slight differences, and the way of cooking might differ too. This sausage is often eaten sliced with grilled sandwiches or enjoyed with wine or other strong alcoholic drinks.
Chorizo seasoning is a blend of robust spices and herbs used to add a depth of flavor to chorizo sausage meat. If you go to this article, you can get more information about this delicious spice blend.
What Spices Are In Chorizo Sausage?
Mexican Chorizo Sausage
Mexican Chorizo is a strongly seasoned sausage. It is generally made from pork, although some versions are prepared with ground beef or soy. And, unlike any other type of Chorizo, Mexican Chorizo always ought to be cooked before eating.
01- Classic Mexican Chorizo
The classic Mexican Chorizo is primarily made from pork fat, freshly ground pork, herbs, and spices. This type is cured and stuffed into casings or short links. Aside from pork, some versions also come with beef, chicken, and even iguana and ostrich meat on rare occasions.
Spices and Herbs Used
Guajillo peppers
Ancho peppers
Paprika
Garlic cloves
Bay leaves
Freshly ground cumin
Mexican oregano
Dried marjoram
Ground black pepper
Ground allspice
Dried thyme
Whole cloves
Coriander seeds
Other Ingredients
Freshly ground pork
Ground pork belly fat
Salt
Butcher's twine or Corn husks
Sausage casings
How would it feel to make your own Mexican chorizo sausage and serve it to your family and loved ones? Click here for a simple homemade Mexican Chorizo sausage recipe, and watch how you fall in love with it!
02- Mexican Green Chorizo
This vibrant green-hued sausage is a bit different from the classic Mexican Chorizo. Green chiles and parsley or cilantro are the main ingredients responsible for the green color of this sausage.
Spices and Herbs Used
Whole coriander seeds
Whole black peppercorns
Unpeeled garlic cloves
Whole cumin seeds
Mexican dried oregano
Whole cloves
Dried bay leaves
Serrano chilies
Poblano chilies
Parsley or Cilantro
Other Ingredients
Ground pork
Sherry vinegar
Kosher salt
Spanish Chorizo Sausage
The star ingredient of all the Spanish Chorizo sausage varieties is smoked paprika or Pimenton, as the Spanish would call it. Spanish Chorizo is deep red in color, and about forty percent of it contains pork back fat.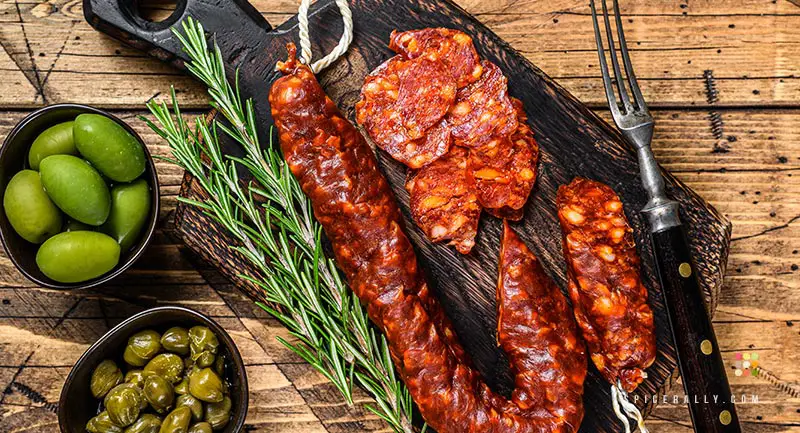 There are many types of Spanish Chorizo, and each of them may differ slightly depending on the ingredients used and way of processing. And they usually come as spicy (Picante) or sweet (dulce), which depends on the type of paprika used.
01- Spanish Soft Chorizo
This type can be stuffed in a casing or made loose. Generally made with pork fat and pork belly, this should be cooked before eating.
Spices and herbs used
Other ingredients
Pork fat
Pork belly
Salt
White wine (optionally used)
Isn't it pleasing to learn about a homemade Spanish Chorizo sausage recipe? Click here for the best Spanish Chorizo sausage recipe that you could try at home effortlessly.
02- Curado Spanish Chorizo
This is a cured or fermented type of Spanish Chorizo. And it is dried until stiff and shelf-stable. This variety of Chorizo is generally eaten uncooked, thinly sliced for a simple snack.
Spices and Herbs Used
Paprika (sweet/spicy)
Garlic
Oregano
Other Ingredients
Pork fat
Pork belly
Salt
Hog casings
White wine (optionally used)
Love and sausage are alike. Can never have enough of either

Trixie Koontz
03- Semicurado Spanish Chorizo
This is the semi-cured version of Spanish Chorizo sausage. It is the type that is fermented and essentially smoked but not dried. Semicurado Chorizo should also be cooked before consumption. The fermentation process will extend the shelf-life of this sausage and add acidity.
Spices and Herbs Used
Paprika (sweet or spicy)
Garlic 
Oregano
Other Ingredients
Pork fat
Pork belly/ shoulder
Salt
Hog casings
White wine (optionally used)
04- Spanish Chorizo Riojana
This Chorizo is made in the liberated neighborhood of La Rioja in Spain.
Spices and Herbs Used
Paprika (sweet and spicy)
Minced garlic
Other ingredients
Pork belly, back fat
Lean pork from loin, shoulder
Salt
Sugar
Dextrose
Salt
05- Spanish Chorizo Navarra (Chorizo de Pamplona)
This is a big dry sausage that originates from the Navarra region of Spain. And it is also famous in the USA as well as in Europe.
Spices and Herbs Used
Paprika (sweet and spicy)
Garlic
Other Ingredients
Pork
Pork back fat
Beef
Salt
Dextrose
06- Spanish Chorizo Andaluz
Chorizo Andaluz comes from the southern region of Spain known as Andalusia.
Spices and Herbs Used
Paprika (sweet or spicy)
Garlic
Other ingredients
Just like Chorizo sausage, Italian sausage is an irresistible treat embraced by sausage lovers. If you are interested in learning about the spices used in Italian sausage, just tap here for a detailed article.
Conclusion
From the facts presented above, you see that Mexican and Spanish Chorizo sausage varieties have some significant differences in the ingredients used. In fact, Mexican Chorizo is made using more spices than Spanish Chorizo. And, Spanish ones are mainly based on the amount of paprika used.
So, we hope you got a clear idea of what spices are in Chorizo sausage, and it will help you next time when you need to choose the type you want.