Spanish Chorizo sausage comes in different types depending on their shapes, flavor (sweet or spicy), the Spanish regions they come from, and their processing. But, this easy homemade Chorizo sausage recipe we share from this article is super easy to put together at home, with very few ingredients and complications. And, it is a fresh version that we do not allow it to cure.
So, let's see how the process goes!
Are you interested in learning something about the spices used in Chorizo sausages? If so, you are just one tap away from our featured article.
Homemade Spanish Chorizo Sausage Recipe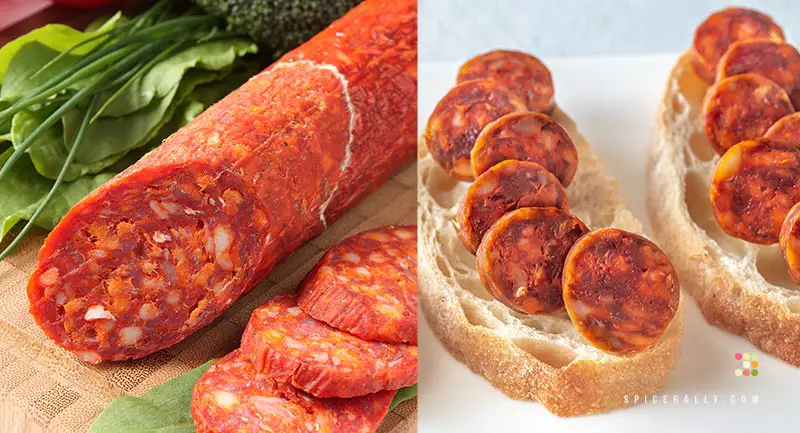 Ingredients
Required Spices:
Three tablespoons of smoked paprika
One teaspoon of chili flakes
One teaspoon of ground black pepper
Five garlic cloves
Other Ingredients Needed:
2 1/2 pounds of pork shoulder
Seven ounces of pork back fat
Two ounces of dry white wine
One tablespoon of salt
Hog casings (soaked in water for 30 minutes)
Other Things Required:
A meat mincer with the necessary attachments
Cling films
A sterilized needle
How to make:
Cut the pork shoulder and pork fat into 2cm cubes.
Grind the cut pork meat and fat using the meat mincer and set aside.
Now get the garlic cloves and mince them. 
Put the minced pork fat and pork meat in a large mixing bowl and add the spices with salt and wine.
Mix thoroughly for about 2-3 minutes until the mixture just starts to thicken.
Cover the bowl with cling film and keep aside for about 30 minutes.
Next, get the hog casing that has been soaked in water for 30 minutes and rinse them really well with clean water.
Then, attach a medium stuffing funnel to the mincer and thread the hog casing into the funnel. Cut the casing once you thread it to the preferred length.
Stuff a decent amount of sausage mixture into the mincer and start passing it through the mincer into the casing.
Stop as you reach the end and fasten off the end of the casing.
Continue sending the sausage mixture through the funnel, supporting the sausage with your other hand.
Once done with it, tie off the other end of the casing.
Then twist sausages into links of the preferred length rotating the direction of spin with each connection.
Poke small holes in the sausages using a sterilized needle to allow air bubbles to escape during cooking.
Now you are all set to go ahead and cook!
Important
The recipe that we have shared with you is of a fresh Spanish Chorizo Sausage. But you know that the cured Spanish Chorizos are also very popular among sausage lovers.
However, remember that the curing process of meat needs particular expertise. Failing to cure meat the proper way might lead to adverse results in making people sick and even resulting in death when consumed.
Thus, if you are not very well educated on meat curing, you will have to seek guidance from someone who knows how to apply the proper techniques and methods.
Just like the Spanish Chorizo, you can also give a try to our easy homemade Mexican Chorizo sausage recipe. Click here; we will take you to the recipe right away!
We hope you enjoyed our cracking simple, fresh Spanish homemade Chorizo Sausage recipe. This mouthwatering, juicy sausage will be a perfect family treat for breakfast or dinner. You can try it sliced and pan-fried with bread or with your favorite pasta dish.