Homemade food always comes with love in each pinch and bite. You must have tried endless meats of Chorizo sausages. But I bet that you will not get anything tastier than this Mexican homemade Chorizo sausage recipe that we are going to share from our article today.
So, let's get started without further ado.
If you are a true Chorizo lover, then you'll not take the chance to miss our complete article about the spices used in Chorizo sausage. Click here for the feature.
Simple Homemade Mexican Chorizo Sausage Recipe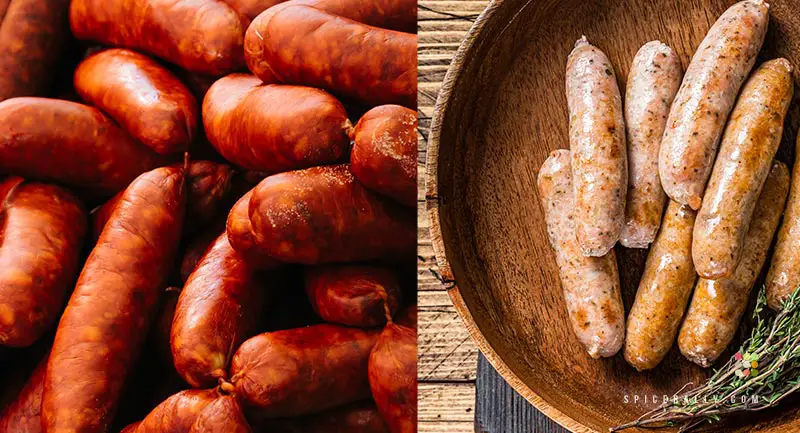 Ingredients
Required Spices and Herbs 
Five dried guajillo chiles (variations- ancho chiles)
Two or three garlic cloves (roughly chopped)
One tablespoon of sweet paprika
One teaspoon of smoked paprika
½ a teaspoon of ground cumin
½  a teaspoon of ground coriander
Five whole cloves
Two allspice berries
¼ teaspoon of black pepper
Two bay leaves
½  a teaspoon of dried Mexican oregano
Other Ingredients Needed:
One pound of coarsely ground pork meat (variations- beef, turkey)
Six ounces of roughly ground pork fat
One teaspoon of kosher salt (or salt of your preference)
¼ cup white vinegar (you can also take apple cider vinegar)
Other Things Required:
A food processor or a blender
A mortar and a pestle
Plastic wraps
Ziplock bags/ Aluminium foils/ Wax papers/ Freezer papers
How to make:
First, remove the seeds from the guajillo or ancho chiles and soak them in boiled water for about 20-30 minutes.
Then employing a food processor or a blender, puree the soaked chilies with white vinegar or apple cider vinegar.
Toss in the crumbled bay leaves and chopped garlic and continue to puree.
Now, using a mortar and a pestle, grind the whole spices and keep them aside.
Next, put the meat and pork fat in a big bowl and mix in the pureed chili mixture and all the other spices, herbs, and other flavorings.
Using your hands, combine the mixture very well.
Keep the Chorizo in a strainer or sieve over a bowl, cover the top with plastic wrap, and keep this mixture in the fridge for three days.
Squeeze out any pitching liquid daily while it is in the fridge to bring a texture approximation to your homemade Chorizo as in a store-bought one.
After three days, split the meat up into six small four-ounce loaves.
Then, cover each one in plastic wrap and keep the loaves in a zip lock bag or wrap them again in aluminum foil. Wax or freezer paper will also do the job.
This Mexican chorizo sausage will keep in the freezer for up to four months.
Cook them whenever you want and enjoy!
Did you know that homemade Spanish Chorizo is also as good as the Mexican Chorizo that we just brought you? To see if what we say is right, just tap here for a simple Spanish Chorizo recipe.
Pro Tips
You can alter and adjust the quantity of spices, herbs, and salt in your recipe according to your taste preference.
If you do not like a lot of fat, you can go ahead and omit pork fat, and just the meat would be perfectly alright, and your sausage will be leaner.
Use fresh meat, spices, and herbs for a better taste.
Storing your Chorizo in the fridge for more than four months will not have much safety concern, but it could still affect the taste.
Have a try on this simple Mexican homemade Chorizo sausage recipe, and let us know how it came out with a comment down below!