If you are someone who often uses vinegar in cooking, the difference between each type of vinegar may sometimes baffle you. Hence, we thought of sharing the facts you need to know about apple cider vinegar vs white vinegar- the two pantry staples.
The key difference between apple cider vinegar and white vinegar comes down to their sources. Apple cider vinegar is obtained from the bacterial fermentation of apple juice while white vinegar is produced by fermenting grain alcohol. Accordingly, their flavors and level of acidity differ, too.
So, in this episode, you will learn in what other ways these two types of vinegar would distinguish. Keep reading!
Apple Cider Vinegar vs White Vinegar
Apple Cider Vinegar
White Vinegar (Distilled Vinegar)
Core ingredients
Apples/apple juice
– Grains (wheat/ corn)
– Potatoes
– Sugar beet
Other Ingredients
Water
Sugar
Yeast
Water
Sugar
Yeast
Key Usages
– In cooking and baking (salads, dressings, pickles, cakes, candies)
– To preserve food
– Household uses (to trap fruit flies, as an all-purpose cleaner, a deodorizer, a weed killer, etc.)
– To use as a skincare product (reduces acne, works as a toner, removes warts, etc.)
– Used for health purposes (as a mouthwash, lower blood sugar, burn fat, soothe sore throat, etc.)
– In cooking and baking ( pickles, marinades, salad dressings, vinaigrettes, buns, bread, etc.)
– For food preservation
– Household uses (to clean tiles, as a glass cleaner, as a rinsing agent, to clean kitchen utensils and toilet bowls, etc.)
– Skincare usage (to remove warts, restore the skin's pH level, etc.)
– Health benefits (contain antimicrobial properties, reduce cholesterol, help control blood sugar, etc.)
Mode of production
Commercial and homemade
Mostly made commercially
Availability
– Typically comes in plastic or glass bottles
– Available in most grocery stores, supermarkets, and online shopping sites
– Usually comes in glass or plastic bottles.
– Readily available in grocery stores, supermarkets and can be bought from online sellers.
Type of acid
Acetic acid
Acetic acid
Level of acidity
5 – 6%
5 – 10%
Level of Water
94% – 95%
93% – 96%
Flavor profile
Sour and has a strong apple flavor.
It is clean and crisp with a more robust sour and tart notes than apple cider vinegar.
Color
Brownish, cloudy, and opaque than white vinegar
Clear and colorless like water
pH Level
3.3 – 3.5
2.5 – 2.7
Nutritional Value
– Apple cider vinegar is considered to be high in nutrition when compared with white vinegar.
– Apples are rich in vitamins, minerals, and probiotics.
– White vinegar is high in acidity and goes through a vigorous filtration and distillation process. Therefore, it is considered low in nutrition when compared to apple cider vinegar.
The Difference Between Apple Cider Vinegar and White Vinegar Elaborated…
Both white vinegar and apple cider vinegar are very useful and become assertive flavor enhancers in cooking or baking. But they have significant differences, despite the fact that they both are denominated as "vinegar".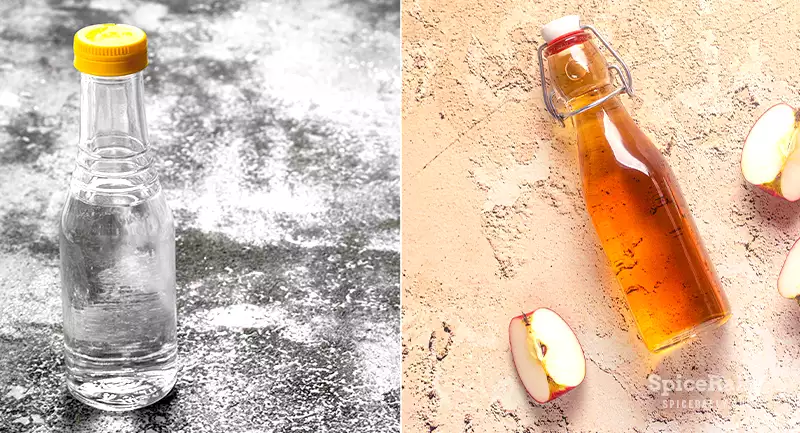 If you observe the table above closely, you should see that apple cider vinegar is less acidic but high in nutritional value. In addition to its ability to flavor your food, it also has some excellent health benefits like helping with obesity which you don't usually get to have with white vinegar.
However, recipes could use white vinegar and apple cider vinegar interchangeably. In addition, apple cider vinegar can also be used as an alternative for malt vinegar, while white vinegar becomes an excellent replacement for white wine vinegar.
If you are interested in learning about more substitutes for apple cider vinegar, click on this link and read this article.
Apple Cider Vinegar vs White Vinegar In A Nutshell…
Both these types of vinegar can be helpful to us in many different ways apart from their usages in cooking or baking. However, as you see, apple cider vinegar and white vinegar can be notably different from each other in terms of their colors, flavor, core ingredients, acidity, etc.
Related Topics