Cutting apples, mashing them, and playing with spices while the scent of fall fills your kitchen – what fun! Apple cider is a complete bundle of refreshment, joy, and comfort. So, this episode will guide you on how to make apple cider easily at home.
If you were used to store-bought drinks all this time, serve a freshly made batch of apple cider to  your loved ones and they'll be delighted!
How To Make Apple Cider At Home? (Step By Step Guide)
This apple cider recipe comes together with a few simple ingredients, especially spiced-up with some pungent aromatics. You can use the apples you have at home. Or else, try to get an assortment or one variety from the following, if you're pre-planning to make this drink:
Gala Apples
Pink Lady Apples
Braeburn Apples
Red Delicious Apples
Fuji Apples
McIntosh Apples
Cortland Apples
Dabinett Apples
Honeycrisp Apples
Granny Smith Apples
Did you know that you can also use these types of apples to make apple cider vinegar? So, click on this link and refer to this article, as we have shared a complete guide/recipe to make apple cider vinegar at home.
So, let's get simmering!
Preparation time- 10 minutes | Cooking time- 3 hours and 15 minutes | Additional time- 15 minutes | Yields- Two quarts
Step 01
Get all the ingredients and equipment ready.
Spices needed:
One teaspoon of whole allspice berries
Four cinnamon sticks
One teaspoon of cloves
One whole nutmeg
Other ingredients:
Ten large apples of your choice (Check the list above to pick the best if you are in doubt)
Half an orange 
Half a cup of packed brown sugar
Enough water to cover the ingredients
Required equipment:
A stockpot
Potato masher/ a wooden spoon
A cheesecloth
A mesh strainer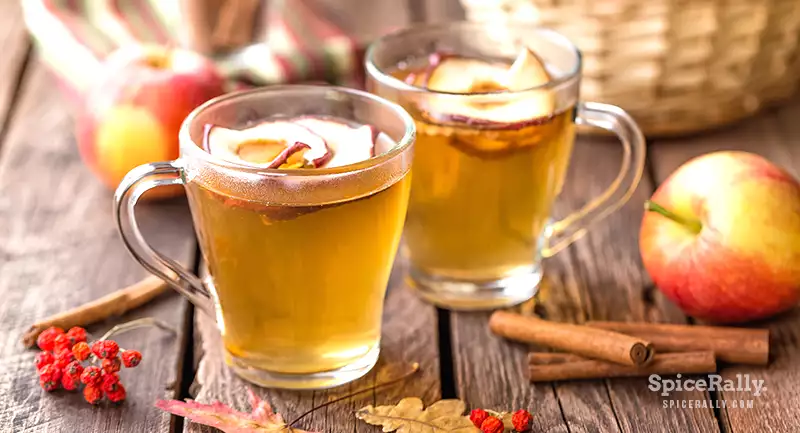 Step 02
Cut the apples and half of the orange into cubes.
Step 03
Keep the stockpot over medium heat.
Step 04
Add the fruits along with the spices and brown sugar to the pot.
Step 05
Pour enough water until the ingredients are covered.
If you are interested in discovering what spices and other ingredients go into apple cider, click here and refer to this article.
Step 06
Give a good mix using a wooden spoon.
Step 07
Bring the water to a boil.
Step 08
Reduce the heat, cover the stockpot using the lid and simmer the fruits for another two hours.
Step 09
Check if the fruits are softened. Now, mash the fruits really well using the potato masher or a wooden spoon.
Step 10
Simmer for another one hour, stockpot uncovered.
Just like apple cider, apple pie is also a fall favorite of many of us. So, if you want to put together your own apple pie spice blend at home, click here and refer to our post for a super simple recipe.
Step 11
After three good hours, remove the pot from the heat and allow it to cool completely.
Step 12
Lay the cheesecloth inside a large bowl, and empty the content from the stockpot into the bowl using the wooden spoon.
Step 13
Wrench and squeeze the cheesecloth to extract as much juice as you can.
Step 14
Once you are done squeezing the juice out, using the mesh strainer, strain the liquid remaining in the stockpot into the same bowl you squeezed the juice.
Step 15
 Your cider is ready to enjoy! 
Tasty Notes –
* You can have this apple cider warm or cold.
* Try using dark brown sugar for a darker color and a depth of flavor.
* This recipe will come out even better if you use a few types of apples.
* For an additional punch of flavor, add a piece of fresh ginger!
* Adjust the amount of sugar on your preference.
Related Topics