Panang curry paste sets apart from other Thai curry pastes and is known for its richness and creaminess. So, in this article, let's sum up some interesting uses of panang curry paste that'll help you to make tasty dishes.
In addition to flavoring up traditional Thai panang curries. This curry paste can be useful to us in various cooking applications such as,
So, keep reading to learn how the flavorful panang curry paste can be a great companion to you to come up with delicious dishes for your family.
07 Genius Ways to Use Panang Curry Paste
Thai cuisine is one of the most famous Southeast Asian cuisines for using curry pastes in their cooking applications. They have tons of different varieties of curry pastes, but Panang curry paste holds a special place out of them all. 
The main reason for this is the original content used to make the Penang curry paste. It is a milder curry paste when compared with others like red, yellow, or green curry paste. But still, our topic leader is richer and bolder in taste and texture.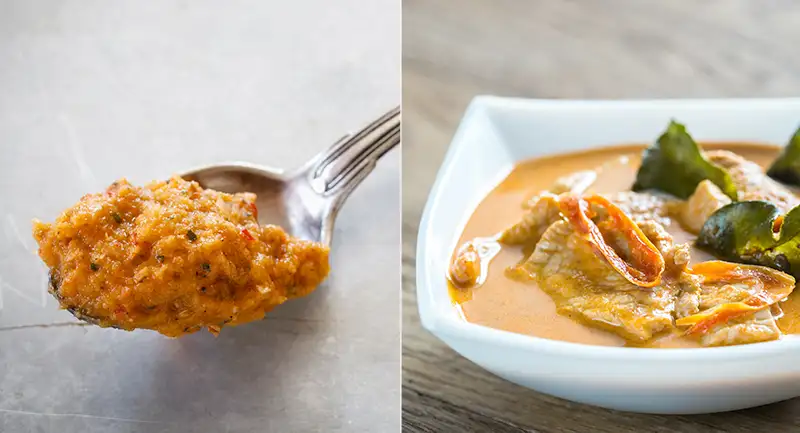 Although the primary use of the panang curry paste is making traditional chicken or pork panang curries, it is one of the most ideal curry pastes to be used in many other interesting ways to make an impressive Asian twist. 
You can buy the panang curry paste under several brands as store-bought options or easily make it at home if you have the right ingredients. And, any of those can be used to be included in the methods we will be discussing throughout this article.
01- An Excellent Ingredient To Pair With Burgers, Sandwiches, And Crackers
A curry paste with burgers, sandwiches, and crackers? Well, this may sound a little odd but did you know that panang curry paste can actually make delicious snacks and meals by pairing with these foods?
The mild yet bold flavor profile is an excellent addition to mix with a spread made for your toast, sandwiches, burgers, or crackers. When making burgers, you can make the pattie by mixing panang curry paste. If not, including a small amount of this curry paste with butter, margarine, mayonnaise, or cream cheese also can give your snacks a great, unexpected taste. 
In addition, you can also mix this with cucumber or carrot pickles before adding them in between your sandwiches or burgers. A dip infused with panang curry paste to enjoy your crackers can be a wonderful evening snack to enjoy with your friends and family during tea or coffee!
02- To Mix Into Ground Meat Mixtures
The mild heat, bold spiciness, and the combination of nutty and creamy flavors of this curry paste are an excellent complement to ground meat mixtures. If you're a home cook or a chef who loves to come up with new recipes from ground meat, fish, or seafood, then this curry paste can go a long way in your dishes. 
The spiciness of panang curry paste is great to pair with chicken and pork mainly when making meatballs, burger patties, and sausages. You can also mix this with fish cake or shrimp cake. While it gives a flavor upgrade to your classic recipes, it will also introduce a new Asian-inspired taste to these dishes. 
Penang meatballs can be wonderfully teamed up with spaghetti and you can make mouthwatering sausage rolls with panang sausages. The homemade goodness will boost the happiness of your family and will make fancy snacks on a special occasion.
03- To Pair With Vegetables And Eggs
Panang curry paste is not only for chicken or pork. But, this can be also used with various vegetable dishes and egg recipes as well. Those who follow a vegan or vegetarian diet can choose a vegan-friendly panang curry paste for their vegetable dishes. It is true that the flavor profile of the panang curry paste suits well with meat and seafood. 
But whoever needs to make a kinky difference to their vegetable dishes can pair this ingredient to match their palate. You can make a delicious coconut milk-infused curry by combining crispy baked tofu with vegetables like carrots, potatoes, bell peppers, and cauliflower. 
If you love homemade curry pastes and are searching for a place to start, we have shared a delicious recipe to make your batch of panang curry paste at home. Click here and get the step-by-step guide right now!
Moreover, if you love the traditional Indian egg masala, you can also come up with a fusion dish by making the masala using panang curry paste. Deep-fried or boiled eggs, mixed with a base made of coconut cream and panang curry paste are a great side dish to be served with rice, bread, or roti. 
Also, try to stir in a little amount of this curry paste into your omelet mixture or into the scrambled eggs mixture to enjoy with your toast. If you love roasted veggies, you can further mix this curry paste with raw vegetables and a drizzle of olive oil before throwing them into the griller, oven, or air-fryer. All the amazing panang curry paste-infused vegetable dishes are even ideal for backyard parties and special gatherings.
04- In Making Flavorful Fillings For Savory Baked Goods And Fried Food
The incredible "curry" touch that our topic leader would give the tasty fillings you make for savory baked goods and finger foods should never be underestimated! The flavor profile of this curry paste is so versatile that it has the tendency to pair with most heavy and light ingredients. 
Therefore, you can create a ton of delicious panang recipes whenever you have a small party at home and surprise your loved ones with scrumptious treats. Since this curry paste can be used with meat, fish, seafood, and vegetables, you can try both veg and non-veg spring rolls, buns, savory pancakes, Chinese rolls, sausage rolls, savory mini pies, and many more! 
You don't have to spend hours on the internet finding new recipes, just a spoonful of panang curry paste in your classic filling will do the job in the blink of an eye! If you use meat, seafood, or fish, you can either marinate them using a panang curry paste-infused marinade or directly use the curry paste when making the filling.
05- As A Seasoning For Meat, Fish, And Other Seafood
The key to any flavorful meat, fish, or seafood dish depends on the way they are seasoned. In fact, richness apart, any type of fish, seafood, or meat is just bland pieces until we season them properly using the right flavorings. 
Therefore, you can make the base for these animal proteins with the use of panang curry paste. Mixing the curry paste with oil and several other extra ingredients per your choice to make a wet rub for chicken, steak or pork will give them a juice interior and crispy layer outside. Or else, you can also incorporate our topic leader with marinades. 
These marinades can be incorporated with oil, soy sauce, fish sauce, balsamic vinegar, etc., depending on your preference. These animal proteins which are well-seasoned with the panang curry paste can be pan-fried, deep-fried, air-fried, oven baked, grilled, or roasted. 
Glazing them with a barbeque sauce or a creamy sauce will upgrade the taste and you can serve them along with creamy mashed potatoes, soup, and wine. A star-hotel-grade meal will be ready in just a few minutes!
06- To Be Used In Salad Dressing, Dips, And Sauces
Stir in a spoonful of panang curry paste with your gravies, curry sauces, dips, and salad dressings to make an incredibly delicious tweak to your ordinary meals. 
The intensified flavor combination of dry-roasted spices with fresh ingredients in this curry paste gives a wonderful depth of taste especially when incorporated with curry sauces and gravies. The distinctive creaminess and nuttiness of this also give an extra punch of flavor to most of your dips, salad dressing, and vinaigrettes. 
Panang curry paste is better when mixed with creams-based dips and sauces. You can use these dips to enjoy fresh vegetables, fried seafood and use the sauces to pair with burgers, loaded fried, sandwiches, etc. 
You don't have to use too much curry paste when it comes to salad dressing and vinaigrettes or it will overpower the taste of your salads. These mixtures can be used with cooked, raw or cold salads, which is ideal with meat salad recipes.
07- To Make The Base For Many Stir-Fries, Stews, And Soups
Who wouldn't love to enjoy a hearty bowl of soup or stew on a cold evening? If you need to make something different for your whole family, but don't have time to come up with something very fancy, panang curry paste can make it all up to you. 
If you have a jar of this curry paste in your kitchen, you will have the ability to create layers and layers of flavors as the base for many stir-fries, stews, and soups. If you wish to pair this curry paste with a soup or a stew, we would suggest mixing it with a coconut milk-based recipe for the best taste. 
You can pair our topic leader with anything hearty such as black beans, noodles, carrots, rice wine vinegar, etc. If you wish to make vegan recipes, you must pick a vegan panang curry paste. Sauteing the curry paste with oil or butter to make the base for stir-fries can give you great meal preps if you're a busy cook.
Enjoy Cooking With The Flavors That Panang Curry Paste Creates With Your Favorite Dishes!
A jar of panang curry paste in your kitchen will never disappoint you as the only use you can have is not making curries. As we have shared throughout our article, the wonderful combination of the content of this curry paste can bring so many flavors to your table, making a real Asian twist to your foods in a way you never expected! So, what's your favorite method of incorporating panang curry paste with your dishes? Let us know in the comments below.
Related Topics