It is no secret that Thai tom yum works as the instant flavor booster of the traditional tom yum soup. But did you know this Thai tom yum paste has many other uses? This article wishes to share what they are!
The interesting flavor profile of the Thai tom yum paste allows us to do wonders with it in the kitchen. Thus, we can use it in ways such as,
Let's dive right in and see how your jar of Thai tom yum paste can create tasty dishes for you and your family!
07 Exciting Ways To Use Thai Tom Yum Paste
Thai tom yum paste, or Thai tom yum soup paste is commonly known and used as the key flavor element of the tom yum soup. This paste is generally used as an instant flavor booster to the soup when we don't have time or don't like to incorporate all the necessary flavorings in chunks into the dish.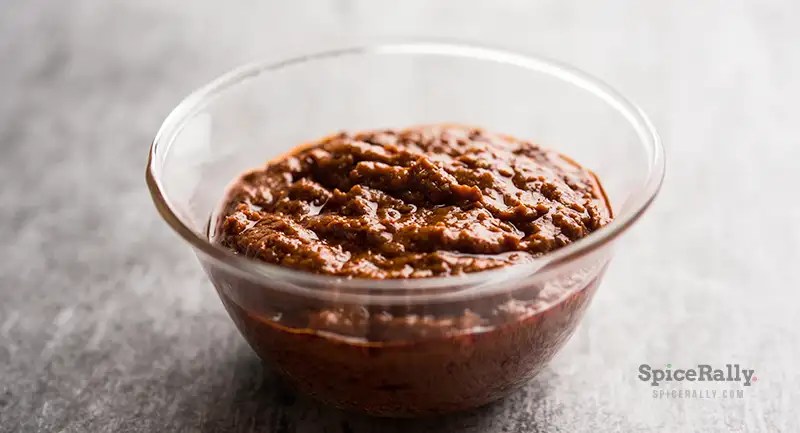 But something that most of us don't know is that this paste has many other uses apart from its primary use. Thai tom yum paste is, in fact, very heavy on flavors with an aromatic and vibrant base. The amazing combination of galangal, lemongrass, red chiles, kaffir lime leaves, fish sauce, etc., makes it very versatile with several other cooking applications.
So, if you're tired of eating and preparing your food using the same old methods and expect to make a twist, we bet this Thai tom yum paste is a convenient and efficient place to start. You can use store-bought Thai tom yum paste products or a freshly made homemade batch depending on your preference.
If you wish to learn more about the Thai tom yum paste and need an easy homemade recipe to make this paste at home, click on this link and refer to our informative article.
01- To Use As A Marinade For Meat, Fish, And Other Seafood
With summer around the corner, most of us are excited about having outdoor parties and backyard barbeque parties. If not, meat, seafood, and fish are the best way to meet our daily dose of protein. So, if you're bored of making these proteins the same old way, a spoonful of Thai tom yum paste can make it up for you in a way you never expected.
The richness, flavor, and texture of meat, fish, or seafood depend on how we season them. Thus, giving them the right punch of flavor is important before you fry, bake, grill, or cook them. Make the desired difference with the tom yum paste, using it as the base for marinades or wet rubs.
You can temporarily say goodbye to your ordinary seasonings and introduce your proteins to a new dimension of flavor by mixing this paste with several other ingredients.  Mixing this paste with thick coconut milk, garlic, lemongrass, and cilantro will make an amazing marinade for your chicken, fish, and shrimp.
You can just season the steak or pork with salt and pepper, rub tom yum paste, mix it with a liquid ingredient like soy sauce or fish sauce, and grill the meat to make the perfect Thai-inspired grilled pork or steak.
02- As A Spread For Sandwiches, Burgers, Toast, And Crackers
This is one of the most effortless and effective uses you can get from your jar of tom yum paste. If you love spicing up your burgers, sandwiches, toast, or crackers, try this paste as a spread.
The bursting flavors of tom yum paste can go a long way with types of foods. Therefore, you'll only need a little amount to create a whole new food. You can incorporate this paste with a thick dip to accompany it with crackers.
Or else, mix with boiled eggs or pair with crispy chicken, fish filets, beef or pork patties, sausages, etc. Combine with vegetables like tomatoes, cucumber, and onion for extra flavor. For creaminess, mix the tom yum paste with cream cheese or mayonnaise.
03- To Mix With Dips, Sauces, And Salad Dressings
Here's another excellent way to use this paste with your daily dishes! You can mix the Thai tom yum paste with dipping sauces, gravies, sauces, salad dressings, or vinaigrettes. This is one of the most impressive ways to make a fancy change in your meals without too much effort.
The exotic flavor profile of this paste is ideal to be combined with onion, green and red chiles, butter, cooking cream, and other flavorful spices. If you follow a low-carb, healthy diet, tom yum paste is a great way to upgrade your salads without making your diet a dull routine.
While our topic leader is best to mix into dipping sauces and salad dressings, you can also enhance the flavor of your gravies. If you are used to making gravy the typical way with cream and spices, a dash of tom yum paste can give them an unexpected flavor boost with a striking Asian kick.
The bold flavor of this paste also pairs well with the sweetness and sourness of natural fruit juices. So, you can make delicious vinaigrettes by combining this with apple cider vinegar, apple juice, lemon juice, etc. These salad dressings and vinaigrettes can be enjoyed with cooked salads and fresh or cold salads.
04- To Mix Into Different Types Of Soup
Thai tom yum paste is not only confined to making traditional tom yum soup dishes. But, you can also use this with many other soup recipes to give them a spicy, tangy flavor.
This is a fantastic addition when you need to go for a fusion soup recipe. For example, when you need to mix the flavors of Western cuisine with Asian cuisine, this paste can be a wonderful companion to give you the expected results without too much hassle.
If you choose vegan tom yum paste, you will also have the chance to use it with vegetarian or vegan soup recipes. Mixing it with coconut milk or cream to make creamy soups will give you surprising results to treat your family with the best!
05- Spices Up Roasted And Baked Vegetables
Do you have kids at home who keep deep-rooted bygones with vegetables? Or are you bored of baking or roasting your veggies the same old way? Worry not- Thai tom yum paste can make an incredible difference without wasting your precious time!
As mentioned earlier. A little from this paste can go a long way. Therefore, mixing a small amount of Thai tom yum paste before or after baking or roasting can give your veggies a wonderful taste with a lovely crispiness.
You can go with favorite vegetables like potatoes, sweet potatoes, carrots, green beans, and even tofu to add up to your daily dose of protein. Pat dry your chunks of tofu, slather them with the tom yum paste and grill them to enjoy with the vegetables.
Here's a small dinner tip you can quickly make tonight: Make a twist to your everyday roasted potatoes- Cut the potatoes into wedges or chunks of your choice. Boil them for about 5 minutes with a dash of salt. Take them out, drain, and mix in a pinch of salt, Thai tom yum paste, dried oregano, thyme, or rosemary, along with a drizzle of olive oil. Toss to combine everything well and pop the potatoes in the air-fryer until well-roasted. Enjoy your roasted tom yum potatoes with steak and wine! Make sure to let us know how this simple yet fancy dinner came out to be.
06- As A Base For Stir-Fries And Stews
We all are up to something in life and expect to finish our daily chores as easily and quickly as possible. So, if you're a busy mom who needs some relief in cooking yet loves to give the best to your family, the tips we discuss from this point will be important to you. 
Thai tom yum paste is rich in healthful spices and herbs which is ideal for healthy meal prepping. On that note, you can incorporate this paste into your ordinary stir-fries and stew recipe to make them even better. While our topic leader provides an upgrade to your classic dishes, this also helps you to come up with new recipes. 
Use this as a base for your heart stews, which is ideal to be paired with shrimp, beef, chicken, and vegetables. You can also scoop this into quick stir-fries, made with any meat, seafood, and also noodles, and linguine. 
Tom yum stews are made similar to soups, yet you can make them more condensed and thicker by adding corn starch. When tom yum paste is included in stir-fries and stews, they will have a spicier, heartier flavor with a wonderful color. These dishes are perfect to be included in low-carb or keto diets as well.
07- To Mix Into Rice Recipes, Noodles, And Spaghetti
While you can make quick and uncomplicated recipes using this curry paste, it will also work as an all-rounder, helping you to create fancy recipes for special occasions. Thai Tom Yum Fried Rice is a very popular dish in Thailand, known for its incredible flavorfulness. Likewise, there are a few more recipes you can prepare with the tom yum paste including pasta, spaghetti, or noodles. 
These dishes are ideal items when you can have guests showing up at your place or when you have special gatherings at home. You don't have to go for drastic measures, spending hours in the kitchen making complex dishes, when our topic leader can give the perfect touch of enrichment to your table. Tom yum fried rice can be made vegetarian, vegan, or using any kind of meat or seafood. 
Apart from that, pasta and spaghetti dishes can be paired with a spicy and creamy base. To make the creamy base, you can use cooking cream, coconut milk, and different types of cheese like parmesan, cream cheese, cheddar, and mozzarella. When talking about noodle recipes, the best type of noodle to go with this paste is rice noodles.
But you can also create your dishes with ramen and glass noodles as well. A bowl of spicy and warm Tom Yum Ramen Noodles will be all you need to snuggle up with a movie on a chilly afternoon. Try these dishes and thank us later!
Indulge In The Goodness Of Ultimate Thai Flavors With Thai Tom Yum Paste In Your Favorite Recipes!
Thai tom yum paste is the perfect example to prove that an ingredient doesn't have to stick to one specific use even though it is tagged so. As you see, there are tons of new dishes you can make with this paste if you are passionate about being creative in your kitchen. Starting from a simple stir-fry, Thai tom yum paste can go a long way in your recipes, creating layers and layers of incredible flavors.
Related Topics