Even if you consider some ingredients as kitchen staples, there are times that you could run out of them. Thus, if you are trying to find an alternative to something like Jerk Chicken Wings dish, this article has covered you with the best 07 jerk seasoning substitutes.
The ideal replacements for jerk seasoning include:
So, how will these options help you save your jerk dish? Let's check out!
The 07 Best Jerk Seasoning Substitutes
Our subject leader is a combination of powerful spices, herbs, and other ingredients that would usually give you a rich and intensely flavored dish. As a matter of fact, jerk seasoning typically includes:
Allspice
Cumin Seeds
Nutmeg
Red Pepper Flakes
Cinnamon
Onion Powder
Garlic Powder
Paprika
Cayenne Pepper
Black Pepper
Dried Thyme
Dried Oregano
Salt
Sugar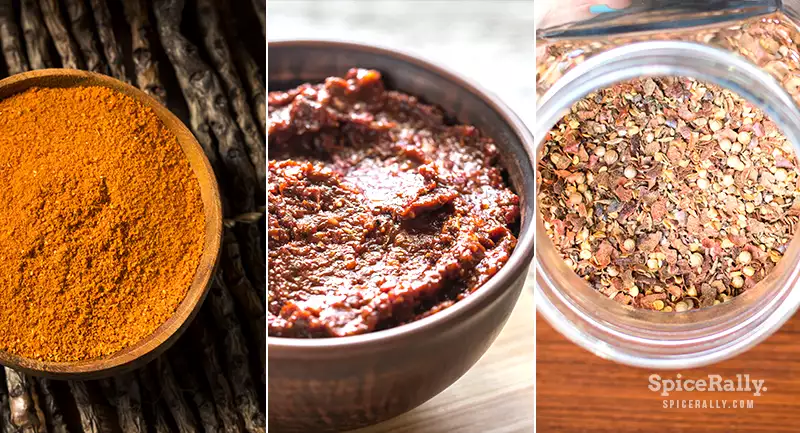 So, now you are about to discover the best jerk seasoning substitutes from the list below. These will give a closer flavor approximation to many dishes.
If you are interested in learning more about jerk seasoning, click this link and refer to our article, which explains its ingredients.
01- Jerk Seasoning Sauce
This is also known as "Jerk Marinade Seasoning Sauce," and you can easily get this from the supermarket on your next visit. And this is like a more saucy version of the seasoning powder that you could specifically use for marinating meat, poultry, fish, shrimp, etc.
Jerk seasoning usually shares common ingredients like:
Allspice
Black pepper
Nutmeg
Thyme
Sugar
Salt
Onion powder
Garlic powder
Citric acid
When red pepper flakes, cayenne pepper, and paprika are used in the jerk seasoning powder for hotness, the scotch bonnet peppers typically meet the spiciness of jerk seasoning sauce. And it may also include additional ingredients like scallions, vinegar, and water.
02- Baharat
Baharat is actually a spice blend that is considered a staple in Middle Eastern cuisine. It has many identical ingredients to our subject leader, such as:
Cumin
Black pepper
Allspice
Nutmeg
Cinnamon
Chili peppers
Paprika
However, this blend can be a little more intense than jerk seasoning due to the additional content like sumac, turmeric, saffron, etc. Moreover, it could also lack the taste of salt, sugar and herbs. 
So, if you use this alternative, we suggest that you should add some salt and sugar until you get the desired taste. Baharat can be used in a similar amount or a little lesser or more on your flavor preferences. You can use this in place of jerk seasoning in many meat, fish, and seafood dishes.
Would you like to learn something more about the Baharat spice blend? Then you should not miss our article here.
03- Ras el Hanout
Ras el Hanout is another decent choice when you don't have jerk seasoning in your spice rack. This spice mixture also shares a lot of similar ingredients like:
Cinnamon
Allspice
Nutmeg
Black pepper
Allspice
Paprika
Cayenne pepper
You can employ this in a similar amount to replace Jerk seasoning, especially with meat and seafood dishes.
However, this could also contain additional ingredients like cardamom, mace, and turmeric. Plus, some store-bought ones might also consist traces of nuts. Thus, if you are sensitive to nut allergies, always check the list of ingredients before buying or using this option.
In addition, some Ras el Hanout recipes may not contain salt or sugar. So, if you are using such products or a homemade version, adding salt, sugar, garlic powder, onion powder, and dried herbs in pinches will give you the best flavor approximation.
04- Berbere
Berbere comes from Ethiopian cuisine, and this spice blend is packed with exotic flavors and a rich aroma. This could be a little more intense than our subject leader, so the best thing would be to use it in pinches until you build the desired flavor.
However, Berbere includes some similar ingredients like:
Allspice
Black pepper
Nutmeg
Cumin
Cinnamon
Paprika
Salt
In addition to these spices, some recipes may also incorporate some lesser-used flavorings like nigella seeds, korarima, ajwain, etc. The spiciness is usually acquired by the usage of red chili powder. Therefore, this could be used in many dishes that call for jerk seasoning in their original recipes.
If you like a very close flavor, try throwing a bit of sugar, dried thyme, dried oregano, garlic, and onion powder into the dishes you wish to use Berbere as an alternative.
05- Rogan Josh Curry Powder/ Paste
Rogan Josh is a unique blend of spices used in India to make one of their signature lamb dishes. You can get this as a powder and also as a paste. And this substitute shares many common spices with our subject leader like:
Cayenne pepper
Black pepper
cinnamon
Paprika
Garlic powder
Salt
Rogan Josh could include some exotics like black cardamom, and the taste could be a little more intense than jerk seasoning, accordingly. It also contains cloves that can replicate the flavor of allspice. Plus, crushed Kashmiri red chilies in some Rogan Josh recipes can imitate the goodness of crushed red peppers.
You can use this spice powder with chicken, pork, beef, and seafood dishes. And, if you use Rogan Josh paste, it'll be an excellent marinade replacement. Use a similar amount with a dash of sugar, dried oregano, and dried thyme for a closer flavor.
Jerk seasoning is not only for rubbing meat but there are many other unexpected ways you could incorporate this blend with your regular cooking. Click this link to learn the ten best ways to use jerk seasoning.
06- Tandoori Masala Powder
Coming again from Indian cuisine, Tandoori Masala powder is one of the most readily accessible and versatile jerk seasoning substitutes. In fact, it could contain a lot more ingredients than our subject leader with a deeper taste.
However, Tandoor Masala shares many comparable spices like:
Cumin
Cinnamon
Black pepper
Garlic powder
Nutmeg
Salt
Like Rogan Josh, the flavor of allspice is met in this by the usage of cloves. And the hotness is obtained with Kashmiri red chili powder. However, this spice powder could be less spicy than jerk seasoning since Kashmiri red chili powder is milder than cayenne.
Therefore, when you use this option with meat, fish, poultry, or seafood dishes, you might need to add some extra cayenne powder.
Moreover, adding some sugar and dried herbs will give you a handy flavor approximation. Nevertheless, if you aren't satisfied with the amounts you should use, the best thing would be to add gradually until the taste is being developed.
07- Homemade Jerk Seasoning
If you have time and resources, the best substitute would be a recipe put together at home. And, it could give you the closest flavor and the chance to use it with anything that calls for jerk seasoning.
To help you with this option, we have a jerk seasoning recipe that you can make at home in a few minutes.
Simple Homemade Jerk Seasoning Recipe
This seasoning blend is as good as the one you usually buy from the store (or maybe a little better!). All you have to do is grab the few ingredients that are easily available around your kitchen and make this in no time.
So let's get started!
Preparation time- 5 minutes | Cooking time- 0 minutes | Additional time- 5 minutes
No: of servings- 1 cup | Total calories- 38 | Cuisine- Jamaican
Spices And Herbs Needed
One teaspoon from each- red pepper flakes, ground nutmeg, ground cumin, and ground cinnamon
Two tablespoons from each- onion powder and garlic powder
Two teaspoons from each- ground black pepper and ground allspice
Four teaspoons from each- smoked paprika and cayenne pepper
Two teaspoons of dried thyme
Two tablespoons of dried parsley (or oregano)
Other Required Ingredients
Two tablespoons of brown sugar
Four teaspoons of salt
Instructions For Preparation
In a mixing ball, combine all the ingredients and whisk until everything is mixed well together.
Use immediately or store in an air-tight glass spice jar for later use.
You Just Discovered The Best Jerk Seasoning Substitutes!
SpiceRally constantly strives on meeting your daily kitchen issues, and we believe that this is another successful attempt at that. 
The above-listed jerk seasoning substitutes, which include jerk seasoning sauce, Baharat, Berbere, Ras el Hanout, Rogan Josh Powder/paste, Tandoori Masala powder, and homemade jerk seasoning recipe- will undoubtedly help you to save your jerk dish with a very similar taste.
Related Topics