Coming together with flavorful spices and aromatic herbs, our pizza seasoning recipe should be a staple in your spice rack. This blend is not only for pizzas. In fact, you can use it from pizzas to slow-simmering sauces and gravies, incorporate it into marinades, with roasted vegetables, etc.
So, here's the step-by-step guide that will explain the process clearly on how to make this seasoning mix in just a few minutes.
How To Make Pizza Seasoning At Home? (Step-By-Step Guide)
The best thing about our homemade pizza seasoning recipe is its effortless customizability.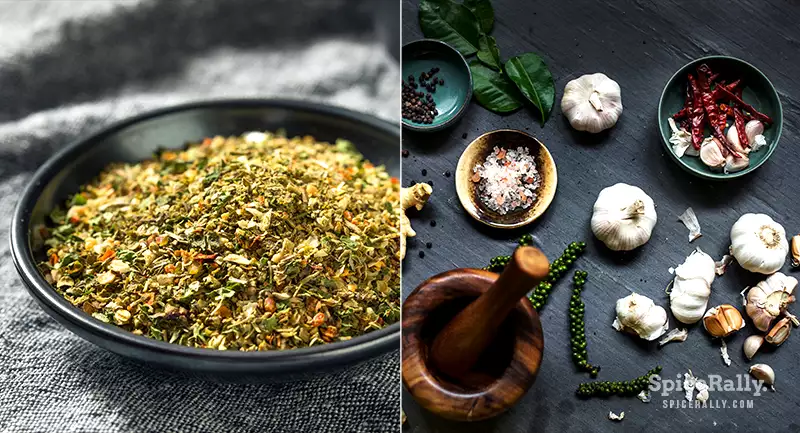 Unlike most store-bought options, you can always take control over the ingredients that go in. It is gluten-free, vegan-friendly, and comes together in just five minutes!
So, let's get into blending!
Preparation time- 05 minutes | Cooking time – 00 minutes | Additional time- 05 minutes
Step 01
Get the required ingredients and equipment ready.
Spices and herbs needed:
One tablespoon from each: garlic powder, crushed red pepper flakes, onion powder (you can also use dried onion flakes), and coarsely ground black pepper.
Four tablespoons of dried oregano
Two tablespoons of dried basil
One tablespoon of dried thyme
One tablespoon of dried parsley
Other ingredients:
Half a tablespoon of coarse sea salt
Required equipment:
A mixing bowl
Wooden spoon
A mason jar with a tight-fitting lid
If you are interested in learning something more about what ingredients are used in pizza seasoning, tap on this link for a detailed article.
Step 02
Add all the spices and herbs along with salt to the mixing bowl.
Step 03
Using the wooden spoon, mix all the ingredients until well combined.
Step 04
Transfer the prepared seasoning mix into the mason jar.
Step 05
You can use this immediately or store it in a glass air-tight mason jar and keep it in a cool, dry place to be used later.
 Tasty Notes…
You can simply use our homemade pizza seasoning recipe with anything like garlic bread, salad dressings, salmon, etc.
Feel free to adjust the salt that goes into your recipe. You can even make this without salt.
You can add extra ingredients like marjoram, rosemary, paprika, and fennel seeds for supplementary flavor. 
But omit crushed red pepper flakes if you use hot paprika since the heat could be overpowering.
Related Topics