Asian soup dishes are typically known for their savoriness and palatability. Likewise, laksa is among the top on this list, so we will share with you all you need to know about laksa ingredients and its ins and outs.
Laksa is basically a savory and spicy noodle soup. There are three basic versions of laksa: 
Although different ingredients are used to create the complex taste of this soup, some elements are used universally to create laksa. They are: – Laksa curry paste (Curry laksa curry paste/ Assam laksa curry paste), Laksa noodles
So, keep reading to be enlightened with the facts you never knew about laksa before, and let us cover up the entire flavor story for you!
Laksa And Its Ingredients
What Is Laksa?
Laksa is a spicy, complex, delicious noodle soup that is widely consumed among Southeast Asian countries, particularly in Malaysia, Singapore, Indonesia, and some parts of Thailand. Although the origin of laksa is a bit controversial, most people believe this food to have originated from the Peranakan culture.
However, most sources claim that laksa is a result of intermarriages between Chinese immigrants, Singaporeans, and Indonesians. This concept is proven since laksa combines a wide variety of authentic Southeast Asian ingredients that satisfy each taste bud.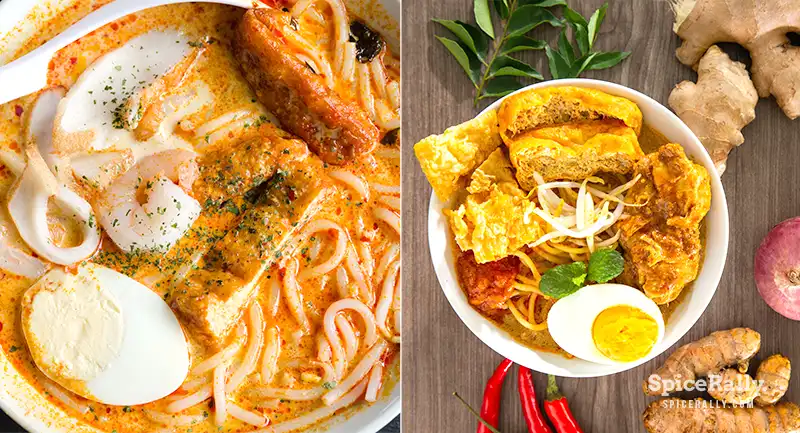 As mentioned previously, there are three main types of laksa that differentiate from each other, mainly in terms of ingredients and flavor. The process is pretty much the same and counts for standard laksa-making, but once you taste them, you will feel that they hugely differ in flavor. However, every regional laksa variation you get to enjoy falls under either category of these three primary varieties.
Ingredients For Laksa
Reminding you again, laksa is one of the most complex soup dishes in the world that counts on a number of different ingredients. While some of them are familiar to us in Western cuisine, some are absolutely exotic and unique to Southeast Asian cuisine.
Nevertheless, we can still find a set of universal ingredients showing up in almost laksa recipes, regardless of the variation. Some of them are common spices, herbs, animal proteins, vegetables, and flavorings, while a few, again, are exotic to their cuisines. They collectively create wonderful layers of flavors which stand out laksa from ordinary soup dishes.
Laksa Curry Paste – The Base Of Laksa Broth
The curry pastes in this soup are a flavorful and aromatic combination of fresh herbs and spices used as the base to flavor almost every variety of laksa broth. Laksa curry pastes can be easily bought from the store or made at home if you have the required ingredients. 
This is actually the key to getting the real taste of most laksa dishes while other ingredients work as complementary elements. Basically, the curry paste included in curry laksa and Assam laksa has subtle differences in terms of ingredients.
Click on this link and refer to our detailed article to learn everything about the two types of laksa curry pastes used in curry laksa and Assam laksa separately.
Laksa Curry Paste For Curry Laksa
The paste made for curry laksa usually includes more ingredients that enhance the "curry" accent to complement the rich taste of coconut milk. Accordingly, this laksa curry paste usually contains ingredients such as:
Chilies
Galangal
Turmeric
Lemongrass
Curry powder
Ground cumin
Kaffir lime leaves
Onion
Garlic
Dried shrimps
Shrimp paste
Candle nuts/ macadamia nuts
Oil
Salt
Sugar
Laksa Curry Paste For Assam Laksa
The curry paste made for Assam laksa is comparatively less intense and less spicy than the curry paste made for curry laksa. It contains ingredients like:
Red chilies
Galangal
Shallots
Turmeric
Lemongrass
Belacan (this is a paste made with dried and fermented shrimp, which usually comes as a block, unlike regular shrimp paste)
Although these pastes are traditionally non-vegan, those who are interested in making vegan laksa could find vegan pastes or make their own vegan laksa curry paste versions by replacing and omitting certain ingredients.
Other Common Laksa Ingredients
Meat, Fish, And Seafood
This soup is traditionally heavy on meat, fish, and seafood unless you go for a vegan laksa. The usage of different types of animal proteins depends on the recipe.
But most often, chicken, shrimp, and mackerel fish are used in a majority of laksa versions. In addition to these proteins, you can occasionally find laksa with other types of meat like beef and pork.
Noodles
Laksa without noodles is not laksa at all! In fact, this is among the main ingredients in this soup, and traditionally, a broad rice noodle type known as "laksa noodles' ' is used. 
But we can see a number of recipes with other varieties of noodles such as rice noodles, vermicelli, Hookein noodles, or even regular wheat noodles. The usage of noodles actually depends on personal preference, and there's no standard for it.
Vegetables, Fruits, And Herbs
Apart from the vegetables like onions used to make the laksa curry paste, some versions like Assam laksa include veggies like cucumber and lettuce with fruits like pineapple as toppings. In addition, mung bean sprouts are another special, non-negotiable ingredient in most laksa versions.
When talking in terms of herbs, it might also differ depending on the type. But still, we can find traditional recipes that include cilantro, mint, Vietnamese coriander (aka laksa leaves). However, we can see various other vegetables included in vegetarian or vegan laksa recipes.
Other flavorings
Most laksa recipes contain fish sauce as an integral ingredient. Moreover, salt, pepper, sugar, chicken stock, fish stock, and coconut milk are used more or less in most varieties, depending on the type we make.
What Is Curry Laksa?
Curry laksa is the coconut-milk/cream-based spiced curry soup version of laksa. This type is extremely popular because it is super flavorful, filling, and satisfying as a whole meal. 
The broth is flavored with laksa curry paste and Vietnamese coriander. And It is served with a scoop of sambal and garnished with mint, bean sprouts, chicken, boiled eggs, etc.
Curry laksa usually contain animal proteins like shredded chicken, fish balls, fried tofu/soy puffs, shrimp, and cockles. The regional variants include:
Banjar Laksa
Bogor Laksa
Betawi Laksa
Cibinong Laksa
Lakse Kuah
Laksa Tangerang
Palembang Laksan
Palembang Burgo
Palembang Lakso
Laksam
Click on this link and go to this article to learn more about curry laksa, and we have shared an authentic recipe for making this heart soup easily at home.
What Is Assam Laksa?
This laksa version is usually the coconut milk-free version which has a sour, fish-based, and spicy soup broth. The sourness is typically achieved by including tamarind paste and another special ingredient known as "asam keping," a type of dried and sliced mangosteen.
In addition to these ingredients, it also includes shredded fish (mostly mackerel). It is served with toppings like cucumber, pineapple, lettuce, onions, red chilies, torch ginger, Vietnamese coriander, and a scoop of thick, sweet shrimp paste. Regional variations of Assam laksa include:
Penang Laksa
Laksa Medan
Kedah Laksa
Laksa Ikan Sekoq
Teluk Kechai Laksa 
Perlis Laksa 
Ipoh Laksa
Kuala Kangsar Laksa
Sarang Burung Laksa
Pangkor Mee Laksa
If you wish to learn more information about Assam laksa, click on this link and refer to our detailed article.
The Third Main Variety- Laksa Combination Of Curry Laksa And Assam Laksa
The idea of being a combination is that this type of laksa usually contains a concentrated amount of coconut milk along with souring agents like tamarind and asam keping. The preparation process and the basic ingredients are almost the same. 
But the secondary ingredients like animal proteins, vegetables, and other flavorings could vary slightly depending on the recipe. The regional variations that come under this category of laksa include:
Sarawak Laksa
Siamese Laksa
Kelantan Laksa
Tambelan Laksa
Terengganu Laksa Kuah Putih
Pahang Laksa
Island Laksa Kuah Lemak
Katong Laksa
Johor laksa
Siglap Laksa
The Difference Between Curry laksa And Assam Laksa
The main difference between curry laksa and Assam laksa comes down to their broths. Curry laksa has a spiced, coconut milk-based broth. 
At the same time, Assam laksa is made without coconut milk but has a more sour, tamarind-based, spiced broth. In addition to the base of the broth, the spice/curry pastes used in these two types of laksa are also different.
As mentioned briefly on top, the curry paste made for curry laksa is spicier and more powerful to complement the coconut milk-based broth. In contrast, the curry paste made for Assam laksa is less intense and lighter in flavor. Therefore, these two varieties are mainly differentiated by their contrasting flavors and some of the ingredients used.
Is Laksa Vegan-Friendly?
Most traditional laksa varieties are usually hefty on meat, fish, and seafood. Thus, if you prefer enjoying authentic laksa, it would not be a favorable choice for vegans. However, with the evolving recipes, we can find plenty of vegan or vegetarian laksa recipes. So, our vegan readers can try one of them without hesitation!
Is Laksa Keto-Friendly?
Laksa can be consumed moderately by those who follow a keto diet due to the content of rice noodles. But still, you can find keto laksa recipes online if you are really strict on your diet or need to make your own batch at home.
Does Laksa Contain Gluten?
While many laksa recipes use gluten-free laksa curry pastes and noodles, some might contain traces of gluten in their curry pastes and wheat noodles. 
So, if you wish to enjoy this soup outside, it is best to inquire about the gluten content to make sure. And if you make laksa at home, make your own curry paste and use rice noodles.
Does Laksa Contain MSG?
Generally, most authentic laksa recipes show up with natural ingredients, and artificial taste enhancers or preservatives are not a part of them. 
But still, certain laksa curry paste options you buy from the store could contain MSG in them. So, check the label before you purchase laksa curry paste from the store, or else making your own could be your best bet.
A Delux Bowl Of Laksa Could Effectively Satisfy Your Soup Craving!
Laksa is the name given to a wide range of curried soups especially prepared in Southeast Asian countries. This is a top-rated soup recipe loved by the Western community, who loves the sumptuous combination of the flavors of this soup. 
There are many regional variations of laksa, and each of them belongs to either of the main three categories: Curry laksa, Assam Laksa, or a combination of Curry and Assam laksa.
Related Topics