The essence of most varieties of kimchi popular in Korea is the kimchi paste since all the flavors of this dish lie within this paste. So, let's bring you all about kimchi and its ingredients that you longed to know.
Kimchi paste is the base of many kimchi varieties, including the most basic baechu kimchi. Traditionally, this is spicy and hot, coming together with basic ingredients such as:
Gochugaru (Korean red pepper)
Garlic
Ginger
Glutinous rice flour
Fish sauce
Sugar
Salt
Some kimchi paste recipes might also include lime juice, sesame oil, sesame seeds, etc. 
So, let's see what else we have piled up for you in this article!
What Is Kimchi Paste?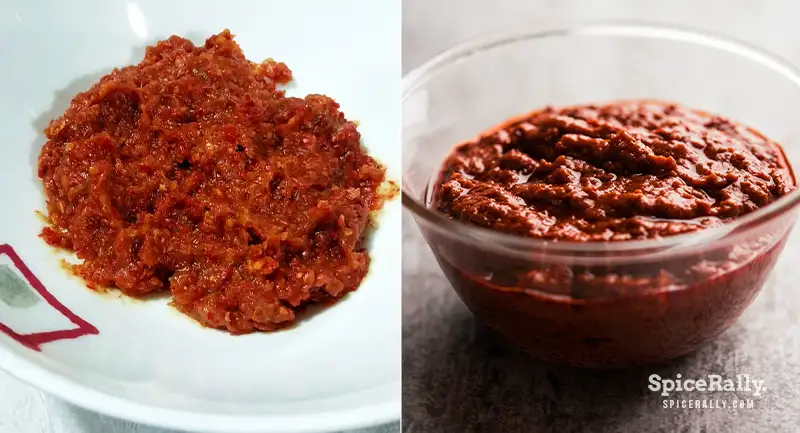 Kimchi paste is a red, spicy, tangy, and flavorful paste that is traditionally used as the base flavoring of many types of kimchi. You can buy this kimchi paste from the store as it comes in jars, or make it at home as one of the steps when making kimchi or make it ahead of time. This paste has several staples, while secondary ingredients vary depending on the recipe or household.
Although the primary purpose of this paste is to flavor kimchi, you can also use kimchi paste with several other dishes like soup, stews, meat, seafood, and even vegetables. The exotic flavor combination of kimchi paste usually has a catchy taste, giving out something more than just a mixture of red chile pepper powder.
Spices In Kimchi Paste
01- Gochugaru (Korean Red Pepper)
This is an essential ingredient used in this paste. Gochugaru is the pulverized powder of Korean red chiles that provides this paste with relevant heat, spiciness, and vibrant color. This usually has a coarser texture than regular chile powder types, which is also known as Korean red chile flakes. Gochugaru is probably the main ingredient of this paste, so it has been used more than the rest of the ingredients.
Follow this link and refer to our detailed article if you are interested in learning all you want to know about wholesome Korean kimchi.
02- Garlic
Fresh garlic is the next staple used in traditional kimchi paste. The bold, pungent and aromatic garlic adds an amazing zing to this paste with a distinctive umami kick to pair with the rest of the ingredients used. Most of the time, fresh garlic cloves are incorporated into kimchi paste, while sometimes garlic powder also features in some recipes.
03- Ginger
Zesty ginger is another amazing spice that adds a distinctive piquancy to the kimchi paste, teaming up well with garlic. Its warmly sweet and slightly citrusy flavor and aroma rejuvenate, balancing out other robust and sharp flavorings of this paste. Although some recipes come out without ginger, this ingredient is a traditional spice that is considered a must-have in the kimchi paste.
Other Kimchi Paste Ingredients
In addition to the spices discussed on top, kimchi paste is often flavored with salt, sugar, and fish sauce. While glutinous rice flour is mainly included to get the perfect texture for our topic leader, it also acts as the base of this paste, which helps to thicken the kimchi dish. While these ingredients become essentials, some recipes even come up with the following elements:
Lime juice
Sesame oil
Sesame seeds
Baby shrimps/ anchovies
White onion/ scallions
Oyster sauce
Soy sauce
Rice vinegar
However, the kimchi pastes you find in the store might include additional ingredients such as:
High fructose corn syrup
Cayenne pepper
Onion powder
Bonito extract
Squid extract
Citric acid
Flavor enhancers, artificial and natural colors, stabilizers, thickeners, preservatives, etc.
Does The Kimchi Paste Contain MSG?
Traditional kimchi paste does not typically contain MSG. But the products you buy from the store might have this ingredient for flavor enhancement. So, check the label before purchasing.
Is Kimchi Paste Gluten-Free?
Most traditional kimchi pastes are generally gluten-free. However, this factor largely depends on the ingredients used in preparing it. Therefore, your store-bought or homemade kimchi might include gluten in it.
Is Kimchi Paste Vegan-Friendly?
Most authentic kimchi paste recipes are made with fish sauce or traces of fish, like baby shrimp or anchovies. Thus, this paste is not traditionally vegan-friendly. But you can make or find vegan options.
Is Kimchi Paste Dairy-Free?
Traditionally, kimchi paste does not contain any dairy products. But, sometimes, the stabilizers or flavor enhancers used in commercial production might contain dairy. So, check the label before buying if you are following a dairy-free diet.
In The Bottom Line…
Spicy, hot, and flavor-loaded kimchi paste is the most important ingredient included in most traditional Korean kimchi varieties. Although each kimchi paste recipe could slightly vary depending on the household or chef, essential ingredients like Gochugaru, garlic, ginger, sugar, glutinous rice flour, fish sauce, etc., can be seen in the traditional kimchi paste.
Related Topics