Chili powder can be one of the  A-listed spice blends you often use in your spicy dishes. But what can you use if you don't have it around? Worry not- here's a list of chili powder substitutes that'll help you out!
The best chili powder substitutes include:
So, let's see how these alternatives can come to our rescue whenever we run short of chili powder in our kitchen.
The Best 9 Chili Powder Substitutes
Chili powder is undoubtedly one of the best-used spices in most homes due to the robust, piquant flavor it imparts. If we were to remind you again, this blend typically includes the following:
Ground red chile pepper
Ground cumin
Garlic powder
Dried oregano
Onion powder
Paprika
Salt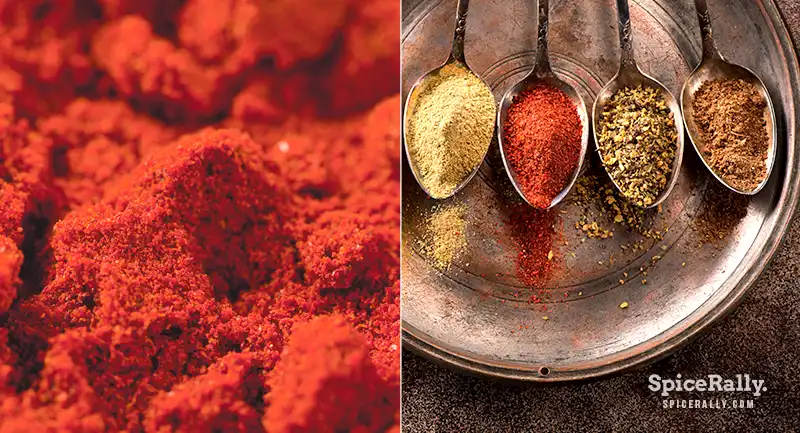 Chili powder does not have a very complex flavor profile, yet it gives a distinctive taste twist once added to your dishes. So, there're a few possible alternatives you can easily find around your pantry that will help with a similar flavor and color effect if you are completely out of chili powder.
01 –  Taco Seasoning
There's a higher chance for you to have a jar or a packet of taco seasoning somewhere in your pantry- isn't that so? Ubiquitous taco seasoning is a great flavor booster for many Mexican and Tex-Mex foods, sharing quite a lot of similar ingredients with our topic leader.
And on the bright side, you might find chili powder as an ingredient in most taco seasoning options. In addition, this alternative might include ground cumin, dried oregano, garlic powder, and ground chile peppers. Therefore, you can use this with most dishes that originally called for chili powder. 
However, you should be aware that some taco seasoning brands might contain thickeners which you don't usually get in chili powder. So, those products might not suit the light dishes you make. But still, you can substitute this with a similar amount or a little less at the beginning and adjust the quantity as desired.
Check out this post for a simple homemade taco seasoning recipe.
02 – Homemade Chili Powder
If your store-bought chili powder jar is empty, filling it with a homemade version would actually be one of the best replacements you can have! In fact, you can make a perfectly flavorful, versatile chili powder mix with the things you already find in your spice cabinet. 
You can use it without any limitations, just like you would do with your store-bought product.
So, if you need to make your own batch of chili powder at home, we are ready to assist you with a simple recipe. Click on this link and check out this article.
03 – A "Cheater" Chili Powder Version!
Sometimes, you might not find all the ingredients that you need to make a homemade chili powder recipe. You can go for a cheater version in such instances, effectively bringing out the color and flavor effect you expect.
You will need a ratio of 2 teaspoons of paprika, 1 teaspoon of ground cumin, and ¼ teaspoon of cayenne pepper powder for every 01 tablespoons of chili powder. You can adjust the cayenne pepper powder if you need more heat and throw in a dash of salt for more flavor.
This cheater version of chili powder is applicable in almost every recipe that originally calls for our topic leader. And this quick fix can save so much time when you are in a hurry yet need your dishes to be complete!
04 – Cayenne Pepper Powder
Cayenne pepper can be another possibility when you run short of chili powder. But there are a bunch of things to consider when using this option as a substitute. 
Most importantly, you should remember that cayenne pepper powder is a single element, whereas chili powder is a blend of several ingredients. Therefore, cayenne pepper tends to be hotter than chili powder and less spicy and flavorful.
In essence, you won't be getting the garlicky or cumin notes in cayenne pepper you usually savor in chili powder. And cayenne could be a bit more intense and overwhelming in certain dishes if used in similar amounts. So, you can mix cayenne pepper powder with a dash of ground cumin or garlic powder to balance out the flavor.
Moreover, if you intend to use this option all by itself, make sure that you are okay with your dish being a bit hotter than it would usually be. However, cayenne pepper can still have a similar effect to chili powder in terms of color.
05 – Ancho Chile Powder
Ancho is another single-element ingredient that comes to your rescue. Ancho chile powder is basically dried and pulverized poblano peppers which will have a similar heat to chili powder since they are very mild peppers.
But just like we explained earlier, ancho chili powder will also not have the complexity of chili powder due to the absence of other ingredients. Therefore, you can mix it with a dash of garlic powder or ground cumin for a better flavor approximation.
Like cayenne pepper, you can also use this option alone, but it will be less likely to overpower your dish with heat like cayenne would do. So, when substituting, you can go with a moderate amount at the beginning and then increase the quantity according to taste.
06 – Chipotle Chile Powder
Just open your spice drawer- we are sure you will find a jar of chipotle chile powder right in there! Like cayenne pepper and Ancho chile powder, chipotle is another ingredient made only with dried and smoked jalapenos. This chile powder holds a mild hotness which is way lesser than cayenne and a bit more intense than Ancho.
Thus, like options 04 and 05 in our list, you can mix this alternative with a bit of garlic powder and ground cumin. Or else, you can also substitute this all by itself instead of chili powder in any dish that calls for the original blend.
Chipotle chile powder can be a bit earthier and impart a slightly smoky effect so that you can give a different flavor dimension to your recipes when used. So, like many other options, you can start off with a small amount and adjust as you go. 
07 – Red Chili Flakes
Most household kitchens have a bottle of handy-dandy red chili flakes lying around to be used whenever a kick of heat or spiciness is required. Most red chili flakes are made with crushed cayenne peppers. And, since the base of most chili powder options is cayenne, this could be an effective substitution.
However, the texture of this option is a little coarser than that of chili powder, and it might lack the complexity of the spiciness you usually get in chili powder. Therefore, it might not suit each and every dish that calls for our topic leader. 
Better left as a last choice, red chili flakes can be good to go with hearty soups, stews, or particular meat, fish, seafood, or rice dishes. You can grind up the chili flakes to get a similar texture if needed.
08 – Chili Seasoning
Chili seasoning and chili powder are often confused due to their similarities. So, why not be an excellent alternative for chili powder? In fact, this option has the same ground chile base and includes a lot of similar ingredients, such as:
Ground cumin
Garlic powder
Paprika
Dried oregano
Onion powder
Salt
However, most chili seasoning options you buy from the store could contain a thickening agent, which mainly differentiates it from chili powder. Therefore, you might not be able to substitute it in every dish. But still, it is an effective replacement when you don;lt have chili powder around to have a similar complexity, flavor, and color.
09 – Cajun Seasoning
Cajun seasoning is a staple in most kitchens thanks to its versatile flavor profile. Above all, this seasoning blend can be beneficial when it comes to replacing chili powder. The reason is Cajun seasoning is enriched with the same ingredients you get in chili powder. And they are:
Cayenne pepper
Paprika
Garlic powder
Onion powder
Dried oregano
Salt
Nevertheless, Cajun seasoning does not typically include ground cumin and might contain a few other additional ingredients like black pepper and dried thyme. But you will be less likely to feel the difference since the base is pretty similar.
So, you can proceed with Cajun seasoning in a 1:1 ratio or use a little at the beginning and increase the amount according to taste. This alternative can be used in many dishes that originally called for chili powder.
If you are interested in making your own batch at home, you can find a simple, flavorful Cajun seasoning recipe in this post.
Final Contemplation…
Not everything in your spice rack has the capability to substitute the taste of chili powder. But still, a few blends like taco seasoning, chili seasoning, or cajun seasoning could help you equalize the original mixture's flavor and color. In addition, a homemade chili powder recipe or a cheater version is of great help, while you can also count on chile powders like Ancho, chipotle, or cayenne.
Related Topics