If you often count on pre-made taco seasoning packets, you wouldn't have thought making it at home is this easy. So, let's show you how to make taco seasoning at home using a few simple ingredients.
Whipping up your own taco seasoning mix is absolutely easy, healthy, and saves a ton of money you regularly spend on store-bought options, which often contain unhealthy additives. So, let's see how to mix the best taco seasoning ever!
How To Make Taco Seasoning- Step-By-Step Guide
This preservative and additives-free version of taco seasoning is obviously a healthy addition to your entire family. Our recipe comes together with readily available ingredients in just a few minutes!
Preparation time- 05 minutes |Cooking time- 00 minutes | Additional time- 05 minutes | Servings- about 08 teaspoons
Step 01
Grab all the ingredients and get ready with the required equipment.
Spices and herbs needed:
02 teaspoons of ground cumin
01 teaspoons of regular paprika
01 teaspoon of smoked paprika
1/2 teaspoon of chili powder
1/4 teaspoon of freshly ground black pepper
01 teaspoon of garlic powder
01 teaspoon of onion powder
1/4 teaspoon of crushed red pepper flakes (optional)
01 teaspoon of dried oregano
Other ingredients:
01 teaspoon of fine sea salt or kosher salt
Equipment needed:
A spoon to mix
A mixing bowl
A glass air-tight spice jar/ container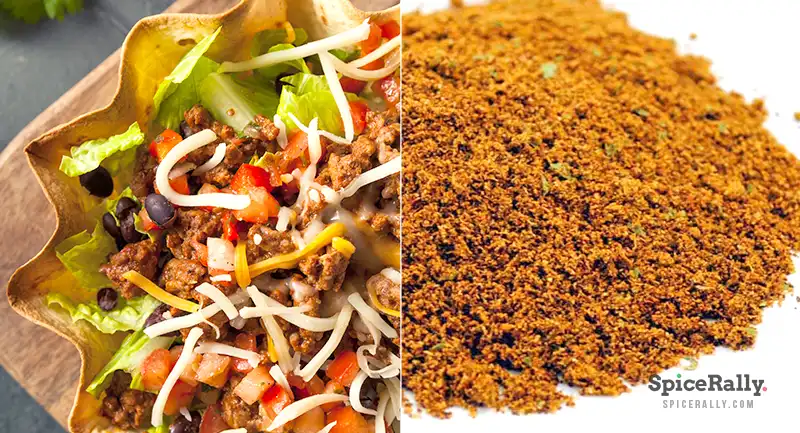 Step 02
Add all the ingredients to the mixing bowl and combine everything together until well-mixed.
Taco seasoning is just something more than flavoring your tacos. If you need to learn more about this blend and what ingredients make it so special, click on this link and read our detailed post.
Step 03
You can use your homemade taco seasoning immediately or store it in a tightly-sealed glass container/ spice jar to be used whenever you need it.
Tasty Notes By SpiceRally…
Generally, taco seasoning calls for regular paprika. But, we have done a little flavor twist in our recipe using both regular and smoked paprika. So, bear in mind that you can just go with one variety instead of both, depending on what you have in hand.
Leave out the salt, or decrease/ increase its amount according to your preference.
If you prefer more heat, you can increase the amount of chili powder in your recipe.
Crushed red pepper flakes are optional, yet we recommend using it since this ingredient adds a nice color and zest to this blend.
You can store this homemade taco seasoning mix in a well-fitting glass spice jar/container for up to 06 months when kept in a dry, dark, cool place in your pantry.
Related Topics