Apple pie spice blend is a baking essential, especially during the fall. Thus, this article will discuss the best apple pie spice substitutes you can use whenever you run short of it.
The best alternatives for apple pie spice include:
So, read below to learn how effectively these substitutes can help you to save a dish or two!
The 06 Best Apple Pie Spice Substitutes
Apple pie spice is a warm, spicy, earthy, and aromatic blend with subtle bitter-sweet notes. And, while ground cinnamon holds the bulk of this blend, ground nutmeg, allspice, ginger, and cardamom feature as the rest of the ingredients.
While most pre-made apple pie spice options contain up to three ingredients, including cinnamon, most homemade recipes include four to five spices. However, this is considered one of the ultimate baking spice blends that'll elevate the taste of your traditional apple pie, cakes, puddings, breakfast meals, and many more.
We managed to find a handful of suitable options that will give an approximate flavor replication to the original blend. So, you can pick what is effective and helpful to you at the same time, depending on the dish you wish to substitute.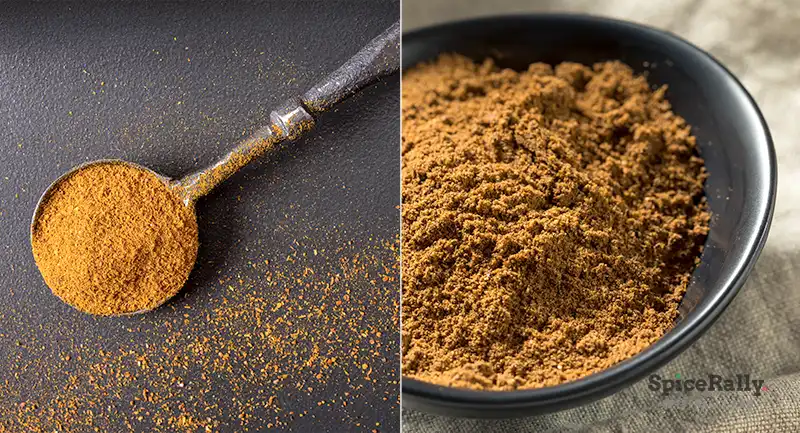 01- Pumpkin Pie Spice
If you are peeking for the closest flavor approximation, we must say that pumpkin pie spice could be your best bet. This option is very similar to our topic leader, with the only difference being that it contains ground cloves and does not contain ground cardamom.
Therefore, although you can't expect to have the exact same flavor, still pumpkin spice would be great enough to swap in the same amount to anything that originally calls for apple pie spice. If you feel like the taste of cloves you get from pumpkin pie spice is a bit too overwhelming, you can use a dash of ground cinnamon to balance it.
You can use this alternative in a 1:1 ratio or a little less at the beginning and then develop the taste as you go.
Click on this link to get the instructions and a simple recipe to make your own batch of pumpkin pie spice mix at home.
02- Chinese Five Spice
This is another readily available option that could complement a wide variety of dishes. If you could go for a pre-made option like McCormick Gourmet Chinese Five Spice Blend, you can find similar ingredients like cinnamon and ginger in it.
However, this alternative could also contain additional ingredients like star anise, anise, cloves, fennel seeds, and Szechuan peppercorns. Thus, it could be a little more intense than apple pie spice.
So, it is always better to use this option sparingly and follow up with some ground cinnamon if you find this spicier on your sweets or baked goods. The Chinese five spice blend can add flavor to pies, puddings, cakes, cookies and can be incorporated with breakfast porridge.
Flavor-packed apple pie spice is something that you should have in your pantry to complement many baked goods and desserts. So, if you need to discover some interesting information about this spice blend, click here and read our article.
03- Cinnamon
As mentioned previously, cinnamon usually holds the bulk of the apple pie spice blend. Therefore, ground cinnamon, alone, has the capacity to make a great impression in most dishes, which calls for our topic leader.
You can use any type of ground cinnamon in hand to go well with a range of fruits, sweets, baked goods, and desserts. And the strong cinnamon flavor is even sufficient to flavor apple pies, and you will not feel the absence of other spices in it.
04- Cinnamon With Another Spice In The Blend
If you expect to have the closest flavor possible, we highly believe that this option will work best for you. You can simply combine ground cinnamon with any other spice in the apple pie spice blend.
For example:
Cinnamon and allspice
Cinnamon and ground ginger
Cinnamon and nutmeg
Cinnamon and cardamom
These simple yet effective combinations can give amazing results, and you can mix them in a 2:1 ratio. That means if you take two teaspoons of cinnamon, you can mix in one teaspoon of ground allspice/ nutmeg/ ginger/ cardamom.
Use them the same way you would use the original blend with anything you desire, from apple pies to other desserts.
Did you know that allspice and apple pie spice are way different from one another? So, if you need to discover in what ways they differ, click on this link and refer to our detailed post.
05- Mixed Spice Blend
Suppose you are out in the store and apple pie spice is out of stock. In such instances, you can look out for other mixed spice blends that are specially meant for baking.
However, you should read the list of ingredients before picking up an option and ensure that it has cinnamon in it together with at least one more element in the apple pie spice blend. We would like to suggest you Schwartz Mixed Spice, which is readily available in supermarkets and online shopping sites.
This product includes ground spices like:
Caraway seeds
Nutmeg
Ginger
Cloves 
Coriander
Although the cloves, coriander and caraway seeds could make this blend a little more pungent than our topic leader, you can still use this with many desserts, cakes, pies, biscuits, etc. So, begin with a small amount and adjust the amount as you develop the preferred taste.
06- Homemade Apple Pie Spice Blend
If you ever run short of your store-bought apple pie spice blend, you can make your own mixture by putting together the easily found spices at home. Apparently, this is the most efficient way of substituting the flavor of the original blend.
So, to help you with this, we have shared a simple, 5-minute homemade apple pie spice recipe in this article. Click here and follow our step-by-step instructions to make your batch!
Concluding With Our List Of The Best Apple Pie Spice Substitutes…
Apple pie spice is actually a less complex blend but is something that could add great complexity to many of your seasonal treats. Famous as a baking spice blend, we have a limited amount of substitutes that could replace its flavor.
But thankfully, pumpkin pie spice, ground cinnamon, Chinese five spice, homemade apple pie spice, and some chosen pre-made mixed spice blends can help you to get a closer flavor.
Related Topics
This post may contain affiliate links. If you use these links and make a purchase, We may earn a small commission. However, there's no extra cost to you. Also, as an Amazon Associate, we earn from qualifying purchases. Thanks!