Those obsessed with tajin know they could use it with simply anything, starting as a condiment to seasoning. So, let us bring you the best tajin seasoning substitutes you can use whenever the original product is not around.
If you don't have tajin seasoning, you can go for alternatives such as:
So, continue reading to learn how each of these substitutes will help you to swap the taste with tajin seasoning.
The 05 Best Tajin Seasoning Substitutes
Tajin seasoning is a unique blend of ground mild red chili peppers, dehydrated lime powder, and sea salt. It is one of the most popular Mexican condiments that is also used for seasoning purposes.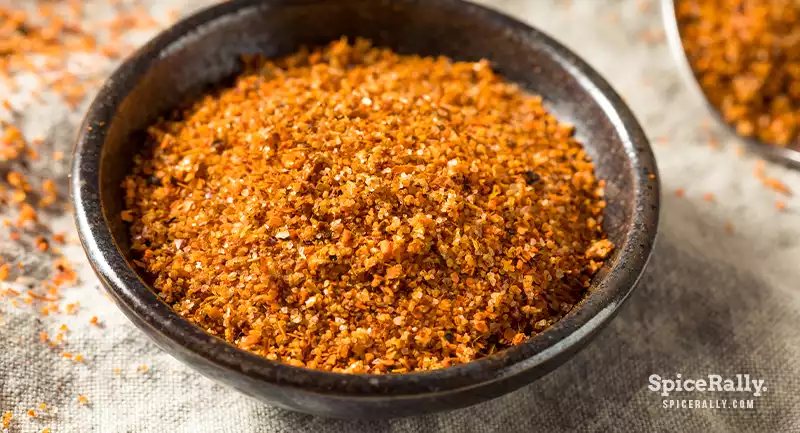 We don't actually get this flavor combination in many other seasoning blends since all the magic happens only with three basic ingredients. So, we just found a handful of substitutes that can be used instead of our topic leader if you run short of it.
So, check out the list below and pick what is convenient for you or decide what to use depending on the dish you intend to substitute.
01- Chili And Lime Seasoning Blends
Chili peppers and lime are two major flavor elements of this blend. Therefore, you can rely upon some other chili-lime seasoning options you have at home or find at the store.
are some of the options that we can suggest to you.
All these products contain chili pepper, lime, and salt that will give a closer flavor replication to anything that originally calls for our topic leader. Thus, make sure you read the list of ingredients before purchasing these and pick the most suitable one depending on the dish you hope to substitute.
However, some of these options might contain a few other extra spices and other flavorings. So, it is always better to decide the amount you swap according to your chosen product.
02- Homemade Tajin Seasoning
The next most feasible option is to make your own tajin seasoning at home. In fact, this can be the best alternative when you can't get hold of the store-bought product.
You actually have a few advantages of using a homemade batch that you don't usually get from the pre-packaged one. That is, you can use whatever red chili pepper type you like and also control the amount of salt that goes in.
So, suppose you are interested in trying a flavor-loaded tajin seasoning blend at home. In that case, we are ready to help with a simple homemade recipe. Click here and get the complete step-by-step guide.
03- Chili Powder + Lime Powder
Combining a mild chili powder and dried lime juice powder would also make a great alternative for our topic leader. Using a "mild" chili powder is important to get a similar taste since hotter options can be overwhelming.
You can use lime powder with chili powder if you need the same dry and powdery texture. But you can also mix lime juice with chili powder if you are using this mixture to incorporate into beverages, marinades, wet rubs, etc.
There is no exact measurement since you are free to go with these two based on your taste preferences.
04- Chili Seasoning + Lime Powder
You can make another possible substitute by combining chili seasoning with dried lime powder. However, keep in mind some chili seasoning versions can be very spicy and intense in flavor. So, again, try to pick a milder version with fewer ingredients.
The same theory can also be applied here, just like we explained in point 03. If you need a dry powder, you can use lime powder, and if you don't mind it as a wet alternative, you can simply use lime juice.
Nevertheless, since chili seasoning typically contains more spices, this will not be very favorable to be used with fruits and cocktails. However, this option is still good to go with meat, fish, shrimp, poultry, or even snacks. You can decide how you use this, and the amounts will depend on how you like it.
Tajin seasoning is an excellent addition to fruits and snacks. So, if you are interested in finding more ways to incorporate this blend into your daily dishes, click on this link and refer to this article.
05- Seasoned Salt
You can easily get seasoned salt from any grocery store or supermarket under many brand names. So, if you are going for this option, it is best left as a last choice since they are typically salt seasoned with other spices/flavorings.'
Lawry's 25% Less Sodium Seasoned Salt is a product that we can recommend since it contains less salt and a few other spices that could give a similar flavor to tajin seasoning. However, this seasoned salt also includes garlic powder, onion powder, etc., and you will not get any citrus-related ingredients.
But still, this could be good enough to be substituted with snacks like popcorn, potato fries and used with roasted vegetables and grilled meat. Adjust the amount you use, turning out how you like the taste.
To be a good cook you have to have a love of the good, a love of hard work, and a love of creating.

Julia Child
We Just Unveiled The Best Tajin Seasoning Substitutes…
This seasoning blend can be a staple in your home, but still, there can be a moment when you forget or can't restock it. Hence, in such instances, replacements like other chili-lime seasonings, seasoned salts, or combinations like chili powder with lime powder can come to your rescue!
Related Topics
This post may contain affiliate links. If you use these links and make a purchase, We may earn a small commission. However, there's no extra cost to you. Also, as an Amazon Associate, we earn from qualifying purchases. Thanks!