There might be some signature flavor notes you reminisce about in certain chicken dishes, and we are sure that herbs are involved in them. So, here're the best herbs for chicken that pairs well with this meat. 
The taste of chicken can be complemented by herbs such as:
Read further to learn how these herbs will help you take your favorite chicken dish to a whole new level!
The Best 09 Essential Herbs For Chicken
Chicken is obviously one of the most adaptable sources of protein enjoyed by meat lovers around the world in different ways. Herbs are a key ingredient in flavoring this meat regardless of the cuisine, and many tend to pair these herbs with other ingredients.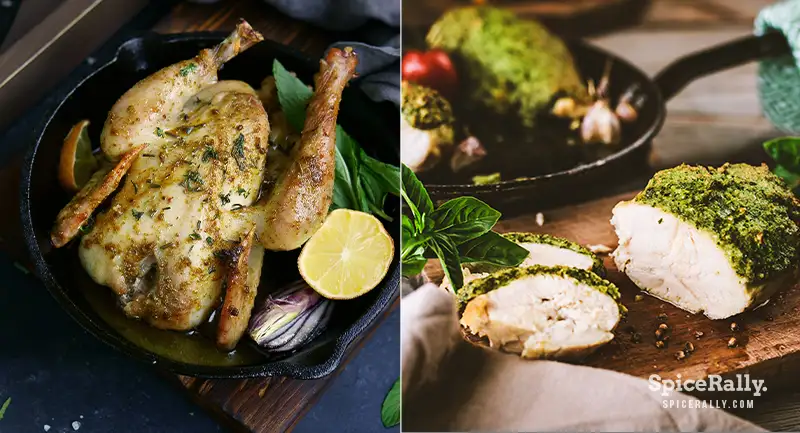 However, you must understand that each herb is unique in flavor and aroma and, therefore, their own specific way of adding fragrance and flavor to your chicken dish. So, the herb you use for grilling chicken will not go well with the chicken curry you make. Hence,  we will explain how and where you can use each of these herbs in their fresh and dried states.
01- Oregano
Robustly aromatic oregano possesses a slightly bitter and pungent with a bold, earthy undertone. The flavor profile of this herb complements the richness of chicken very well when paired with ingredients like garlic, lemon, black pepper, honey, butter, parsley, etc. 
Dried oregano is included in most blends that are used to season the chicken, while it can also be used fresh, particularly when baking, braising, or broiling chicken. It is also great to be used at the end of the cooking process so that you can get a better flavor and aroma.
02- Rosemary
The complex, woodsy flavor notes and aroma of rosemary are ideal with roasted or grilled chicken. This herb makes such a heavenly combination with our topic leader, while you can incorporate fresh rosemary in a variety of chicken dishes such as soups, stews, casseroles, etc. 
Like many other dried herbs, dried rosemary is also included in a number of seasoning and spice blends used to season chicken./ You can pair this herb with complementary ingredients like olive oil, garlic, butter, red chili flakes, lemon, and parsley.
03- Thyme
Thyme is one of the best herbs to be added to your chicken dishes if you prefer a delicate herbal tone. This herb is not intensely aromatic like other herbs but gives a bold herbal undertone with a subtle earthiness. 
Fresh thyme can be included in liquid-based chicken recipes, and sprigs of thyme can be used in slow-cooking dishes, to be removed at the end of the cooking process. Dried thyme can be combined with sage, tarragon, oregano, etc., to create a more robust herb profile on your chicken recipes.
04- Sage
If you are planning to come with an Italian, Mediterranean, or British chicken recipe tonight, then you shouldn't miss out on sage! This herb has a slight musky note, a sharp aroma, and mild minty undertones. 
A little dried sage added to minced chicken will make delicious sausages, meatballs, burger patties, etc. Fresh sage can also make a pleasing difference in most roasted, baked, or cooked chicken dishes. However, it is essential to remember to go sparingly with this herb, as a little can go a long way. 
Pairing it with other ingredients like butter, garlic, lemon, summer savory, ginger, olive oil, etc., will reward you with tasty results!
05- Cilantro
Unlike most herbs on our list, cilantro is popularly and widely used as a fresh herb. This delicate herb does not require much cooking, therefore, mainly at the end of the cooking process. Freshly chopped cilantro can be virtually included in any chicken dish, regardless of how it is cooked. 
The fresh, citrusy, and slightly peppery flavor of this herb complements the chicken and pairs well with complementary ingredients like coriander, cumin, olive oil, coconut milk, butter, olive oil, etc. A handful of fresh cilantro is also a must-use in butter chicken and most other Indian-style spicy chicken dishes.
06- Lemongrass
Lemony lemongrass is precisely like what its name suggests! The incomparable flavor of this herb is an excellent compliment to chicken and is mainly used in many Vietnamese, Thai, Sri Lankan, Singaporean, and Filipino-style chicken recipes. 
This aromatic herb also has a hint of ginger that combines with other ingredients like garlic, onion, soy sauce, maple syrup, coconut milk, parsley, etc., to make roasted, grilled soup, stew, or chicken curries.
How to use the staple spices, herbs, and other flavorings in your kitchen to season chicken, and what flavors go best with this meat? Follow this link and find answers to all your chicken questions right now!
07- Marjoram
Exhibiting similar flavor notes to oregano, marjoram is another flavorful herb that you can add to a variety of chicken dishes in fresh or dried states. It is a perfect cross between sweet, woodsy, and citrusy flavor elements. 
And you can team up marjoram with complementary ingredients such as lemon, tomatoes, garlic, oregano (for obvious reasons!), basil, and parsley to come up with more tasty recipes. 
Dried marjoram features in many seasoning blends used for rubbing and marinating chicken, while fresh marjoram can be used in slow cooking, liquid-based or baked, broiled, and braised chicken dishes.
08- Basil
How can we ever forget mighty basil when it comes to chicken? This is one of the best savory herbs that lend an iconic mild pepperiness with hints of mint and anise. 
While fresh basil is incorporated into salads, stews, soups, stir-fried chicken dishes, casseroles, and pasta dishes, dried basil often goes into rubs and marinades. This herb is often paired with chile peppers, soy sauce, fish sauce, garlic, and black pepper. 
Spicy Thai Basil Chicken (Pad Krapow Gai) is a popular basil-infused dish in Thai cuisine, while you can also find many delicious recipes from Italian cuisine.
09- Tarragon
The primary flavor of Tarragon is a delicate, far from overwhelming, licorice taste which you can use to get a great fresh taste to your chicken recipes. This herb tastes the best when used fresh, but most spice blends and seasonings used for this meat include dried tarragon. 
You can use fresh sprigs of tarragon, along with rosemary and thyme, when roasting a whole chicken in the oven to get a divine herbal flavor. In addition, tarragon also blends well with other flavorings such as cream, olive oil, lemon, garlic, onion,  etc., especially when making cream-based or baked chicken recipes.
Make It All Up To The Best With Wholesome Herbs In Your Chicken Dishes!
Aromatic, savory, and flavorful herbs like oregano, rosemary, thyme, lemongrass, basil, tarragon, etc., have a significant role to play in your favorite chicken recipes. In fact, these herbs go really well with the delicate flavor of this meat, helping you to come up with divine, nourishing chicken meals for your family! So, what's your favorite combination; let us know in the comment section below!
Related Topics