Crispy, tender potatoes roasted to perfection is sometimes all you need to fix a hectic day! So, in this post, we'll be sharing some of the best herbs for roasted potatoes you can use to perk up every batch you make!
Savory and fragrant herbs that can complement roasted potatoes include the following:
Oregano
Rosemary
Thyme
Parsley
Marjoram
Cilantro
Sage
Read along to learn how these herbs can add the distinctive taste you deserve to your roasted potatoes.
The Best 07 Herbs For Roasted Potatoes
Roasted potatoes are the ultimate comfort food of most of us which can be put together in a matter of a few minutes. It is so easy to whip up a simple side dish for your weeknight dinner. With a bit of adorning, you could make it a crowd-pleasing treat to your holiday menu.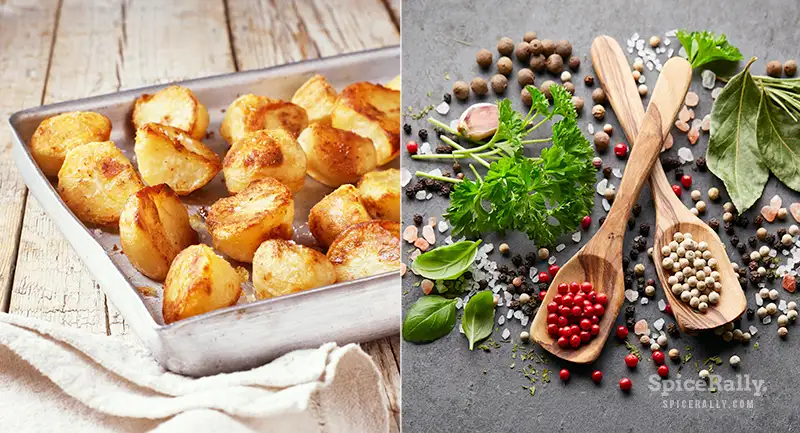 That was when herbs entered the scene. Potato is a versatile vegetable that you can pair with many spices and herbs. The herbs we hope to discuss throughout our article can be paired with some flavorful other ingredients such as:
Olive oil
Garlic
Black pepper
Cayenne pepper
Paprika
Lemon
Onion powder
Red chile flakes
Parmesan cheese
So, refer to the list below and get an idea of what herb to choose with your next batch of roasted potatoes.
01- Oregano
What have you got in hand? Is it dried oregano or fresh oregano? Don't worry- this herb can give you the right kick of flavor to your roasted potatoes regardless of their form! 
A nuanced balance between sweet and spicy, the flavor of oregano is assertive and earthy with a slight bitterness. This herb pairs well with lemon, garlic, and parsley, or you can even use some feta cheese to ramp up things a little bit. 
You can toss the roasted potatoes with dried oregano or infuse fresh oregano with olive oil to get a more herbal flavor.
Did you know that most herbs used to flavor roasted potatoes can also add depth to your mashed potatoes? Click on this link if you're interested in discovering the best herbs for mashed potatoes.
02- Rosemary
The pronounced flavor profile of rosemary goes perfectly well with the gentle taste of potatoes. This herb has a flavor described as woodsy, piney, peppery, resinous, astringent, and lemony.
Fresh rosemary has a more pungent taste than its dried form. Thus, you can reach out for dried rosemary for a milder flavor in your roasted potatoes. 
However, things can work wonderfully when this herb is infused with olive oil and then incorporated into the potatoes. Rosemary can be paired with garlic, black pepper, parmesan cheese, and red chile flakes.
03- Thyme
Thyme is an herb with a distinct identity but isn't overpowering. It has a pleasant flavor balance that hops between minty and citrus-laced, earthy and minty, and savory but also sweet. 
It is intensely aromatic, which goes perfectly with olive oil, lemon, oregano, and marjoram for an advanced flavor combination. 
Thyme gives out its best taste when used in its fresh form. But if you have dried thyme, feel free to go with it, mixing it with garlic, parmesan cheese, and red chile flakes.
04- Parsley
Flat-leaf parsley is your go-to choice whenever you need to give a simple yet flavorful kick to your classic roasted potatoes. Flat-leaf parsley has an earthy taste with slightly peppery and clean, grassy undertones. 
A handful of freshly chopped parsley can do wonders in your roasted potatoes, especially when paired with olive oil, lemon, garlic, and parmesan cheese. 
Do not miss out on garnishing your roasted potato dish with curled-leaf parsley before sending it to the table! You can also use dried parsley flakes to top this dish. But fresh parsley is recommended to get more flavor and piquancy.
05- Marjoram
Marjoram is a herb that should never be overlooked in its relationship with potatoes! This herb is known for its delicate fragrance and pronounced flavor, which is earthy and woodsy. 
You can toss the potato chunks with dried marjoram and canola oil before popping them inside the oven. Or else, allow fresh marjoram to infuse with hot oil before mixing them with potatoes. 
This herb can be paired with parsley, garlic, black pepper, and cayenne pepper for an extra taste.
06- Cilantro
Cilantro is a pungent herb with lemon and peppery undertones. It can make a characteristic difference in roasted potatoes, primarily when used fresh. 
A handful of freshly chopped cilantro can be paired with lemon, black pepper, and garlic to make a delicious roasted potato weeknight dinner! This is another herb that works best when used fresh. You could also combine this with parsley or chives to have a signature potato dish.
07- Sage
Popular in Italian and British cuisine, sage has a pungent, intense aroma with a slightly minty, musky taste. This herb has a bold and powerful way of adding to dishes, so you should be mindful not to overcrowd your potatoes with it. 
Sage gives its best flavor when used fresh and incorporated with butter. If you just need the essence of this herb in your roasted potatoes, you can infuse some fresh leaves with butter and then mix it with the potatoes before sending them into the oven.
This herb can be paired with feta cheese, parmesan cheese, onion powder, and garlic powder for a better flavor.
Perk Up Your Next Batch Of Roasted Potatoes With These Flavorful Herbs!
Oregano, parsley, rosemary, marjoram, cilantro, etc., are some of the most effective herbs that can help you to bring out the best in your roasted potatoes. Incorporating herbs with a few basic ingredients is the simplest way to bring an extra special dish to your table. Either dried or fresh, these herbs can add a distinctive flavor to this food, leveling it up to a quintessential side dish!
Related Topics