Embraced by millions of people, mac and cheese is the ultimate versatile food, especially in Western cuisine. So, in this episode, we will be bringing you the ten best herbs for mac and cheese that could instantly improve the taste of this dish.
Mac and cheese would have a significant flavor enhancement when the following herbs are included. And they are:
So, let's jump into the section below to see how these herbs bring out the real taste of your macaroni dish.
10 Amazing Herbs For Mac And Cheese
We all love to enjoy our favorite dishes in new, different ways. As we all know, herbs and spices have this amazing ability to upgrade our food instantly with their flavors and aromas.
So, use these herbs in your classic mac and cheese and experience the utmost satisfaction of an advanced dish. You will get a great selection below- pick your favorites!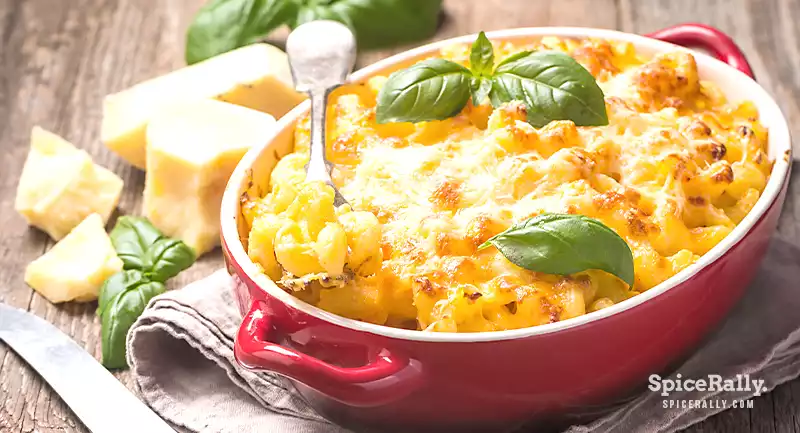 01- Oregano
One of the best things about oregano is that it doesn't have a flavor that could easily overpower a dish. Thus, you can always go generously with it! This Italian herb holds almost a minty aroma with a pungent and peppery bite.
Depending on your preference, you can use freshly chopped oregano or dried oregano. But fresh oregano is more intense than its dried form. This herb can often be paired with basil, garlic, onions, etc.
02- Basil
There are many varieties of basil, so the flavor varies depending on the type used. However, regular basil has savory, sweet, minty, and peppery undertones.
This herb ideally complements the rich creaminess of cheeses like mozzarella and provolone. You can either incorporate it with the cheese sauce or top the dish as a garnish. Thyme, oregano, and rosemary are other herbs that pair well with basil.
03- Marjoram
Marjoram is literally one of the best herbs for mac and cheese, thanks to its ability to blend in with the richness of the dish. Like basil and oregano, marjoram can also be used fresh or dried.
However, this herb is quite similar to oregano but tends to be sweeter and more delicate. And it could be paired with basil, oregano, rosemary, paprika, garlic, onions, etc.
While using these herbs, some flavorful spices also could be used to make your mac and cheese extra special. Click here to discover the best spices for this dish!
04- Parsley
Ubiquitous parsley is one of the best herbs that supplement the creaminess of the cheese. While you can use flat-leaf parsley for flavoring, curly-leaf parsley can work as a beautiful garnish.
This herb holds a neutral aroma and a bright, herbal, grassy flavor with slightly bitter hints. Curly-leaf parsley does not really have a taste. Thus, flat-leaf parsley is often paired with other herbs and used freshly chopped to be mixed with the cheese sauce.
05- Cilantro
Cilantro (coriander leaves) typically has a complex flavor profile with a unique pungency and citrusy notes. It is prevalent in Asian cuisine and you can certainly pair it with jalapenos and make a divine mac and cheese dish.
Cilantro also gets along with black pepper and onions. In addition, you can incorporate it with some chili powder and garlic for extra flavor.
06- Thyme
Thyme has a delightful flavor that balances between earthy, minty, savory, and sweet undertones. It is bold, aromatic and could be a perfect addition to mac and cheese whenever you need a sophisticated flavor.
This herb can be integrated with cheeses like gruyere, cheddar, and parmesan. For added flavor, use complementary spices like black pepper and herbs like parsley or oregano.
Did you know that thyme is an excellent pairing with beef as well? Click on this link and refer to this detailed post to find out more herbs that go well with this meat.
07- Sage
Sage has a concentrated, earthy, and slightly peppery flavor with lemon, eucalyptus, and mint notes. Fresh sage can give you a unique mac and cheese experience, especially when incorporated with mushrooms, sharp cheeses, nutmeg, and black pepper.
08- Rosemary
Did you know that rosemary is an ideal herb that compliments white cheddar? Hence, you can use this incredible flavor combination to give an amazing punch to your macaroni dish!
Use fresh rosemary with parsley to make your cheese sauce with cheeses like white cheddar, parmesan, and pepper jack. You can use flavors like garlic, black pepper, and a hint of mild paprika to make your cheezy meal extra flavorful.
09- Tarragon
Tarragon holds a complex, pungent, bittersweet flavor with hints of licorice. You can make a healthy and filling macaroni meal by mixing tarragon with cilantro, basil, parsley, and chicken. Use additional flavors like garlic, Dijon mustard, and lime juice to back up the herbal flavor of the dish.
Vegetables, herbs, and spices. If you can combine those ingredients, that would be the best dish you'd ever cook!

Rinrin Marinka
10- Chives
Very similar to leeks, chives can be an interesting flavor supplement to our topic leader. You can get an onion-like flavor from chives, but it is more herbal and milder than onions.
This herb is delicious when incorporated with the cheese sauce, but you can also use chopped chives as a garnishing. Chives can be a great option if you are a fan of boxed mac and cheese and need an instant flavor boost!
You Certainly Shouldn't Miss Trying Herb-Infused Mac And Cheese!
Herbs like thyme, basil, oregano, chives, rosemary, sage, etc., are considered ideal flavor enhancers for mac and cheese. In fact, you can immediately touch up the regular macaroni dish with a handful of these herbs to give your family an unforgettable dinner!
Related Topics