Allspice and pumpkin pie spice are closely related together in the recipes of many Western countries. In fact, they are flavorings that offer so much to your table year-round, or especially during special occasions like Thanksgiving or Christmas. But, in what aspects do allspice vs pumpkin pie spice differ? That's indeed a query to most of us!
Allspice is a single spice with an intricate flavor profile used as whole berries or ground spice. At the same time, the pumpkin pie spice is a combination of several ground spices. And it is blended according to a ratio with a predominant cinnamon flavor and has allspice in it as one of the main ingredients.
Most of you would, however, say that they taste similar. But, despite their flavor similarity, they have some significant differences that require our attention. So, check out what they are through an in-depth focus on allspice vs pumpkin pie spice.
Allspice Vs Pumpkin Pie Spice- Difference Clarified
Allspice is a year-round flavor that spices up a number of sweet and tangy dishes, seasonings, spice blends, and many drinks. On the other hand, Pumpkin pie spice contains no pumpkins in its content, as the name suggests. But it is a popular fall spice blend in America that was used initially to flavor pies and cakes with pumpkins.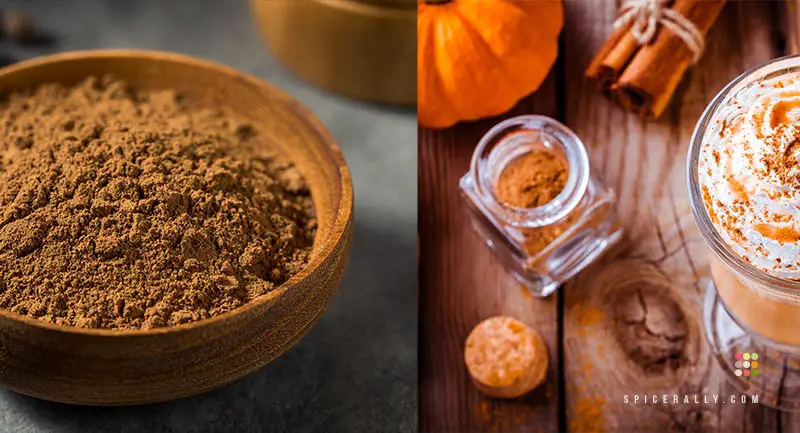 However, allspice and pumpkin pie spice are two different things, although they closely correlate. The main reason for this is the authentic pumpkin pie spice comprising ground allspice as a standard ingredient in its content. It is also accompanied by other ground spices like cinnamon, nutmeg, cloves, and ginger.
The flavor profiles of these two flavorings can be pretty similar, but they contain some other differences that you should know. Hence, refer to our table below that explains facts regarding allspice vs pumpkin pie spice.
Allspice
Pumpkin Pie Spice
Flavor Profile
It has a nuanced flavor profile that tastes like a combination of cinnamon, nutmeg, cloves, and peppery hints like in black pepper. It is also slightly earthy, warm, and sweet.
This blend of spices contains all the flavor elements, warmth, and earthiness of cinnamon, nutmeg, allspice, cloves, and ginger with the predominance of cinnamon taste.
Fragrance Profile
It is fresh and earthy, just like its flavor, with cinnamon, clove, and nutmeg undertones.
It has a spicy-sweet and warm aroma with scent notes of the balmy spices used in the blend itself.
Forms available and used
It is used and can be bought as whole allspice berries and in its ground form.
Typically used and available as a powder of ground spices. But pumpkin pie spice syrup is also used in lattes, and syrup bottles are available. The powdered version and syrup can both be bought from the store or made at home.
Best dishes or food & drinks that pair well
Jamaican Jerk Seasoning
Spice blends
Christmas cake
Winter puddings
Moroccan tagines
Mulled wine
Sausage dishes
Glazes for ham
Onions
Cucumber
Pies
Puddings
Overnight oats
Spreads
Pasta dishes
Muffins
Bread
Lattes
Sweet potatoes
Squash
Culinary use
Generally used as a spice
As a flavor-booster mainly in pies, and in many sweet dishes, baked goods, and some savory dishes.
Availability
Available abundantly in ground form or as whole allspice berries. They can be easily bought from the local grocer, online sellers, and leading supermarkets.
Widely available in containers as blended powder or pumpkin pie spice syrup bottles. They both can be purchased from leading supermarkets, grocery stores, and online shopping sites.
Shelf life
– When stored appropriately, whole allspice berries could stand a good shelf life for up to three to four years.
– Ground allspice can stay flavorful for up to two to three years if stored in the proper way.
If stored appropriately at room temperature, pumpkin pie spice could remain well for up to six months.
Storage
Dried whole allspice berries and ground allspice should be stored safely inside tightly-fitting glass containers or jars in a dark, cool, dry place where no direct sunlight hits with zilch humidity and moisture.
The spice blend should be kept inside an air-tight glass container or a jar in a cool, dry, dark place with no moisture, humidity, and direct sunlight.
Main featuring cuisines
The American
The Caribbean
Middle Eastern
Some parts of the European cuisine
The American cuisine
Other names
Pimento
Jamaica pepper
Pimenta
Myrtle pepper
Pumpkin spice
Origin
Originated from Central America, Southern Mexico, and The Greater Antilles
– Known to be originated from America in the 1890s
– It was commercially introduced to the market by Mccormick and Company in 1934.
Allspice Vs Pumpkin Pie Spice – SpiceRally Breakdown
If you wish to acquire a piece of comprehensive knowledge on Allspice, we have a complete article right here for you.
Usage Of Cooking- Allspice Vs Pumpkin Pie Spice
These two flavorings share very similar taste elements when it comes to cooking. Allspice contributes to many other spice blends and seasonings with its complex flavor profile.
If your family or loved ones have optimized favoritism to sweet treats, pumpkin pie spice would be your best bet. In fact, it is better with sweet dishes like puddings, cakes, and other baked goods thanks to its dominant cinnamon flavor.
If you are interested in learning how to use cinnamon in baking, we have the 15 best ways in this article.  
Allspice will always be the better companion to savory dishes like meat and pasta if you intend to make it for dinner tonight, due to the subtle peppery note its flavor contains. But still, there are some occasions where pumpkin pie spice is used with pasta dishes and vegetables like sweet potatoes and squash. 
However, apple pie spice mix can be taken as a common substitute that can be used in place of both allspice and pumpkin pie spice. In fact, its flavor profile can closely resemble both of these flavorings in many recipes.
There are plenty of ways to incorporate Allspice in your regular recipes. Want to know how? Then click this link right away!
Is Allspice The Same As Pumpkin Pie Spice?
Allspice and pumpkin pie spice aren't the same. Allspice is a single spice, while pumpkin pie spice is a blend of several warm ground spices. But, it contains allspice as one of its main ingredients.
The balmy, sweet-spicy scent of pumpkin pie spice will manifestly leave you nostalgic, reminiscing how your Grandma would make pumpkin pies for Thanksgiving. And that is precious.

SpiceRally
Can I Substitute Pumpkin Pie Spice For Allspice?
Pumpkin pie spice can be a good substitution for allspice if you ever run out of allspice at your spice cabinet. Since the pumpkin pie spice mixture already contains allspice, you can use it in handy with desserts or sweet baked dishes that call for allspice.
And, if you intend to use pumpkin pie spice in savory dishes, you can go ahead and add a bit of black pepper to get the peppery note that Allspice has, but pumpkin pie spice lacks. This way, you can counterbalance the flavor for a savory recipe.
While pumpkin pie spice has become a good alternative for Allspice, there are a few other substitutes that you could utilize in place of Allspice. Tap here to learn 7 best of them.
Summing Up With Allspice Vs Pumpkin Pie Spice
Allspice and pumpkin pie spice have a flavor similarity due to the taste elements they share, but they aren't the same. And, we can see they've been employed together in most recipes.
Nevertheless, both of them are unique in their own way of flavoring food. And allspice undoubtedly features many recipes than pumpkin pie spice does, including a lot of savory dishes and beverages.
Related Articles