Hailing from the era of Hippocrates, apple cider vinegar has been a useful substance to humans. In fact, it surely functions as a versatile all-rounder in your home while adding an incredible kick to your daily dishes. Hence, this episode will discuss 6 surprising benefits of apple cider vinegar.
Apple cider vinegar is not only beneficial as a cooking and baking ingredient, but also it contains amazing health advantages while being a helpful product for skincare, haircare and household cleaning. Accordingly, some of these benefits include:
So, continue reading to discover further about these impressive apple cider benefits and why it should be a staple in your home!
6 Surprising Benefits Of Apple Cider Vinegar
Apple cider vinegar has been a controversial subject among the experts since it apparently offers a lot more than its ability to flavor food. It is typically made by fermenting raw apple juice, which is responsible for its distinctive fruity, sweet-tart notes.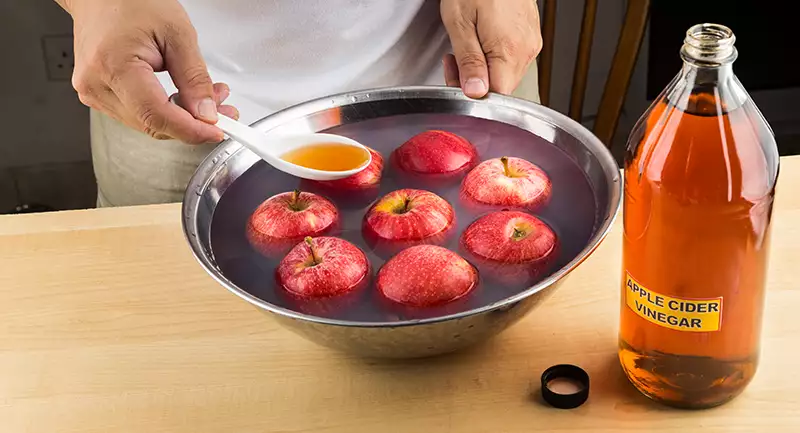 Besides being a loyal companion to your salad dressings, vinaigrettes, and pickles, ACV also provides a bunch of health benefits. In addition, it has the capability to improve your skin and hair while finding solutions for a number of beauty-related conditions.
01- Making Firm Eggs
There's actually no right or wrong way to enjoy eggs. But for some good reason, most of us prefer poached or boiled eggs. On that note, apple cider vinegar can do the real trick to give you perfect and firm eggs.
All you have to do is splash some ACV in the water you boil or poach your eggs. The acetic acid in apple cider vinegar strengthens the protein in the egg whites to make them perfect.
In this way, eggs keep their shape. In addition, adding ACV into water when boiling eggs helps speed up the whites' curdling. And therefore, you can prevent the shells from cracking while they are inside the pot.
Did you know that you could make mighty apple cider vinegar at home? We are delighted to share an easy step-by-step guide right in this article!
02- A Baking Ingredient
Did you know that our topic leader is a fantastic ingredient in many of your baked goods? It essentially reacts with baking soda. And its mild acidity helps to break down the starches and proteins in your baked goods like bread, cakes, puddings, muffins, etc.
Accordingly, while it adds a characteristic sweet-fruity flavor to your food, ACV also adds extra moisture, especially to bread, buns, and cakes. Moreover, incorporating a dash of our subject leader into the batters or doughs will positively help with extra fluffiness and a light texture.
In essence, since apple cider vinegar changes the pH level of your baked goods, they tend to have a longer shelf life. Thus, you can enjoy them for a long time without being stale. Above all, when mixed with baking soda, ACV also becomes an excellent substitute for vegan baked goods that do not include eggs.
03- An All-Purpose Cleaner
ACV is an exceptional household cleaner that will replace even top-quality commercial all-purpose cleaning products. All you need is to mix half a cup of apple cider vinegar with one cup of water. You can also add a few drops of essential oils to the mixture and pour it into a spray bottle.
Your ACV cleaner is now ready to cleanse your kitchen top, bathroom tiles, the floor of your living room, windows, etc. You can make a stronger concentration by increasing the amount of ACV and use this solution to scrub the hard stains out of your toilet bowl.
Apple cider vinegar has long been a staple in recipes and in home remedies. Some believe it is an age-old secret and a fountain of youth ingredient that you already have in your kitchen.

Amy Leigh Mercree
04- Stabilizes Saltiness In Your Dishes
Oversalting dishes is one of the most common mistakes that happen during cooking. But, when you have your bottle of apple cider vinegar in your pantry, you don't have to worry!
Our topic leader works well with over salted gravies, sauces, soups, etc. Accordingly, adding a splash of ACV will neutralize excessive saltiness in your dish while giving an extra punch of flavor.
If you are interested in discovering more ways to balance out your dish when oversalted, click here and refer to this article.
05- Works Wonders On Your Skin
Our subject leader has a remarkable capability to restore the pH balance of the skin. In addition, a study conducted in 2018 shows that apple cider vinegar contains antibacterial and antimicrobial properties.
Hence, most people prefer adding ACV to their regular baths. In fact, our topic leader has the ability to kill the bacteria that produce body odor. So, while it works positively with your skin health, it also acts as a natural deodorizer.
All you have to do is to pour one to two cups of ACV into your warm bath and immerse yourself for about 25 to 30 minutes. This way, you can get smoother, healthier skin, while it could be beneficial for other skin conditions like eczema, Candida infections, acne, and dandruff.
06-It Soothes Sore Throat
Sore throat and cough are conditions that disturb us physically and mentally. In fact, some even fail to focus on daily tasks when they have an irritation in the throat. Thus, the good news is that ACV can come to your rescue!
As mentioned previously, our subject leader contains antibacterial properties that can relieve sore throat. You can mix ACV with honey, green tea, or lemon juice in order to treat this condition.
As the first option, you can mix one to two teaspoons of ACV with lemon juice, a glass of warm water, and green tea. The next option is, diluting two tablespoons of honey with one tablespoon of ACV in a mug of warm water. You can drink either of these until you have no more itchiness or irritation in your throat.
Apple Cider Vinegar Benefits Are Unparalleled- Aren't They!
Deciding to use apple cider vinegar can be one of the most ingenious choices you make in life! As you see, apart from adding flavor to your salads, marinades, or dressings, it can be beneficial in many other ways, such as being an excellent addition to your baked goods, an all-purpose cleaner, skin and hair care product, etc.
Related Topics