Aside from being a flavorful cooking companion, nutmeg is also empowered with a bunch of health benefits and medicinal uses. So, in this article, we will be exploring the amazing benefits of this spice.
Nutmeg could be beneficial in terms of health and medicine as whole seeds, in ground form, essential oil, or nutmeg butter. Accordingly, different uses and benefits of this spice can be categorized into the following sections:
We hope to review each and every facet of nutmeg through this episode, so make sure to read until the end!
Amazing Medicinal Uses And Health Benefits Of Nutmeg
Nutmeg, which derives from Myristica fragrans tree, is an incredible creation of mother nature that produces two spices within one source. Both nutmeg and mace are known to be powerhouses of antioxidants. 
This spice has been an essential ingredient in Ayurveda since the very olden days, and with recent scientifically backed data, it is also incorporated into modern pharmacology. This fragrant and flavorful spice has also been an indigenous ingredient used in folk medicine in many Indian and Sri Lankan households.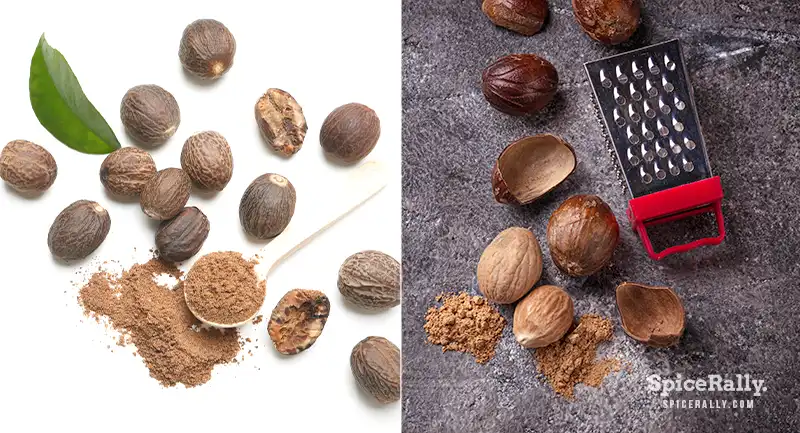 The key components of nutmeg are as follows:
sabinene
alpha-pinene
beta-pinene
limonene.
terpinene-4-ol
myristicin
elemicin
safrole
methyl eugenol
Whole or ground nutmeg, nutmeg butter, and nutmeg essential oil are loaded with vitamins, minerals, and secondary metabolites. In addition, they all are rich sources of anti-inflammatory, anti-microbial, antibacterial, and psychoactive properties.
If you are interested in acquiring further knowledge about nutmeg, click on this and refer to our comprehensive article.
Nutmeg Usage In Ayurveda And Pharmacology
Ayurveda
Recognized as a warming spice in Ayurveda, this ingredient is known to alleviate Vata and Kapha while increasing Pitta. Nutmeg extract and essential oil have been integrated into many types of ayurvedic medicines, such as oral concoctions, tonics, and topical treatments.
Nutmeg-infused ayurvedic tonics and concoctions are widely used to relieve digestive issues. They are also proven to be excellent in cleansing or detoxifying the liver and kidneys. Moreover, in folkloric medicine, nutmeg has long been used to treat gastrointestinal issues, such as flatulence, colic, diarrhea, and indigestion. 
The traditional use of nutmeg to treat tumors and infectious diseases, such as plague and parasites, has also been documented. And this spice has been used externally for skin infections, rheumatism, and paralysis. Sources further claim its effectiveness in psychological disorders.
Modern Pharmacology
Although the ayurvedic uses have been proven in many instances, the sources say that further trials are needed to assess the therapeutic properties of nutmeg in modern pharmacology. However, nutmeg essential oil is extensively used as a modern remedy for many conditions, apart from its aromatherapeutic qualities.
For example, nutmeg essential oil is believed to be beneficial in reducing stress, anxiety and soothing the nervous system. And it is also used as an effective topical treatment for erectile dysfunction. In addition, nutmeg essential oil is used for the following purposes:
Muscular aches
Menstrual cramps
Pain management
Halitosis
Insomnia
Boosts the mood
Eliminates bad breath
Treats respiratory issues
To treat nausea
As An Ingredient In Home Remedies For Various Conditions
The usage of spices as home remedies for various health issues has been a traditional practice, especially in Asian households. Since nutmeg is also a staple in Asian cuisine, most Indians and Sri Lankans make use of this fragrant spice whenever they undergo a condition that really doesn't need serious attention from a general practitioner.
As a home remedy for ingestion, Sri Lankans often obtained fresh shaves of nutmeg by rubbing the whole seed against the chile grinding stone and mixing them with fresh lemon juice to make the concoction.
And most Indians are used to mixing a pinch of nutmeg with milk and drinking it to improve their sex drive. Mixing nutmeg with milk and having it right before bed also helps induce sleep and relieve mental stress or anxiety.
In Skincare And Hair Care
Nutmeg extract essential oil and nutmeg butter are widely used in a variety of skincare and hair care products, such as:
Creams
Soaps
Creams
Body butters
Bath bombs
Lip balms
Shampoo
Conditioners
Hair pomades
In addition to these commercially-manufactured haircare and beauty products, nutmeg is also incorporated into DIY hair and skin care remedies. Thanks to the rich anti-inflammatory properties in this spice, either ground nutmeg or nutmeg essential oil are used in the form of an exfoliator, a cleansing pack, or a mask to soothe skin, to treat dark spots, acne, blackheads, clogged pores, and signs of aging.
Furthermore, nutmeg essential oil is used to apply on the scalp and hair when mixed with a carrier oil like olive oil or coconut oil. This can help you get a healthy scalp and hair if you have conditions like dandruff, hair fall, dull hair, and oily scalp or scalp acne.
In Oral And Dental Health
A recently published review demonstrates the effectiveness of nutmeg in the formation of plague. A clinical trial conducted using 60 participants with plaque, and oral halitosis showed proven results from 14-21 days after they were treated with a mouthwash made with nutmeg essential oil.
In addition, you can also find dental care products like toothpaste and commercially prepared mouthwashes made by combining nutmeg with a few other effective spices like turmeric and cinnamon.
These products are helpful in treating bleeding gums, tooth decay, and various other dental and oral-related conditions.
Other Potential Health Benefits
01- Aids In Heart Health
An animal study published in 2015 shows that considerable doses of nutmeg can potentially help with heart health, lowering harmful cholesterol levels and hyperlipidemia.
02- Might Control Blood Sugar and Help In Preventing Diabetes
Another recently published study that has been conducted using rats shows that high doses of nutmeg can reduce high blood sugar and prevent diabetes. The study further demonstrates the effectiveness of nutmeg in boosting pancreatic function.
03- Could be Effective In Preventing Colon Cancer
Cancer cells are formed in the human body due to chronic inflammation. And nutmeg contains anti-inflammatory and clinical trials prove that this spice could be beneficial in inhibiting and preventing colon cancer cells.
Mighty Nutmeg Is A Superfood You Should Have At Home!
As you see, nutmeg is literally something more than a culinary spice that preserves, aromatizes, or flavors your daily dishes. It has potential benefits to your health thanks to its abundance of antioxidants, anti-inflammatory, and antimicrobial properties, along with its ability to stimulate the nervous system. So, add a pinch of nutmeg to your routine, and let us know how you feel about the change!
Related Topics