Did you know that you were keeping a magical seed right inside your spice cabinet? This spice indeed can rave up many of your favorite recipes, so here are some great ways to use nutmeg in daily cooking.
Nutmeg can be used in the following ways as a whole seed or a powder:
Keep scrolling to discover how this flavorful spice can fill your kitchen with a lovely seasonal aroma and add a distinctive flavor to your family favorites!
How To Use Nutmeg In Cooking?
There's always something special about the flavor of nutmeg since it holds a signature warmth that could complement a variety of dishes. Some of the foods, spices, and herbs that pair well with whole or ground nutmeg are as follows:
Meat (chicken, lamb, turkey, beef, pork)
Eggs
Fish
Vegetables (cabbage, onions, carrots, potatoes, pumpkin, sweet potatoes, spinach)
Cinnamon
Cardamom
Ginger
Allspice
Mace
Cumin
Cloves
Thyme
Parsley
Rosemary
Sage
We hardly use whole nutmeg seeds in their true form. Thus, either pre-packaged nutmeg powder or fresh shaves from a whole nutmeg seed go into the recipes. We could get the expected result, whatever the form it is. But cooking experts suggest that freshly grated nutmeg gives its best flavor and aroma with a fresh taste. Check out the list below and see if you could pick a recipe this week with nutmeg!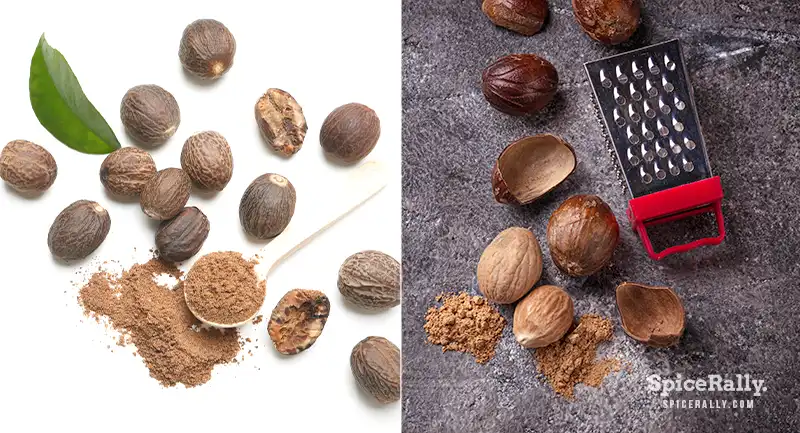 01- To Flavor Cream Or Cheese-Based Dishes
The subtle flavor of nutmeg goes perfectly well with cream and cheese-based dishes. In fact, this spice is an essential ingredient in Bechamel sauce and is added to many other white sauce varieties. Nutmeg pairs with mozzarella cheese, parmesan cheese, cream cheese, cheddar, sour cream, etc.
A pinch of nutmeg will boost the flavor of your classic mac and cheese, whether you make it from the box or from scratch. In addition, you can throw in some fresh shaves of nutmeg into dishes like Alfredo Chicken, Creamy Spinach pasta, cheesy dips, Creamy Potato and Broccoli Bake, etc., for a real tasty twist.
02- It Can Be Added To Homemade Spice Blends
If you are a home cook who loves making your spice blends, seasoning mixtures, or spice rubs, nutmeg can give so much to you! Homemade spice blends are more flavorful and retain their freshness more than the ones you usually buy from the store.
So, use this spice to add depth to your homemade Garam Masala, Ras el Hanout, Baharat, pumpkin pie spice, apple pie spice, etc. In addition to these common spice blends, you can mix freshly grated or ground nutmeg with spice rubs and marinades to season meat or fish.
Click on this link and check out our detailed nutmeg article if you want more knowledge about this aromatic spice.
03- Spices Up Fresh Smoothies And Other Beverages
Our topic leader can be a delicious and healthy addition to fresh breakfast smoothies. Since this versatile flavor profile of nutmeg complements a wide variety of fruits, vegetables, and milk, you will have endless options! Eggnog, spiced cider, and various types of wines are some common seasonal beverages that feature nutmeg. 
Pair some freshly grated nutmeg with bananas, pineapple, apples, peaches, berries, etc., followed up with soy, almond, coconut, or full-fat cow's milk. Moreover, you could ramp up lattes, hot chocolate, and shakes, making them all up for the celebration! Masala chai is a routine drink of Indians, and nutmeg is an essential flavoring in this tea.
Nutmeg is also an ideal addition to pair with black tea infusions. This spice is often combined with cinnamon, cardamom, ginger, and turmeric to make detoxifying beverages. This also punches up alcoholic drinks, getting along with rum, brandy, tequila, etc.
04- Adds A Signature Flavor To Baked Goods
Flavoring baked goods are one of the best uses of nutmeg. This spice is often paired with cinnamon, ground ginger, and cloves in a wide variety of sweet and savory baked goods to create an excellent flavor combination. Some popular baked items with nutmeg include:
Armenian Nutmeg Cake
Nutmeg Cheesecake
Cinnamon Nutmeg Scone
Nutmeg-Maple Cream Pie
Eggnog Cookies
Did you know that nutmeg is an essential spice used in many Thanksgiving dishes? Click on this link and check out our detailed post to discover the best spices and herbs for Thanksgiving meals.
05- Jazz Up Desserts And Fresh Fruit-Based Dishes
Nutmeg makes an interesting tweak in many seasonal desserts or fresh fruit-based recipes. This spice is virtually an aromatic, rich addition to many milk-based desserts like puddings and ice creams. This also complements fresh fruit custards and fruit salads made with apples, bananas, pears, berries, kiwi, pineapple, etc.
06- Complements Rich Meat And Fish Dishes
The warm and fragrant accent of nutmeg is such a blessing when it comes to spicy meat and fish preparations. Many Asian-inspired spicy meat or fish curries feature nutmeg as a non-negotiable ingredient.
You can also come up with many interesting animal protein recipes for the season, pairing this spice with other flavorful herbs and spices. Moreover, incorporate ground nutmeg with your ground meat mixtures when making meatballs, burger patties, or sausages. Here're some recipe ideas to inspire you:
Cinnamon Nutmeg Roasted Chicken
Parmesan & Chive Salmon with Garlic & Nutmeg
Spice-Rubbed Pork Tenderloin
Ostrich Thigh Steaks with Pear-Nutmeg Butter
Lamb Raan with peppercorn and nutmeg
07- Ramps Up Certain Vegetable Dishes
Our topic leader is for more than just desserts or meat dishes. A pinch of nutmeg can add an intensely flavorful kick to your ordinary vegetable dishes, transforming them from bland to scrumptious! 
You can pair this spice with butter, olive oil, or coconut oil for an advanced flavor combination. Not only with vegetables, but you can also mix a pinch of nutmeg with other spices to boost the flavor of your tofu or soy dishes. Here are some easy and delicious vegetable dishes that include nutmeg:
Roasted vegetables with nutmeg
Winter roast vegetables with ginger and nutmeg
Creamed Brussel Sprouts with Nutmeg
Vegetable Chickpea Curry
Seitan-tofu bites
Did You Know That Nutmeg Fruit Is Edible Too?
This might sound a little weird since most of us are familiar only with the common usage of the nutmeg seed and its outer coating, mace. But, astoundingly, unripened and ripened nutmeg fruit is something enjoyed by Asians, particularly by most Indians and Sri Lankans! 
They eat the ripened fruit raw with some salt and chile powder. Or else they prepare this fruit in the following ways:
As a juice
Candied fruit is used as a jam
As an immunity-boosting curry
A wine
Lay the Coziest Meals On Your Dinner Table Spiced Up With A Pinch Of Nutmeg!
A pinch of nutmeg can go a long way in your dishes, offering its distinctive warm and sweet flavor. Fresh shaves from your nutmeg seed or measurements from your store-bought ground nutmeg canister can add up to spicing up desserts, beverages, cakes, savory pies, casserole dishes, etc. So, try a recipe with this wonderful spice, and let us know how your family loved it!
Related Topics