We know how much you love your bottle of apple cider vinegar! In fact, sometimes it might even finish till the last drop without your knowledge. What are the possible apple cider vinegar substitutes that you can use in such instances? So, this article is all about that!
Go-to apple cider vinegar substitutes that will offer a similar acidity and flavor include:
Continue reading to learn more to check how these apple cider vinegar substitutes would work for you!
Best Apple Cider Vinegar Substitutes. 05 Easy-To-Find Alternatives!
Apple cider vinegar is basically fermented apple juice that has been turned into acetic acid over time. It has an intensely fruity, sour, and acidic flavor.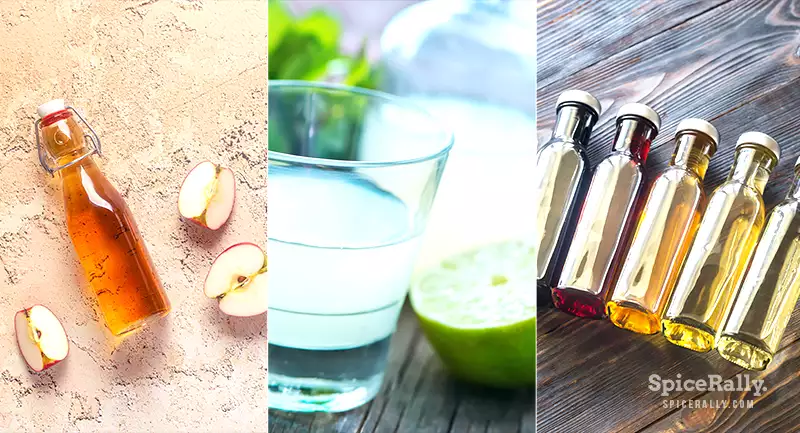 This is also an amazing food preservative and essentially adds flavor to marinades, salads, soups, pickles, etc. So, when you choose a substitute, it should get along with the nature of the dish.
All these alternatives will provide a closer flavor, will be easy to find, and will be hassle-free when substituting. So, let's check them out!
01- Balsamic Vinegar
Balsamic vinegar is one of the ideal apple cider vinegar substitutes, which will offer a comparable acidity and flavor. In fact, it is more like a sweeter version of ACV!
This option is a great replacement for salad dressings and marinades. However, it has a deeper color and more sweetness than our topic leader. So, use it only if you don't mind your dish getting a darker tone than you expected.
Since balsamic vinegar is considerably sweeter, you can use it either in a 1:1 ratio. But, if you have any uncertainties, start with a smaller amount and adjust the taste as you go.
Even though balsamic vinegar is a good substitute for apple cider vinegar, they aren't the same! So, if you need to learn how they exactly differ, click here and refer to this detailed article.
02- Lime Juice
You don't need to confine yourself only to lime juice if you have lemon juice. Both can be excellent substitutions in anything that calls for apple cider vinegar in the original recipes.
However, remember that lime or lemon juice contains citric acid while ACV includes acetic acid. Therefore, the flavor profile can be slightly different. And since we use undiluted fresh citric juices, the taste can be much stronger than that of our topic leader.
Thus, the best way to use this alternative is to use a small amount at the beginning. However, since it contains a more potent fruity flavor than ACV, you will experience a fresher taste, particularly in most salad dressings and marinades.
Another great apple cider vinegar substitute would be to make your own batch at home! So, to help you with that, we have shared an easy-to-go recipe/step-by-step guide right here.
03- Sherry Vinegar
Sherry vinegar is considered to be one of the drier kinds of vinegar. It has a unique taste and can be more complex and acidic than our subject leader.
This alternative is excellent with salad dressings, vinaigrettes, and even splash soups! If developing flavor is your thing, the best would be to begin moderately at the beginning.
04- White Wine Vinegar
White wine vinegar can be another great swap for apple cider vinegar with a similar acidity. It is basically fermented white wine with fruity hints.
However, it is not sweet as our topic leader. Therefore, if you need a more flavor approximation, we suggest adding a pinch of white sugar or a sweetener like honey, maple syrup, or agave.
Did you know that red wine vinegar is also a possible alternative to apple cider vinegar? But, it can be notably different from apple cider vinegar, and if you are curious to know in what ways they distinguish, click on this link and refer to this article.
Or else a splash of apple juice, orange juice, or grapefruit juice also works well when incorporated with white wine vinegar. In addition, you can also use other citrus juices like lime or lemon.
Use this replacement in salad dressings, vinaigrettes, or any dish that requires cooking. You can go for a 1:1 ratio or adjust the amount based on your taste preference.
We are like oil and vinegar most of the time. But when you shake us up real good, the combination is heavenly.

Anna Segee
05- Champagne Vinegar
Mild and floral champagne vinegar is a lavish replacement that is good to go in place of apple cider vinegar. It has a less complex flavor and acidity than our subject leader.
Since it is not as intense as ACV, you can undoubtedly go for a 1:1 substitution. Accordingly, you can increase the amount until you build up the taste. It is ideal as a marinade, sauce, or pickling liquid replacement.
You Just Discovered The Best Apple Cider Vinegar Substitutes!
ACV is indeed a kitchen staple in many homes, but there are times we run out of it. So, that is where alternatives like balsamic vinegar, white wine vinegar, sherry vinegar, lime juice, and champagne vinegar come to our rescue! So, what is your favorite? Let us know…
Related Topics