Incredibly aromatic and intensely warm cloves add an unequivocal depth to our dishes, regardless of whether they are sweet or savory. So, let's look at some exciting ways to use cloves in cooking and baking.
Whole cloves, ground cloves, and sometimes liquid clove extract can be incorporated into our recipes in the following ways:
If you were sticking to only a few recipes with cloves, this post would enlighten you with 07 more exciting tips- keep reading!
The 07 Amazing Ways To Use Cloves In Cooking And Baking!
Cloves are a staple in Southeast Asian cuisines like India, Sri Lanka, and Pakistan and are widely used in African and Western cuisines as well. Asian cuisines tend to use this spice year-round, while this is popular in Western cuisine as a seasonal spice.
This spice is known for its intensity and is often used sparingly since a little goes a long way in our recipes. While whole cloves and ground cloves give flavor to sweet and savory dishes along with beverages, liquid clove extract is also used in certain sweets, drinks, and baked goods preparations.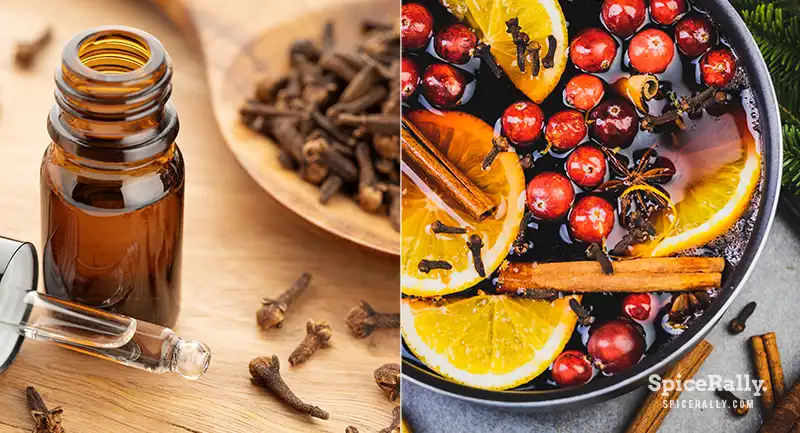 01- Adds Depth To Meat, Fish, And Seafood Curries
Adding ground cloves and whole clove pods to chicken, pork, beef, fish, and other seafood curries, particularly prepared in Southeast Asian cuisine, is very common. Most often, whole cloves are combined with cinnamon, cardamom, cumin, and nutmeg to enhance the richness of these animal proteins.
Not only in curries but also cloves are incorporated into slow-cooked, braised, and coconut milk-based meat, seafood, and fish dishes along with ground meat mixtures.  And sometimes, mostly Indians and Sri Lankans also incorporate tender clove leaves into their curries to get the preferred flavor and aroma apart from whole or ground cloves.
Tap here and go to this post if you need to be illuminated with some exciting facts that you never knew about cloves before!
02- Spices Up Non-Alcoholic And Alcoholic Beverages
A pinch of ground cloves, 2-3 whole cloves, or a few drops of liquid clove extract can add an amazing flavor and depth to a wide variety of alcoholic and non-alcoholic drinks. This spice pairs well with vanilla, cinnamon, allspice, nutmeg, and citrus peel when it comes to beverage preparations.
Clove-infused spice drinks are prevalent in Western cuisine, especially during the holiday season. While it becomes a key ingredient in mulled wine and eggnog, it also jazzes up tea, coffee, and hot chocolate. Cloves are also paired with rich liquors like rum, brandy, or bourbon to make delicious alcoholic drinks.
Here are some of the well-known drinks made with cloves:
Winter Lemonade with ginger and cloves
The Clove and Cider 
Coffee with Cinnamon and Cloves
Clove and Cinnamon Tea
Iced rooibos tea with orange, cloves & cinnamon
Classic Hot Toddy
Masala Chai
03- Adds Zest To Soups, Stews, And Rice Dishes
Whole cloves are included in many soups, stews, and rice dishes that call for a longer simmering time. The piquant flavor and fragrance of tiny clove buds are well infused with the liquids to give an epic intensity to the dishes. Asian rice dishes like Biryani. Pulao, Yellow Rice, Ghee Rice, Jollof Rice, etc., traditionally contain cloves along with other aromatic spices.
Sometimes, 1 or 2 whole cloves are randomly added to plain steamed rice just to let its lovely aroma infuse with the rice. Most hearty and wholesome soups and stews made with lamb, beef, chicken, and vegetables are flavored with this spice to empower the taste. Whole cloves are a key ingredient used in traditional Vietnamese Pho soup.
04- Used In Spice Rubs, Seasoning Blends, Spice Mixtures, And Marinades
Our topic leader adds an undeniable punch to a lot of robust spice blends, seasoning mixtures, rubs, and marinades. You will find this ingredient in many pre-packaged and homemade blends. Most often, whole cloves are slightly toasted in a pan until fragrant and then pulverized with the rest of the spices and herbs to be added to a certain mixture.
These blends are used in a variety of animal proteins like beef, pork, lamb, turkey, chicken, fish, shrimp, etc., and also used to season some vegetables and plant-based proteins like tofu. Spice blends like pumpkin pie spice, Chinese five-spice mix, and British mixed spice blend are some of the popular mixtures used in sweet dishes and baked goods.
Some other famous combinations that include cloves are as follows:
05- Spices Up Sweets, Desserts, And Baked Goods
Spicing up sweet dishes like puddings, jams, jellies, cakes, brownies, cookies, etc., and baked goods like pies, buns, bread, and tarts are one of the most important uses of cloves. Ground cloves are prominently used in these preparations, along with other signature flavorings like vanilla, citrus peels, ginger, cinnamon, ground allspice, and nutmeg.
This spice is usually a pantry staple throughout the fall and Christmas seasons since many holiday goodies call out for the incredible flavor combination of cloves with other warm spices. Here are some of the delicious desserts and baked goods made with cloves:
Spice Cake
Cinnamon Clove Coffee Cookies Recipe
Winter Spice Jelly
Apple Pie with Cloves
Arroz Con Leche (Rice Pudding)
06- Whole Cloves Are Used To Poke Meat
Poking whole cloves in meat or ham makes a dramatic presentation and allows them to absorb the wonderful flavor and perfume of this spice. You'll see a lot of cloves-studded dishes prepared in the season marked for their impressive visual effect.
Honey Glazed Ham is a trendy dish made during the holidays, and sometimes Thanksgiving turkey is also poked and flavored with this spice. Not only meat, fruits like pineapples, oranges, apples, cherries, pears, etc., are also sometimes studded with whole cloves and are usually removed before eating.
07- Ramps Up Vegetable Dishes
You are mistaken if you ever thought that cloves only complement rich and flavorful meat, fish, or seafood. This the vivid flavor profile of this spice also pairs with many hearty vegetables, such as:
Potatoes
Sweet potatoes
Pumpkin
Squash
Carrot
Beet
Baby jackfruit
Red cabbage
In addition, cloves are also used in pinches to flavor curries made with grains like chickpeas and mung beans. And it is also added to some Asian-inspired lentil curries. Like most other times, dishes prepared using these vegetables and grains also call for other warm spices like cinnamon, ginger, garlic, cardamom, and nutmeg to be paired with cloves.
Robust Cloves Fill Your Home With Flavor And Aroma!
Warm, spicy, subtly sweet-tasting, and amazingly fragrant cloves always bring down some nostalgic memories. It pairs with other warm ingredients like cinnamon, nutmeg, allspice, star anise, and peppercorns to impart a wonderful flavor to a wide variety of dishes like curries, sauces, rice dishes, desserts, beverages, cakes, puddings, etc.
Related Topics