Jump to Recipe
This magical flavor enhancer was introduced by the United State's third-largest pizza chain, Little Caesars. It has won many hearts, which became the immediate cause for us to inquire about the Little Caesars Zap Pak spices.
You can get the sachet version of Zap Paks free with pizza when you order at Little Caesars. But, Zap Pak container/ container sets should be ordered through a store personnel and they come with the paid option. However, it typically includes spices such as: 
So, let's see how this unique blend of flavoring comes together and give your pizza a distinctive taste. If you were ever inquisitive about Zap Pak spices and seasonings, this article would fill you right in!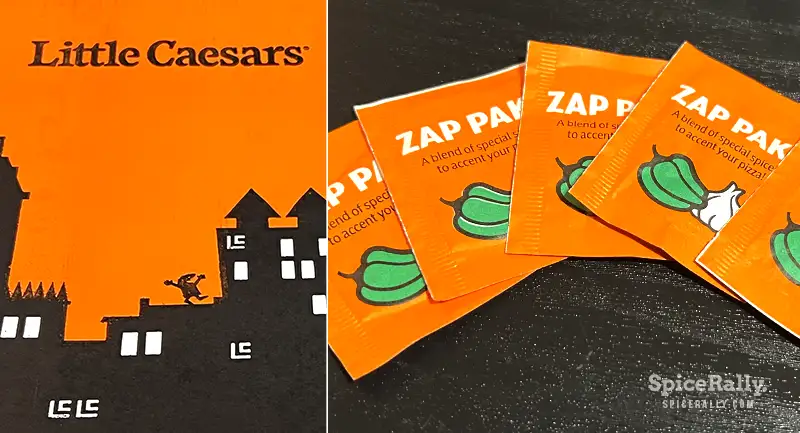 What Spices And Seasonings Are In Little Caesars Zap Pak?
Apparently, although the Zap Pak came out as an accent to pizza, many other dishes have appreciated its exceptional flavor lately. The spices or the seasonings are the main reason it has its unique taste.
So, how do these flavorings contribute to their flavor profiles? Let's check out.
01 – Dried Garlic
If it is a flavorful spice blend, a seasoning, or food to be obvious- garlic is omnipresent! Accordingly, Zap Pak also includes dried garlic, which is pungent, intensely flavored, and highly aromatic.
In fact, this is a key taste to this mix pairing with other ingredients like onion powder and salt spices. Moreover, Dried garlic adds a concentrated garlicky taste to your pizza when added.
02 – Onion Powder
Onion powder has a robust and sulfuric-like flavor with garlicky notes. The powdery consistency has the potential to disperse its flavor throughout the mix and offer its rich flavor to the pizza without the effect of overpowering.
This spice particularly got along well with dried garlic and dried bell peppers used in this.
What do you know about the content of the corned beef spice packet? Click here and we will take you to a fully detailed article about the spices in the corned beef spice packet.
03 – Dried Bell Peppers
The ingredient list on the small sachet or container says that it includes red and green dried bell peppers. It is one of the main Little Caesars Zap Pak spices that gives its distinctive taste,
Dried bell peppers are mildly bitter, brisk, and flavored with grassy notes. These taste elements complement the seasoning blend paired with salt spices, garlic, onion powder, and cottonseed oil used in the mix. In fact, this spice will offer a unique earthy tone to your pizza.
04 – Salt Spices
The actual trade secret of the Little Caesars Zap Pak lies within this ingredient. When we tested this mix, we felt they had used seasoned salt. Salt spices can be either garlic salt, onion salt, celery salt, or any other spice and herb-infused salt. This is indeed a special blend that could give the salty-spicy-herbal goodness to your pizza all at once.
Other Zap Pak Ingredients

Apart from the spices that we mention in the section above, Zap Pak also includes other ingredients such as:
Cottonseed oil gives a mild flavor to the mix, while silicon dioxide prevents the mixture from caking.
Did you know that the old bay seasoning mix is as flavorful as the Zap Pak? So, if you need to learn more about the content of this all-purpose seasoning blend, click here for a detailed article.
Did Little Caesars Discontinue Zap Packs?
Little Caesars has not discontinued their Zap Paks. And you can still get them free in a sachet packet with pizza when you order at any of their outlets. 

In addition, they also come in containers/ container sets, but they are not offered free with pizza. If you need to get one of those Zap Pak containers, you will have to buy or place an order through one of the Little Caesars Pizza store personnel.
Recipe Nutrition Facts
5 servings per container
---
Calories19
Amount Per Serving% Daily Value *
Total Fat 0.1g

0

%
Sodium 467mg

20

%
Amount Per Serving% Daily Value *
Potassium 74mg

3

%
Total Carbohydrate 4.5g

2

%

Dietary Fiber 0.7g

0

%
Sugars 2.6g

Protein 0.6g

0

%
* The % Daily Value tells you how much a nutrient in a serving of food contributes to a daily diet. 2,000 calories a day is used for general nutrition advice.
Nutrition Facts data from – verywellfit.com – recipe nutrition analyzer
Little Caesars Zap Pak Nutrition Facts
The nutrition facts we share with you below are the facts we got from a Zap Pak container. The sachet packet is actually a mini version of the same content therefore the nutrition could change accordingly.
Calories – 0
Total fat – 0g
Sodium – 110g
Total carbohydrates – 0g
Protein – 0g
Wrapping Up!
These Little Caesars Zap Pak spices or seasonings are the key to its incredibly delicious taste. Dried garlic, onion powder, dried bell peppers, and salt spices incorporate with each other very well and make this relish extra special.
So, how did you find our article helped you? Let us know by dropping a comment below.
This post may contain affiliate links. If you use these links and make a purchase, We may earn a small commission. However, there's no extra cost to you. Also, as an Amazon Associate, we earn from qualifying purchases. Thanks!
Related Topics