Curry pastes are always ideal flavor providers when making something quickly without compromising taste. So, here we bring you about India's favorite paste and its ingredients used.
Tikka masala paste originates from Indian cuisine. It derives from India's famous tikka masala spice powder. The primary purpose of this is to flavor the chicken in the chicken tikka masala dish. But it has many other uses too. This paste usually includes:
Garam Masala
Fresh and dry spices and herbs
Salt
Oil
Let's dig further into the content of this paste and know why it is important in your daily cooking.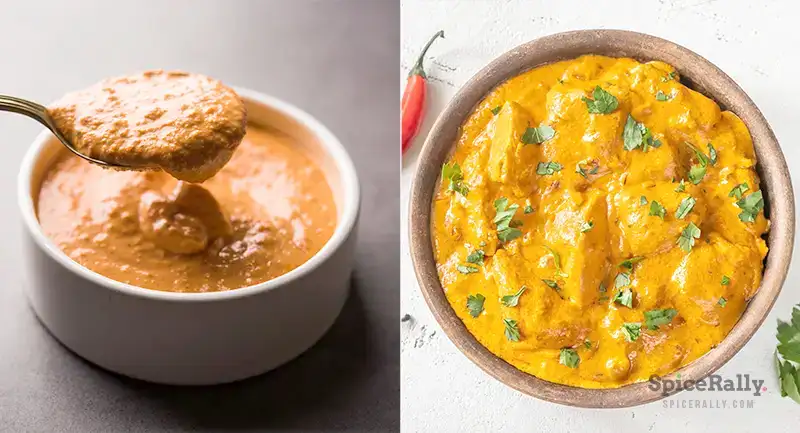 What Is Tikka Masala Paste?
It is a form of curry paste coming from Indian cuisine. This is mainly used to add instant flavor to various tikka masala dishes. This curry paste combines many flavorful fresh and dry spices and herbs. It usually has a smooth, pasty consistency. 
Tikka masala paste possesses an incredible, full-bodied flavor with a special punch of spiciness. The bursting flavors are perfect for marination and versatile enough for other uses in your daily cooking. You can make this at home or buy it from the store.
What Is In This Paste?
Tikka masala paste usually calls for quite a few ingredients. The very flavorful nature of this paste is mainly created by combining fresh and dried ingredients. The perfect balance results from the true Indian spices and herbs, blended with other flavorings. 
There can be variations of this paste. While the recipe could vary depending on the production or maker, a common set of ingredients often appears in this paste.
Garam Masala- This is the key flavoring of tikka masala paste
Fresh and dry herbs and spices– fresh garlic, ginger, red chiles, hot/smoked paprika, coriander, cumin, cinnamon, ground turmeric, fresh cilantro
Salt- Added to taste or depending on the need
Oil– A type of neutral oil is usually used such as avocado oil or canola oil
Vegetables- Onions, tomato puree
Other Ingredients Used In The Tikka Masala Paste
Apart from these main ingredients in tikka masala, it may also contain the following ingredients:
Sugar
Cayenne pepper powder
Water
Corn flour
Mustard
Tamarind paste
Dried fenugreek leaves (Kasuri Methi)
Dried cilantro leaves
Acetic acid
Chili powder
Bay leaves
Cloves
Cardamom
Traces of nuts (peanuts, cashews, or coconut)
Other flavor enhancers, preservatives, and color additives (in commercially-produced options)
How To Make This Paste At Home?
Most shop-bought tikka masala paste options could contain preservatives and artificial flavor enhancers. So, if you do not like those flavors, making your own batch at home is your best bet. 
Making this paste at home is hassle-free and can be consumed by both vegs and non-vegs alike. This recipe requires several ingredients. But, all of them are very easy to find from just one visit to the supermarket. So, let's get into blending!
What Is The Difference Between Tikka Masala Paste and Tikka Masala Spice Blend?
The consistency is the most apparent difference between these two. Tikka masala paste is pasty while the tikka masala blend is a powdered spice. In addition, the paste holds more profundity with a flavorful base. 
On the contrary, tikka masala spice powder is a blend of dry spices with less flavor. However, the tikka masala spice blend is more versatile in terms of usage than tikka masala paste.
If you're interested in discovering more information about the difference between tikka masala paste and tikka masala spice blend, we're ready to educate you with a complete article. Click here now!
What Are The Uses Of This Paste?
As mentioned earlier, tikka masala paste is primarily used to marinate the chicken for chicken tikka. It is also helpful in flavoring other tikka dishes. Mainly, this paste works as a marination ingredient. In addition to that, you can also use this paste in the following ways:
As a wet rub when grilling meat, fish, or seafood.
To mix with cooked salads
Is an excellent ingredient to incorporate into curries
To combine into curry sauces and gravies
To make various egg dishes
Do you want to learn more exciting ways to use your jar of tikka masala paste at home? Follow up on this link and read our article for the comprehensive guide!
What Are The Substitutes of Tikka Masala Paste?
This paste is a unique ingredient and quite different from other popular curry paste types such as Thai curry pastes. 
But still, if you don't find this at home or can't find it around, a few substitutes can help you to replicate its flavor. While a homemade recipe can be the closest alternative, these ready-made options are also possible to use:
Vindaloo curry paste
Thai massaman curry paste
Balti curry Paste
Tandoori paste
Rogan Josh curry paste
Madras curry paste
How to use these tikka masala paste substitutes in your dishes and how effective are they? To learn more about these options, click here and refer to our detailed article.
Storage and Shelf Life Of Tikka Masala Paste
Generally, the shelf life of the homemade paste tends to be lower than that of shop-bought ones. The main reason here is the amount of preservatives included in store-bought options. However, both shop-bought and homemade paste should be kept in the fridge or freezer. 
They would stay fresh and flavorful  in the fridge for up to one month. If you store this paste in the freezer you may keep it well for up to three months. However, keeping it at room temperature after opening is not recommended since it can change the flavor and quality of your tikka masala paste.
Where Can You Buy This Paste in the US?
Tikka masala paste is not a common culinary ingredient that you may see in every local store outside of India. So, if you're living in a place like the US, you may find it easily in the international spice aisle of leading supermarkets. In addition to that, you can also get this from online shopping sites/sellers or by visiting an Asian store.
Is Tikka Masala Paste Vegan-friendly?
Mostly it is made commercially and domestically come as vegan-friendly options. Unlike most Thai curry pastes. This ingredient does not typically contain traces of fish. But if you're concerned, it is always advisable to check the list of ingredients before purchasing.
Does This Paste Contain Gluten?
Generally, no direct gluten-related ingredient is added to the tikka masala paste. But sometimes, you may find traces of gluten in certain additives included in commercially produced options. Therefore, it is better to read the list of ingredients on the label and make sure before buying.
Is Tikka Masala Paste Keto-friendly?
Like most curry paste, this is also a keto-friendly option. It contains spices and herbs so you can undoubtedly add it to your ketogenic or low-carb diet.
Introduce The Goodness Of Pure Indian Flavors To Your Food With Tikka Masala Paste!
This rich, creamy, and zesty paste is one of the best ingredients to keep in your kitchen. You will never regret making it at home or buying it since it can offer so much flavor to your chicken, fish, pork, seafood, or even vegetables! 
The spiciness of warming herbs and spices incorporated with the flavor of tomatoes and several other ingredients creates layers of flavors. The exotic taste of Indian food is no more a hassle with this paste.
Related Topics