Biryani is loved and embraced by millions of rice lovers worldwide for all the delicious flavors packed in it. So, let's get you covered with what biryani masala paste is and how it can add depth to your biryani rice.
Biryani masala paste is a wet ingredient that comes in the form of a paste. It is generally used to marinate the animal proteins or vegetables added to biryani rice to add an instant flavor boost to the dish without involving a lot of ingredients. This paste is typically made with dry and fresh ingredients such as:
Dry spices (cardamom, cloves, star anise, bay leaves, cinnamon, etc.)
Fresh garlic
Fresh ginger
Fresh green chiles
Onions
Fresh mint
Fresh coriander leaves (cilantro)
Oil
Salt
In addition to these ingredients, the content of each recipe can vary depending on the chef or production.
Read along to learn further about this effective ingredient that can take your biryani recipe to a whole new dimension!
What Is Biryani Masala Paste?
Do you wish to make a delectable pot of biryani but have less time to prepare all those spices and ingredients? Then we bet that biryani masala paste can be the definitive solution. This paste-like ingredient is a super convenient, specially tailored formula to complement any type of biryani rice whenever you need to make tasty and hassle-free biryani.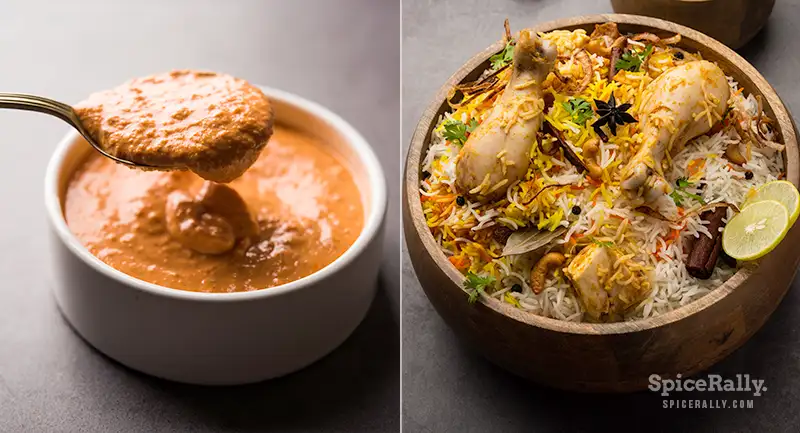 You can find biryani masala paste as homemade and commercially made options. However, each biryani masala paste can vary in terms of ingredients and way of processing, depending on each person or production. Sometimes, this ingredient is prepared to focus on one specific type of biryani. 
For example, you might find biryani masala paste for chicken biryani, dum biryani, veg biryani, Hyderabadi biryani, etc. This is typically used to marinate the chicken, mutton, lamb, beef, fish, or vegetables used to make the biryani rice.
You don't usually have to include extra seasonings, spices, or herbs if you use this paste for marination since it consists of various dry and fresh ingredients. If you buy biryani masala powder from the shop, instructions to use it are usually mentioned on the packaging itself.
Biryani Masala Paste Ingredients
Spices and Herbs
This paste is a mixture of dry and fresh spices and herbs combined with oil. The dry spices are very similar to that if what is used in biryani masala powder, such as:
Green cardamom

Coriander

Black cardamom

Cloves

Star anise

Nutmeg

Mace

Cinnamon

Caraway seeds

Dried red chiles/ red chile powder

Turmeric

Indian bay leaves

Black peppercorns
Apart from the above-mentioned dry ingredients, it typically contains fresh spices and herbs. They are as follows:
 

Fresh garlic

– The intense and sharp notes of fresh garlic is ideal for backing up the flavors gotten by the dry spices and herbs. This spice is often paired with ginger and onion to give the required depth to this paste.

Fresh ginger

– The bold, citrusy, and warmly spicy flavor of fresh ginger works perfectly, getting along well with garlic and onions to enhance the taste of biryani masala paste. It is used generously since the characteristic flavor of ginger is an essential element to upgrade the quality of this paste.

Fresh green chiles-

This is a common ingredient used in Southeast Asian cooking, particularly in spicy food preparation. Green chiles impart a fruity, pungent, sharp taste, primarily when used fresh. This spice is usually paired with onions, garlic, ginger, and fresh herbs to add the perfect robustness to this paste.

Fresh coriander leaves-

Cilantro, popularly known as coriander leaves in Indian cuisine, shares an intimate bond with every type of biryani. This herb is used generously in the preparation of this rice dish. It has a distinctive flavor profile and aroma with lemony, peppery, and pungent undertones. Although we don't see this herb included in every biryani masala recipe, most South Indian recipes have this ingredient.

Fresh Mint leaves-

Mint is another herb that goes closely with biryani. It is often used hand-in-hand with coriander leaves, especially when marinating animal proteins or vegetables and during the preparation of rice. Mint has a refreshing, cooling effect with hints of sweetness and sometimes bitterness. This ingredient also features mostly in south Indian biryani masala paste recipes.
Click on this link and refer to our comprehensive article on biryani masala powder to discover how the dry spices add depth to this spice blend.
Other Biryani Masala Ingredients
In addition to the basic ingredients mentioned earlier, biryani masala paste might also contain the following:
Oil (coconut oil, vegetable oil, rice bran oil, etc.)

Salt

Onions/ shallots

Yogurt

Tomatoes

Tamarind paste

Saffron

Sugar

Acidity regulators

Citric acid

Desiccated coconut

Artificial colors

Preservatives and other flavor enhancers
How To Use Biryani Masala Paste?
As aforementioned, biryani masala paste is specially formulated to use in flavoring various types of biryani. But you also use it to marinade chicken, beef, pork, mutton, lamb, or fish when using them with other rice dishes that call for an Asian kick. 
Or else, you can mix it with cooked rice and make a spiced, wet rice dish rather than eating plain rice. You could also try it by marinating various animal proteins to make curries. However, apart from that, biryani masala paste has relatively less versatility in terms of usage.
What Can I Use As Substitutes For Biryani Masala Paste?
Since biryani masala paste is mainly used in biryani, the general substitution for this ingredient could be biryani masala powder. 
But when using biryani masala powder, you may have to add extra elements to get a better flavor approximation. However, if you need to get a similar taste to what you buy from the shop, then a homemade biryani masala paste will be your best bet.
A homemade version of this paste can be even much better than what you purchase from the store. At the same time, you can also have the goodness of the fresh blend without fillers or additives.
If you are interested in discovering the difference between biryani masala powder and biryani masala paste in detail, we have shared an in-depth article for you right here— check it out now!
Where To Buy Biryani Masala Paste In The US?
Most Indians usually prefer making their own biryani masala paste at home, mixing and matching the ingredients to suit their palates. Due to this reason, many reputed companies came forward with their recipes to make this blend commercially.
So, you can find this under many brand names across India. But if you're living in the US, you might not find it in regular groceries. But you can get this from the international spice aisle of the leading supermarkets and try online vendors. Biryani masala paste can also be available in Indian or Asian stores across the US.
You might find several commercially prepared biryani masala pastes from the store, but nothing can beat the goodness of a freshly made homemade batch. Follow up on this link and go to this post to get a recipe for a simple homemade biryani masala paste!
How To Store Biryani Masala Paste?
Shop-bought biryani masala powder often contains preservatives and stabilizers, which means they could be kept outside somewhere in your pantry until the packet is opened. 
But once it is opened, it should be stored in the refrigerator in an air-tight container since it is a wet ingredient. However, you will have to store any homemade biryani masala pastes in the refrigerator after making them if you don't use them immediately. This way, your paste will stay in the fridge for about one month.
Is Biryani Masala Paste Vegan?
Most store-bought biryani masala paste options contain many other ingredients besides spices and herbs. These additives may include non-vegan-friendly elements, which could contain dairy and traces of animals. For example, if any option has yogurt, that is not vegan-friendly. Thus, it would be best to refer to the list of ingredients before purchasing unless you make your blend at home.
Is Biryani Masala Paste Keto-Friendly?
Biryani masala paste is primarily made of dried and fresh spices and herbs. But sometimes, commercially-made productions might contain fillers that could be high in carbs. So, we don't recommend this paste to be very favorable to those who follow a strict ketogenic diet. If you need to try this out, your best choice is to make your own at home.
Does Biryani Masala Paste Contain Gluten?
Gluten-related ingredients are not typically involved in producing the biryani masala paste. But you may find traces of gluten occasionally in some shop-bought options. Therefore, read the list of ingredients on the packaging well before you go ahead and purchase any of them.
Rock Your Favorite Biryani Recipe With Biryani Masala Paste!
Chicken, vegetable, mutton, Dum, Dindigul—whatever the biryani type you make, biryani masala paste is going to be the ultimate, effective, and hassle-free tastemaker that can give the perfect punch to your favorite biryani rice!
Dry spice and fresh ingredients like garlic, ginger, fresh mint, cilantro, onions, etc., will give the desired robustness to this paste, allowing you to experience an assortment of fresh flavors to treat your family.
Related Topics