Once you get more familiar with Thai food, you must have noticed that their curry pastes are the backbone of many of their dishes. Panang curry paste is one such ingredient and here we go with its whereabouts.
Panang curry paste also spelled as "Phanaeng", "Penang", or "Phanang" curry paste, is one of the most well-known curry pastes in Thai cuisine, specifically used to flavor the panang curries. This curry paste is made with some basic, traditional Thai spices and herbs, such as:
Thai chiles
Galangal
Lemongrass
Kaffir lime peel and leaves
Garlic
Coriander seeds
Black/white peppercorns
Green cardamom
Coriander roots
In addition to these main spices and herbs, this curry paste also typically contains ingredients like peanuts, shrimp paste, shallots, and salt.
So, read further to learn more interesting facts about this flavorful curry paste.
What Is Panang Curry Paste?
Panang curry paste, popularly known as 'Prik Gaeng Panang', is one of the most popular versions of curry paste in Thailand. This curry paste is full-bodied, thick, and aromatic paste like most other basic curry pastes featured in Thai cuisine.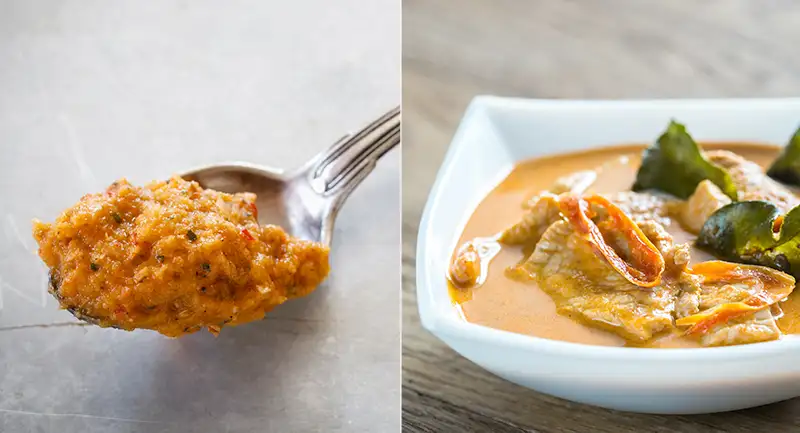 Many might tend to confuse Panang curry paste with Thai red curry paste, but this is way more different than the red curry paste in terms of heat, spiciness, texture, and overall flavor. The milder and sweeter nature of panang curry paste is why it has become more popular among traditional Thai curries.
Significance and History of This Curry Paste…
The primary purpose of this panang curry paste is to use it to make classic Thai panang curries. Panang curries are typically made with chicken or poultry in Thailand. However, with the evolution of Thai cuisine, they have developed to use this curry paste in other panang recipes made with seafood and fish.
The sources say that the panang curry paste originated in central and southern Thailand, dating back to 1890. While most Thai home cooks prefer making their panang curry paste, you will also find many commercially made versions sold locally and internationally.
What Sets Panang Curry Paste Apart From Other Thai Curry Pastes?
Panang curry paste is considered a special version of Thai curry paste. Three major ingredients used in this curry paste result in setting it apart from the rest of the basic Thai curry pastes (we will mention them later in this article).
Another reason is that some spices used in panang curry paste are dry-roasted before blending with the rest of the ingredients. Thus, the combination of the roasted spices and the fresh ingredients gives this curry paste a remarkable depth of flavor, making it stand out from the rest.
How Does Panang Curry Paste Look and Taste Like?
Like most other Thai curry pastes, panang curry paste is also typically a smooth paste, primarily when commercially made. But most homemade recipes look more like coarser paste, which depends on the preference of the cook.
Panang curry paste has a bolder spicy flavor, yet is milder and sweeter than other Thai curry pastes. The hearty spiciness blends with the assertive warm and nutty taste of peanuts, roasted cumin seeds, and nutmeg to give a distinctive flavor and aroma to this curry paste.
What Ingredients Are Used in Panang Curry Paste?
As mentioned earlier, Panang curry paste consists of a combination of dry-roasted and fresh ingredients giving this ingredient a unique flavor element.
The usage of dry spices offers this curry paste the flavor components from Indian and Middle Eastern cuisines, making it more than a traditional Thai curry paste. So, let's look at each ingredient used in this curry paste and what special flavor element they give our topic leader to make it stand out from the rest.
The Traditional Spice and Herb Combination of Typical Thai Curry Pastes
The base of this curry paste is pretty much the same as any other Thai curry paste. These four ingredients provide the key flavors, giving this ingredient its true identity as a "Thai" curry paste.
Thai chiles- A combination of mild dried and fresh Thai red chiles are incorporated into panang curry paste. A lesser amount of Thai chiles are used in this paste compared to other typical Thai curry pastes.
Typically, fresh and rehydrated dried Thai long-red chiles are used in this curry paste to lend some heat and excellent color. Thai red chiles usually score around 50,000-100,000 SHU on the Scoville heat scale. Thus, the mildest ones are used in the panang curry paste.
Galangal- Spicy, piney, and warm fresh galangal rhizome provides an excellent flavor and aroma to this curry paste. This is one of the most fundamental ingredients in this paste. It pairs well with garlic, lemongrass, kaffir lime peel, and Thai chiles to enhance the quality and body of the panang curry paste.
Lemongrass- This herb is another staple in Thai curry pastes since nothing can be compared to the distinctive taste and fragrance it gives. Fresh lemongrass stalk is mainly blended with the flavors of garlic, galangal, and kaffir lime peel to make the base flavor of this curry paste. The refreshing, lemony, tangy, and ginger-like flavor will take your dishes to the next level.
Kaffir lime peel- This ingredient is inherent to Thai cuisine, known for its unique flavor and aroma. Kaffir lime rind is a non-negotiable addition to typical Thai curry pastes, while sometimes kaffir lime leaves are also added in some recipes. The delicate bitter and efflorescent citrus flavor of this ingredient will instantly upgrade the taste of the panang curry paste, pairing well with galangal, garlic, and lemongrass.
Even though it seems like a lot of ingredients, panang curry paste does not call for so much effort to put together at home once you're ready with the things required to make it. If you're looking for a place to start, we are ready to help you out with an easy recipe made from scratch!
Dry-roasted Spices and Other Fresh Herbs Used in Panang Curry Paste
Coriander seeds- Featuring as one of the major flavor components, dry-roasted coriander seeds provide an amazing earthy, warm, crunchy, sweet citrusy note to panang curry paste. This is another must-use spice in typical Thai curry paste as its flavor blends in well with the rest of the fresh and dried ingredients,
Black/ white peppercorns- Whole black or white peppercorns are another excellent addition to our topic leader, resulting in its overall bold flavor profile. While white peppercorns are the most common inclusion in this curry paste, sometimes black peppercorns are also used. They both have slight differences in flavor, but both give this paste a wonderful peppery overtone with warm, piney, and earthy elements.
Green cardamom- Although this spice is not a staple in Panang curry paste, most recipes contain this ingredient for its unique flavor. Green cardamom has a distinctively refreshing, spicy, herbal, citrusy overtone with a minty bite. They add up to this paste teaming up well with all the other warm spices used in the mixture.
In addition to the spices mentioned above, some variations of this paste might also include other dry spices, such as:
Mace
Star anise
Cinnamon
Cloves
Coriander root- This ingredient can be seen in most traditional Thai curry pastes so no wonder why it appears in the panang curry paste as well. Coriander roots have a more concentrated flavor than coriander leaves which can be described as lemony, earthy, and pungent with hints of ginger. As an authentic Thai flavoring, the cilantro roots provide a perfect balance of flavor to this paste, blending in well with the rest of the dry and fresh ingredients.
The Signature Ingredients That Sets Panang Curry Paste Aside From Other Thai Curry Pastes
Cumin seeds– Dry-roasted cumin seeds are an important ingredient used in our topic leader since it is one of the special flavor elements that give this paste its uniqueness. Toasted cumin seeds have an enhanced taste that is earthy, warm, and slightly bitter-sweet. Cumin adds a lovely depth to panang curry paste, pairing well with other fresh and dried spices.
Nutmeg- A decent amount of nutmeg is dry-roasted with the rest of the dry spices and added to this paste to give it its distinctive nutty flavor. Warmly spicy, slightly astringent, amazingly nutty, aromatic, and sweet nutmeg can boost the overall flavor profile of panang curry paste. You may find recipes without nutmeg, but adding this ingredient will never leave you with regrets!
Peanuts- Unsalted, dry-toasted peanuts are the most significant addition to panang curry paste, setting it apart from other typical Thai curry pastes. This ingredient directly affects the texture, flavor, and overall nature of this curry paste. It gives our topic leader an amazing creaminess with a nutty flavor that combines well with the rest of the ingredients used in the paste. Peanuts are non-negotiable in this curry paste.
Other Ingredients In Panang Curry Paste
Apart from the main ingredients discussed above, panang curry paste also typically includes shrimp paste, shallots, and salt. Moreover, while commercially-produced products may contain artificial flavor additives, colors, and preservatives, some variations might also include ingredients like:
Mung beans
Avocado oil/soybean oil/ vegetable oil
Maple syrup
Peanut butter
Chickpea paste or Miso paste
How To Use Panang Curry Paste?
As we said earlier, the main purpose of this curry paste is to use in various traditional Thai panang curries as the key ingredient. But still, the flavor profile in this curry paste is versatile enough to be used in several other interesting ways. And these ways include the following:
To be used in salad dressing, dips, and sauces
In making flavorful fillings for Asian-inspired savory baked goods and fried food
To make the base for many stir-fries, stews, and soups
To pair with vegetables and eggs
As an excellent ingredient to pair with burgers, sandwiches, and crackers
To mix into ground meat mixtures
As a seasoning for meat, fish, and other seafood
Are you interested in learning more about the different ways to use panang curry paste in your kitchen? Click on this link and refer to our detailed article!
What Are The Substitutes You Can Use In Place Of Panang Curry Paste?
Panang curry paste might not be very difficult to find, but sometimes you may face situations cooking something without this curry paste. In such situations, you can use a handful of substitutes that will give a similar flavor effect comparable to our topic leader.
While a homemade recipe could be the closest alternative to your store-bought panang curry paste, a few other curry pastes can come to your rescue. And they are:
Thai Massaman curry paste
Thai red curry paste
Thai yellow curry paste
Thai green curry paste
Thai Tom Yum paste
Curry laksa paste
Vindaloo curry paste
Follow up on your thoughts and refer to our informative article to learn in detail how to use these substitutes when you don't have panang curry paste at home.
Where To Buy Panang Curry Paste In The US?
Panang curry paste is nothing new to Thailand so you can find it in any store nationwide. But sometimes you might have trouble finding it outside of Thailand especially if you live somewhere in the US.
However, you are more likely to find this curry paste in the international spice aisle of leading supermarkets. If not, you will get it from online sellers, top online shopping sites, and Asian stores.
Storage and Shelf Life of Panang Curry Paste
The shelf life of an unopened, store-bought panang curry paste is about 18 months to two years. But, once opened it will only stay well for about 1-2 months. Shop-bought products and homemade recipes are better kept in the fridge in tightly sealed containers.
 Or else, you can put the content into zip-lock freezer bags and freeze them for a longer time. Store-bought panang curry pastes usually contain preservatives so you can keep them longer than homemade pastes.
However, shop-bought ones will keep well for 1-2 months in the refrigerator, while they will withstand a shelf life of up to 6 months in the freezer. You can keep your homemade curry paste well for about 1-2 weeks in the refrigerator, while it will stay flavorful in the freezer for about 2-3 months.
Is Panang Curry Paste Vegan-Friendly?
Traditional panang curry paste is NOT vegan-friendly since it contains shrimp paste. But you may find vegan panang curry paste variations in the store, while you can also make them at home.
Does Panang Curry Paste Contain Gluten?
Typically, no specific gluten-related ingredient is used in the panang curry paste. But sometimes, you may find gluten in store-bought products. Thus, if you're tracking a gluten-free diet or are sensitive to gluten, it is advisable to read the list of ingredients on the packaging before buying.
Is Panang Curry Paste Keto-friendly?
Like most other Thai curry pastes, panang curry paste also does not contain excessive carbs, Therefore, this curry paste can be an excellent addition to your diet if you are following a ketogenic diet plan.
A Jar of Panang Curry Paste is Never A Waste To Your Grocery List!
Rich, creamy, spicy, and warm panang curry paste stands out from the rest of typical Thai curry pastes for its unique ability to upgrade your dishes in a way you never expected. Adding extra spices and roasted peanuts introduces this curry paste to a different flavor dimension. The panang curry paste is a wonderful addition to your stock of curry paste as it will make a vibrant difference every now and then whenever you want!
Related Topics