The robust combination of spices and herbs in this mixture always gives an unexpected kick to your foods. So, we've got you covered if you are ever wondering how to use Thai seasoning in cooking.
Here are a few tips for incorporating Thai seasoning into your daily dishes:
Need to spice up your favorite recipe with exotic flavors- here we go!
7 Amazing Ways To Use Thai Seasoning.
Despite the fact that Thai seasoning contains a long list of ingredients, this is a pretty addictive blend with a super flavorful taste that can jazz up any dish instantly. The jars you buy from the store might say that you can use this with meat, poultry, seafood, or vegetables, but how?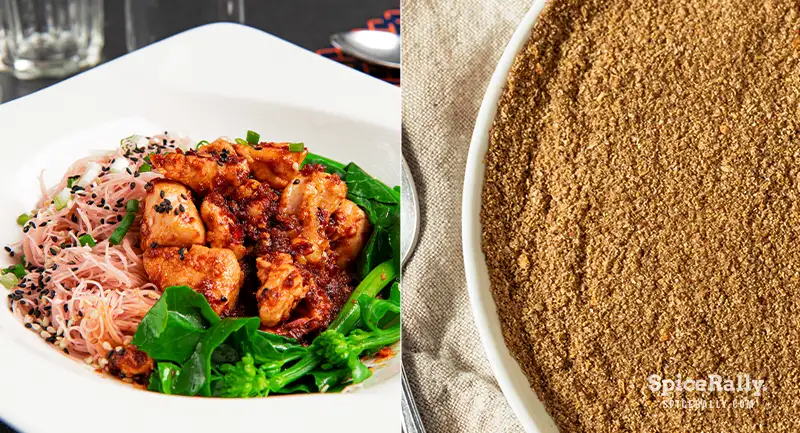 That is what we will explain to you in this article. You don't necessarily have to confine yourself to meat or seafood, but there are many more ways to have this in your recipes to have a tasty twist.
01- Use As A Dry Rub Or Blend Into A Marinade For Meat And Seafood.
The zestful flavors of Thai seasoning are ideal to complement any type of meat, seafood, or poultry. Hence, you can use this alone as a dry rub to grill, roast, bake, or fry these proteins. 
At the same time, you could also incorporate. Thai seasoning with wet ingredients like balsamic vinegar, soy sauce, maple syrup, olive oil, or honey to make delectable marinades or wet rubs. 
The piquancy of the ingredients used goes ideally with rich meat like chicken, steak, and pork or seafood such as fish, shrimp, etc. You can also mix this blend with olive oil and rub vegetables before roasting or baking.
What is the reason for Thai seasoning to be so flavorful, and what makes it special? We have answers to your questions right in this post. Check it out!
02- Sprinkle On Roasted Vegetables.
Nothing fancy, but this is absolutely one of the best ways to use Thai seasoning without much effort.
 All you have to do is to roast or grill your favorite veggies regularly and sprinkle some from this blend to make it an extra special treat for your entire family! 
Carrots, potatoes, sweet potatoes, broccoli, green beans, cabbage, etc., are some of the best vegetables that the exotic flavor of our topic leader can complement.
03- To Be Used In Stir-Fries.
Stir fries are the best way to come up with something tasty and satisfying when you have a little time. But your stir-fry dishes don't need to be ordinary when you have a jar of Thai seasoning in your pantry. 
Use this blend with chicken, beef, tofu, or vegetable stir fries, pairing it with other hearty ingredients like onion, garlic, bell peppers, etc.
04- Add Into Curries And Sauces.
You can make a variety of different curries with our topic leader to make an amazing Asian-inspired weeknight dinner! Thai seasoning is an excellent substitute for many Thai curry pastes like red, green, and yellow.
Thus, this blend can be a genius way to bring out the authentic Thai flavors in your Asian fish, shrimp, chicken, or vegetable curries. Moreover, you can also use this seasoning to spice up your homemade sauces and dips. 
Stir in a dash of your regular hot sauce to add a little spicy kick when making dipping sauces for dumplings, wontons, fish cake, etc. Our subject leader also backs ups and intensifies the taste of cream-based or coconut milk-based sauces, dips, and gravies. Options are seemingly endless!
05- To Be Tossed With Snacks.
Savory spices and herbs blended with citrus, sugar, salt, and nutty ingredients like sesame seeds or coconut make the most interesting flavor profile in Thai seasoning. This can virtually be the go-to blend to toss with your favorite snacks. 
You can use this as the base flavoring when making homemade popcorn, potato/ sweet potato fries, chips, or nuts. Or else, toss it with ready-made store-bought snacks like trail mixes or oven-roasted nuts to transform them from bland to super flavorful. 
Grab a spice shaker and empty your Thai seasoning so that you can shake it off on top of your snacks and enjoy!
06- To Be Added To Soups And Stews.
Use our topic leader to add depth and richness to your classic soups and stews. Since soups or stews are often savory and spicy, the concentrated flavor of this blend can lend a contrasting taste to heavy recipes. 
Thus, you should be mindful of pairing this seasoning with the right ingredients (this seasoning is perfect for rich soups and stews) and keep in check not to overpower the dish. 
That being said, you can incorporate this mostly with coconut milk-based stews and soups, along with the ones that call for several complementary spices and herbs.
07- It Can Be Incorporated Into Salads And Salad Dressings.
Here's some good news for all SpiceRally readers who track a healthy, low-carb diet! Thai seasoning can be the ultimate flavor booster in your salads. You can use our topic leader with cooked or fresh salads and mix it with salad dressings or vinaigrettes. 
The spiciness and the kick of heat in this blend will go so well with fresh and flavorful salads and dressings, particularly when paired with cream-based recipes. 
Mix in a dash of this seasoning with olive oil, avocado oil, greek yogurt, etc., to make divine salad dressing or vinaigrette. Just the same, you can also team this up with chicken salad, egg salad, or cooked macaroni salad recipes. 
Add A Little Kick To Your Favorite Foods With A Dash Of Thai Seasoning!
The unparalleled flavor and fragrance of this blend are truly amazing, with most of the dishes prepared in your kitchen. The savory, tangy, and spicy flavor profile of Thai seasoning can give an explosive taste to the meat, seafood, soups, and stews, while it can also upgrade your classic salads and salad dressings. What's your favorite way of trying out this seasoning blend? We would love to know!
Related Topics