If you ever visit a Mexican restaurant and savor that tantalizing citrusy and salty-flavored shrimp, you must have wondered where that taste really comes from. It is probably from Tajin seasoning, and here's everything about this blend and its ingredients.
Hailing as a Mexican seasoning blend/ table condiment, the traditional Tajin seasoning includes ingredients such as chili peppers, lime, and sea salt. It was originally launched by a company in Mexico, but some copycat or homemade versions also exist now. 
So, keep reading to be enlightened with everything you need to know about this flavorful seasoning blend!
What Is Tajin Seasoning?
Basically, tajin seasoning is a unique blend of three ingredients- mild red chili peppers, dehydrated lime, and sea salt. It is more famous as a table condiment than a seasoning. Yet, it is also used as a seasoning blend in many Mexican and Tex-Mex foods.
What's commonly called "Tajin" (ta-heen) is actually "Tajín Clásico" and was founded in 1985 by Horacio Fernandez. It is the first and most popular product made by Empresas Tajin, located in Zapopan, Jalisco, Mexico. The company became a real success and was later expanded into the United States and spread this chili-lime seasoning over 30 countries.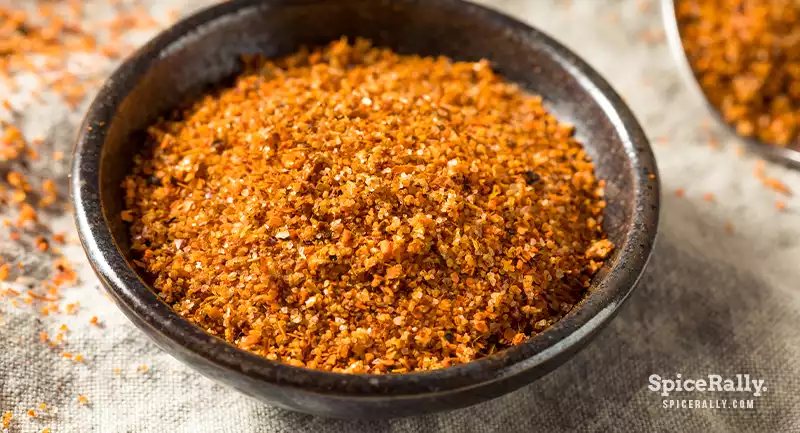 Only the company mentioned above currently produces this seasoning as they own the brand. But we can see many homemade/ copycat versions made to get a similar taste. And many consumers have embraced this blend because of its interesting flavor profile. 
In fact, tajin seasoning is not hot and spicy. But it is tangy and salty with an incredible punch of a citrusy note. Consequently, this seasoning has the capacity to add a great kick to savory and sweet food along with beverages!
What Spices Are In Tajin Seasoning?
Chili Peppers
The authentic recipe uses only one spice –  that is ground mild red chilies, as the base flavoring of this blend. As we learned from the sources, it mostly contains a combination of chiles de Arbol, pasilla, and guajillo chilies.
These red chili types score a lower unit on the Scoville heat scale. However, even though they are less hot, they hold a profundity of flavor and give a vibrant color to tajin.
In addition to these chili pepper varieties, some homemade recipes might also include ancho, cayenne pepper, paprika, chipotle, or chili powder. However, chili peppers that hold too much hotness aren't usually used to make this blend.
Apart from chili peppers, some tajin seasoning blends made according to different recipes could also contain additional spices like garlic powder, onion powder, ground cumin, ground coriander, and chili seasoning.
Assume that you suddenly run out of tajin seasoning and don't have time to shop. So, if you ever face such a situation, you can count on some viable tajin seasoning substitutes. Click here and read this article for more information.
Other Tajin Seasoning Ingredients
The original tajin seasoning blend is quite simple, with only two other ingredients, along with the red chili peppers we have discussed on top. They mention that they have used dehydrated lime juice and sea salt with chili pepper.
Dehydrated lime juice is an iconic ingredient of this blend which gives its tart-citrus punch. And sea salt obviously brings the balance of flavor, stabilizing the taste of mild spiciness gotten from the chilies and sourness from the lime.
However, we saw that most copycat or homemade recipes had used lime zest, citric acid, and sugar as extra flavors.
Did you know homemade tajin seasoning can be as good as your store-bought option? So, if you are interested in making your own batch, click on this link and get the recipe from this article.
Is Tajin Seasoning Gluten-Free?
The authentic tajin seasoning blend only contains three ingredients- red chili peppers, dehydrated lime, and sea salt. Thus, it does not typically contain any gluten-related ingredients.
Does Tajin Seasoning Contain MSG?
Primarily tajin seasoning is used as a condiment and is widely used with fruits and fruit-based cocktails. So, MSG is basically out of the question in most recipes, and the original blend does not contain this additive, either.
Whatever the Mexican food you enjoy, you can simply find a soulful taste in them, whether they are tacos, burritos, enchiladas, or shrimp seasoned with tajin!

SpiceRally.
Final Words About The Tantalizing Tajin Seasoning…
Many Mexican or Tex-Mex dishes are flavored with this incredibly flavorful seasoning most of the time. The mild spiciness of the red chili peppers, the tartness of the lime, and the salty hint of the sea salt can make a real treat regardless if you are enjoying meat, vegetables, snacks, fruits, or drinks!
Chipotle seasoning is another blend that is closely associated with Mexican food. So, click here and check out this article to learn more information and the way to make your own chipotle seasoning at home.
Related Topics