Jump to Recipe
Curry is nothing new to Thai cuisine and we consider Green curry to be the most popular out of the various types. In this article, we wish to bring you everything about Thai green curry with chicken!
Thai green curry with chicken comes together with tender chicken glazed in a vibrant green sauce. This dish uses Thai green curry paste as the key ingredient, while coconut milk backs up its flavor. This curry is traditionally eaten with Jasmine rice in Thailand and served with noodles, bread, etc.
If you need to try this universal green curry at home and want a great recipe, read along as we have some interesting things piled up for you.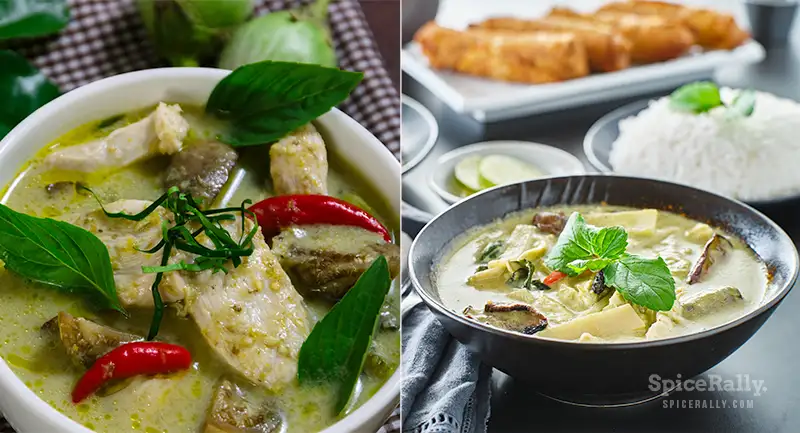 What Is In Thai Green Curry With Chicken and What Is So Special About It?
Thai green curry is probably the most famous type of curry eaten across Thailand and served outside of the country. This universal dish has become famed among the majority due to its vibrant taste, color, and texture. 
Another special thing about Thai green curry with chicken is that it usually contains more gravy than other Thai curries. Thai green curry paste is the megastar of the dish, and thick coconut milk, chicken, and vegetables incorporate well with its rich taste.
This curry typically has a more herbal undertone than any other ordinary curry. This gives the Thai green curry with chicken more depth regarding nutritional benefits. The most common way to eat this curry is with Jasmine rice. 
It is also great when accompanied by noodles, bread, cauliflower rice, couscous, quinoa and roti.  Thai cooks follow their own methods and use different ingredients to make delicious versions of Thai green curry. But, here are some of the ingredients that often show up in almost every recipe.
Chicken- This dish uses tender parts of chicken like breasts and thighs without bones and skin.
Spices and herbs- Thai green curry paste, fresh basil, fresh cilantro, spinach, kaffir lime leaves, Thai red chiles, lemongrass, ginger and garlic.
Vegetables– Eggplant, bell peppers, snow peas, broccoli, bamboo shoots, green beans, zucchini, etc.
Other ingredients- Coconut milk, stock water, oil, fish sauce, palm sugar
Other possible additions- Soy sauce, salt, cornstarch, flour, onions, lime juice, etc.
How To Make Thai Green Curry With Chicken At Home?
If you love bringing authentic Thai goodness onto your dinner table, we are ready to teach you how to make a delicious Thai green curry with chicken at home. 
This recipe does not call for any fancy work. All you have to do is read the list of ingredients and pay a humble visit to the nearest Asian supermarket to prepare the things needed. So, let's make curry!
What Other Ingredients Go Well With This Green Curry?
Any animal protein or even plant-based proteins like tofu is excellent paired with the green curry. Hence, you can substitute fish, beef, pork, shrimp, and crab instead of chicken. If you prefer going vegan or vegetarian, you could combine vegetables to make this curry and pick a vegetarian green curry paste and skip fish sauce and chicken stock in your curry. You can either use soy sauce or salt to season your vegetarian/vegan green curry and use vegetable stock or water as the secondary liquid.
Does This Thai Green Curry With Chicken Contain Gluten?
We have not incorporated gluten-related ingredients in our recipe. Yet the stick water could contain traces of gluten. Moreover, if you use shop-bought green curry paste, it might also contain gluten-related ingredients. If you need your recipe to be one hundred percent gluten-free, you may use a homemade green curry paste and homemade stock or water.
Is This Thai Green Curry With Chicken Keto-friendly?
This curry is an excellent addition to your ketogenic or low-carb diet when paired with keto-friendly rice types like cauliflower rice or zucchini noodles.
If you can't decide what you must make for dinner and need to come up with something special, we are ready to educate you with some interesting Thai dinner ideas. Click here and refer to our post for more details.
Related Topics