Jump to Recipe
Out of the versatile curries from Thai kitchen, yellow curry showcases its specialty for being a colorful and delicious item. It is an ideal curry for those who love milder curries with a blast of flavors on their plate.
Thai yellow curry with fish incorporates the goodness of universal Thai yellow curry paste. The next main ingredient used in this dish is coconut milk. The robust and warm flavors of the curry paste combine with coconut milk to create layers and layers of flavors for the pieces of fish. This dish is ideally served with plain rice, noodles, or bread.
Read along as we wish to share some interesting facts about this dish and a delicious recipe to enjoy with your family.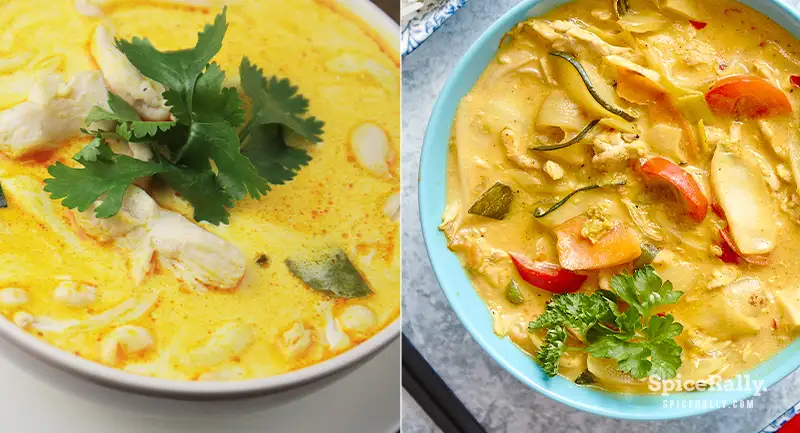 What Is In Thai Yellow Curry With Fish?
Curries are nothing new to Thai cuisine. Yet, yellow curries always hold a special place due to their iconic "curry" touch. Thai yellow curry with fish tends to have a lovely depth of spiciness that is not overwhelming. 
As the star of the show, Thai yellow curry paste is a wonderful companion with a bowl of cooked rice, noodles, or even bread. Tender fish is incorporated with the yellow curry paste and then sauced up with coconut milk. 
The outcome is an incredibly flavorful fish curry that will look nice and golden in color. Visually appealing Thai yellow curry with fish also includes a few more ingredients and we will look at the list now:
Fish- Most of the time a white fish is used in this dish such as cod, halibut, haddock, etc.
Spices and herbs– Thai yellow curry paste, fresh cilantro, fresh Thai basil leaves, Thai red chiles, tamarind, black pepper, ginger, garlic, lemongrass.
Other ingredients– Coconut milk, fish sauce, onions, oil, stock water, sugar, lime juice.
Additional ingredients– This dish can use vegetables such as snow peas, broccoli, bell peppers, green beans, asparagus, etc.
How To Make Thai Yellow Curry With Fish At Home?
This vibrant Thai yellow curry with fish is a wonderful dish suitable for a weekend family dinner or when your guests show up. This curry instantly fixes your mood with its spicy warmth. Grab your essentials ideally from an Asian grocer and get ready to make this with us!
What Ingredients Go Well With The Thai Yellow Curry Apart From Fish?
Thai yellow curry is better off with seafood than any type of meat. Thus, you can also make this curry using cuttlefish, shrimp, crabs, lobsters, etc. However, it doesn't mean that you can't have a yellow curry with meat. Meat lovers can try with chicken, beef, pork, or lamb. Vegans and vegetarians also can try purely with vegetables like squash, potatoes, greens, and mushrooms would give a wonder yellow vegetable curry!
Is This Thai Yellow Curry With Fish Recipe Gluten-free?
Since we have used no direct gluten ingredients and even our yellow curry paste contains no gluten, this recipe is completely suitable for anyone who tracks a gluten-free diet. But, you should be cautious when ordering outside or using a store-bought curry paste since it may contain traces of gluten.
Is This Thai Yellow Curry With Fish Recipe Keto-friendly?
This yellow fish curry can be an excellent addition to your ketogenic or low-carb diet. Make sure you pair and eat this with something low in carbs like cauliflower rice.
For more interesting dinner ideas from Thai cuisine and to learn about their whereabouts, click on this link and read our detailed article.
Related Topics