Almost every Asian country has its own way of making fried rice. But, Thai fried rice tends to set it apart from all of them. In this article, we wish to address why this dish is so unique in flavor and content.
Thai fried rice, popularly known as Kho Pad in Thailand, is a simple, yet delicious rice dish. It is a complete meal. And it has variations depending on the source of protein used and the cooking method. However, a set of common ingredients show up in almost every variation that includes:
Rice
Proteins
Sauces
Vegetables
Garlic
White pepper
Let's see why this Thai rice dish is so flavorful and what important things we must learn if we make it at home.
What Is In Thai Fried Rice?
The unique ingredients create the magic of Thai fried rice. There's nothing fancy. But, the very few elements used here give an incredible taste to this dish. The ingredients, especially the vegetables and sources of proteins in this dish may vary depending on the cook.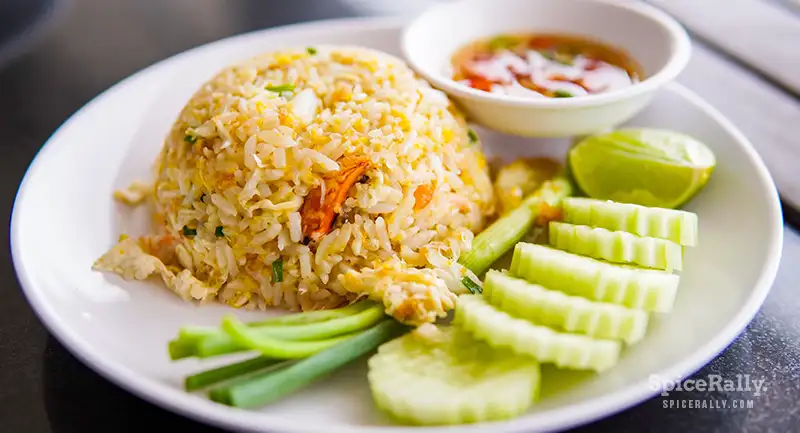 Rice– Jasmine rice is the traditional kind, in addition to basmati rice and long-grain rice varieties.
Proteins– Eggs, chicken, pork, shrimp/prawns, mixed seafood, crab meat, salted fish, etc.
Sauces– This dish mainly requires fish sauce, apart from light soy sauce, Thai dark soy sauce, and oyster sauce.
Vegetables- Onions and Chinese broccoli (gai lan) are the main vegetables in this dish other than cabbage, tomatoes, spring onions/ scallions, and bell peppers.
Spices and herbs– garlic, ground white pepper, Thai red chiles, Thai sweet basil, and cilantro.
Are you interested in discovering the common herbs used in Thai cuisine? We are ready to educate you! Click on this link and read the post we have shared here!
Other Ingredients Used In Thai Fried Rice
In addition to the main ingredients in Thai fried discussed above, it may also have the following ingredients:
Oil- usually sesame oil, vegetable oil, or a type of neutral oil is used
Salt
Sugar
Lime wedges (when serving)
Cornstarch- occasionally used to velvet meat like pork
How To Make Thai Fried Rice At Home?
Making Thai fried rice at home is easier than you ever expected! Here we bring you a classic recipe to make Thai chicken fried rice (Khao Pad Kai). We have added our own bling to this recipe to add more depth and flavor. So, let's get started!
What Are The Different Variations Of Thai Fried Rice?
Thai fried rice can be made of any protein and vegetable. But still, there are a few popular variations of Thai fried rice served across Thailand:

– Thai Chicken Fried Rice (Khao Pad Kai)
– Thai Pork Fried Rice (Khao Pad Mu)
– Thai Shrimp/ Prawn Fried Rice (Khao Pad Kung)
– Thai Seafood Fried Rice (Khao Pad Thale)
– Thai Crab Meat Fried Rice (Khao Pad Pu)
– Thai Salted Fish Fried Rice (Khao Pad  Pla Krapong)
– Thai Vegetarian Fried Rice (Khao Pad Che)
– Thai Egg Fried Rice (Khao Pad Kai)
What Vegetables Go Well With Thai Fried Rice?
Thai fried rice is not so heavy on vegetables. Therefore, vegetables like Chinese broccoli, cabbage, spring onions, scallions, onions, and tomatoes go well with the flavor and texture of this dish.
What Is The Difference Between Classic Thai Fried Rice and Thai Fried Rice Variations Made With Thai Curry Pastes?
The main difference between these variations is that they are made by infusing various authentic Thai curry pastes. And these curry paste include Thai red curry paste, tom yum paste, Thai green curry paste, etc.

These fried rice recipes typically hold more complexity with a more depth of flavor than regular Thai rice recipes would do. They offer a robust "curry" note, and sometimes, coconut milk or cream is used when making the rice.
Is Thai Fried Rice Vegan-friendly?
Thai fried rice is a highly adaptable dish. Thus, you can make vegan Thai fried rice by skipping eggs, animal proteins, fish sauce, and oyster sauce. And instead of animal proteins, you can use tofu to add depth and amp up the taste of your rice dish.
Does Thai Fried Rice Contain Gluten?
Thai fried rice does not contain direct gluten-related ingredients. But, the flavoring components added to this dish may contain traces of gluten such as soy sauce and oyster sauce
Make The Perfect Family Meal- Make Thai Fried Rice For Lunch or Dinner!
Loaded with authentic and exotic Thai flavors, Thai fried rice is one of the most comforting foods that you can have. The best thing about this dish is that it has many variations and is highly versatile to make it suit your palate. With or without meat or seafood, Thai fried rice will satisfy everyone's rice craving without a doubt! 
Related Topics