Jump to Recipe
If you visit a Thai restaurant, Thai Red Curry With Chicken is a dish you will undoubtedly find on the menu. It is such a universal dish in Thailand made in almost every home who loves to savor the goodness of a good curry.
Thai red curry with chicken is colorful, vibrant in flavor, and rich in texture. Thai red curry paste is the key flavoring agent used in this dish. The red curry paste makes a lovely harmony with coconut milk and chicken to give an incredible outcome. This dish is often served alongside a bowl of cooked jasmine rice.
So, let's dive in and check out how wonderfully this red curry will come together in your kitchen!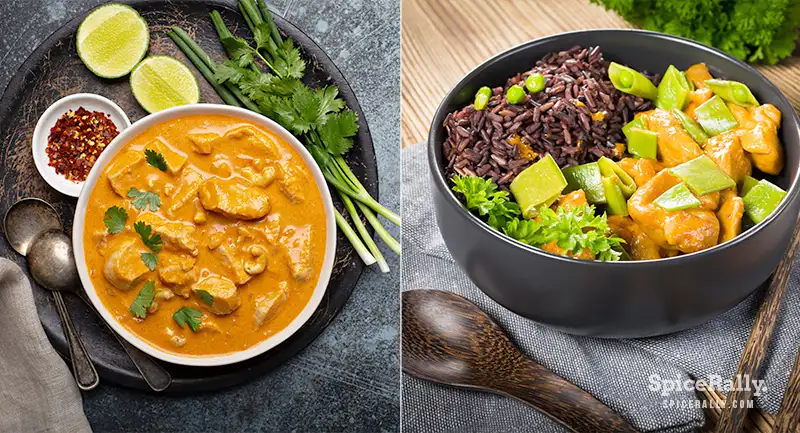 What Is In this dish?
Thai red curry with chicken is one of the most classic dishes with origins from Central Thailand. You may find this dish on every Thai restaurant's menu even outside of the country. Thai red curry with chicken is known as 'Gaeng Phed Gai' in the Thai language. 
As the name suggests, one of the two main ingredients is the Tender parts of chicken. The next important ingredient in the dish is coconut milk which gives the authentic taste to the curry.
This is often served with cooked rice, while some also enjoy this curry with bread, noodles, and roti. Let's check out the most common ingredients used in Thai red curry with chicken:
Chicken- Typically, uses boneless chicken thighs or breasts.
Spices and herbs- Thai red curry paste, ginger, garlic, kaffir lime leaves, Thai basil, cilantro
Vegetables- A variety of vegetables can be Bell peppers, pumpkin, squash, green beans, carrots, etc.
Other ingredients- Coconut milk, oil, stock water, fish sauce, sugar.
Other possible additions- Zucchini, black/ white pepper, oyster sauce, bamboo shoots, etc.
How To Make Thai Red Curry With Chicken At Home?
If you plan on making an Asian dinner or lunch for your family, we bet this dish will be a great twist. This recipe is so easy to make by using a few simple ingredients. Visit your Asian grocer and grab the things before making this flavorful curry.
So, let's get started!
Can I Make This Thai Red Curry Using Other Types of Meat?
Although the most common type of meat used in Thai red curry is chicken, you can also use Beef, Pork, Duck, Lamb or Mutton. You could also make the red curry using salmon, other types of white fish, and seafood like shrimp and cuttlefish. Vegans and vegetarians can make this red curry only using a variety of vegetables.
What Red Curry Paste Is More Suitable For This Recipe- Store-bought or Homemade?
We prefer using homemade red curry paste in this recipe since store-bought curry paste may contain different artificial additives, colors, and preservatives. Also you can adjust homemade recipes depending on preference. Using a store-bought version at a time you're unable to make your own is fine. But, try to use a homemade batch as much as you can.

Is This Thai Red Curry With Chicken Recipe Gluten-free?
We have not used any direct gluten ingredients in our recipe. However, the chicken stock may contain gluten-related ingredients. In addition, if you use store-bought red curry paste, some of them may also contain traces of gluten.
Is This Thai Red Curry With Chicken Recipe Keto-Friendly?
You may use low-fat coconut milk, skip rice, and starchy vegetables, and use zucchini, green beans, and bell peppers, instead of using veggies like squash, pumpkin, and potatoes.
Thai red curry served alongside a steamed rice bowl makes an excellent dinner while there are many other great Thai foods you can try for dinner. Click on this link and refer to our article for more information!
Related Topics