When we taste a certain food, from either cuisine in the world, if spices are in it, we know we laid our hands on the right plate! Usage of these excellent flavorings is not something that started recently but ran back to the days of antiquity. Every spice is unique and has its own flavor, aroma, and color. Therefore, it is essential to identify each of them separately.
There are basically seven categories of spices. And, we are going to elaborate on the main five categories of them through this article. They are in accordance with their:
Degree of taste
Economic significance
Season of growth
Growth habits
Parts of the plant used
Thus, make the best use of this feature to obtain knowledge on the unknown facts about the most familiar spices you use in your regular meals. At the end of this, you will be sophisticated on the main categories of spices, about the main flavorings that are used in prominent cuisines in the world, and many more.
What Are The Categories Of Spices?
A spice is a fruit, seed, bark, root, or other plant material employed to savor or color food. And, spices are classified from herbs, which are the flowers, leaves, or stalks of plants utilized for seasoning or as a garnish. Spices are seldom used in medicine, religious customs, or in industries like cosmetics or perfume. However, no source exactly says when humans initially started including spices and herbs in their food. But, it is evident that by the time of the ancient Greeks and Romans, many spices and herbs had reached into use to flavoring food and beverages.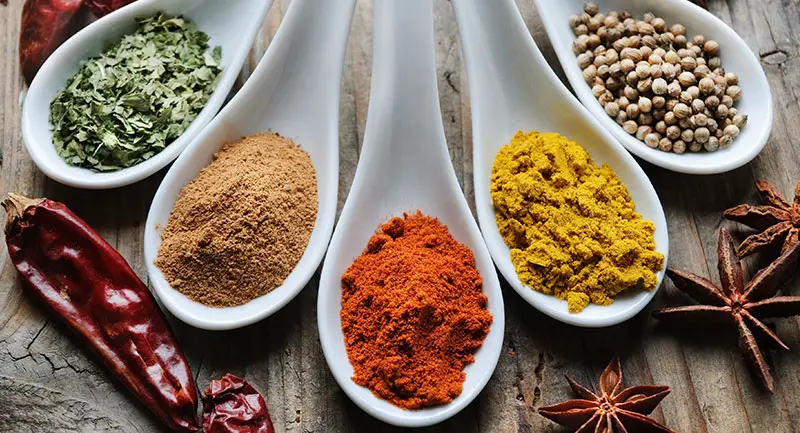 For the convenience of identification and scientific purposes, spices are classified into a few categories. Thus, we thought of picking five of them and explaining what could be beneficial for you through this article. They are as follows:
Degree of taste – Spices are classified according to the different types of flavors they possess. The flavors of spices again go into two subgroups – basic tastes and supporting flavors. 
Economic significance – Grouped according to the contribution they deliver towards the global economy.
Growth habits – Categorized upon the modes of their growth.
Parts of the plant used – Classified according to the section of the plant the spices originate from.
Season of growth – The spices are assorted by the particular season they grow.
Ceylon Cinnamon contributes to the economy of Sri Lanka extensively. So, if you are curious to learn about other Ceylon Spices, you are just one click away from here.
Spice Categories Chart
The chart of spice categories that we will present to you in this section will explain and provide examples to each group.
Degree of taste
Basic Flavors Examples
Hot spices
Red chili
Cayenne pepper
Black and white pepper
Ginger
Mustard
Wasabi
Sichuan Peppercorns
Mild Spices
Paprika
Coriander
Bitter Spices
Black cumin
Ajwain
Fenugreek
Celery Seeds
Mace
Mustard
Turmeric
Sweet Spices
Anise
Caraway
Cassia cinnamon
Cloves
Allspice
Fennel
Green Cardamom
Nutmeg
Aromatic Spices
Cardamom
Cinnamon
Allspice
Clove
Cumin
Dill
Fennel
Fenugreek
Mace
Nutmeg
Garlic
Supporting Flavors
Earthy
Cumin
Saffron
Turmeric
Achiote
Cooling
Star Anise
Fennel
Sweet Basil
Dill
Anise
Fruity
Coriander
Fennel
Star anise
Nigella
Tamarind
Foral
Lemongrass
Saffron
Sweet Basil
Pungent
Garlic
Ginger
Horseradish
Mustard
Paprika
Star anise
Wasabi
Nutmeg
Allspice
Dill Seeds
Epazote
Chilies
Black pepper
Nutty
Poppy Seeds
Ajwain
Caraway Seeds
Coriander
Cumin
Fenugreek
Mustard Seeds
Sesame Seeds
Piney
Black pepper
Herbaceous
Fennel seeds
Dill weed
Spicy
Cassia cinnamon
Cloves
Coriander
Cumin
Ginger
Nutmeg
Woody
Ceylon cinnamon
Cardamoms
Cloves
Sichuan Peppercorns
Sulfury
Asafoetida
Chives 
Garlic
Economic Significance
Major spices
Black pepper
Chilies
Turmeric
Ginger
Cardamoms
Minor spices
every other spice except for the ones that mentioned under major spices
Growth habits
Trees
Cinnamon
Nutmeg 
Garcinia
Cloves
Shrubs
Chilies
Rhizomatous
Turmeric
Ginger
Galanga
Herbs
Ajwain
Coriander
Tenet
Fenugreek
Chilies
Climbers
Black pepper
Green peppercorns
Parts of the plant used.
Bark
Cinnamon
Fruit
Cardamom
Cumin
Fennel
Ajwain
Chilies
Tamarind
Star anise
Rhizome
Turmeric
Ginger
Galanga
Seed
Fenugreek
Cardamom
Mustard
Nutmeg
Black pepper
Stigma
Saffron
Bulb
Garlic
Unopened flower bud
Cloves
Rind
Mace
Kokum
Resin
Asafoetida
Stem
Celery
Cilantro
Root
Horseradish
Season Of Growth
Annual spices
Cumin 
Fennel
Coriander
Mustard
Ajwain
Perennial Spices
Cinnamon
Turmeric
Ginger
Black pepper
Saffron
Clove
Nutmeg
Asafoetida
Note- In addition to these categories, there is another sub-group of spices which is known as colorant spices. Basically, turmeric and red chili powder belong to this category. 
Turmeric and red chili powder are staples in Indian cuisine. Check out this article here if you are interested in knowing about the Top 10 Indian Spices.
How Many Types Of Spice Are There?
There are over eighty types of spices around the world. The best cuisines in the world use unique flavorings that have trademarked their dishes. Apparently, the usage of spices is the second most important event that has occurred in the world of culinary. The first was the use of salt- the most prominent taste enhancer. In fact, spices can upgrade the taste and appeal of insipid foods or even in ruined food. Interestingly, zesty tangs arouse salivation and support digestion.
Moreover, hot spices can provoke sweating, which may even create a comfortable sensation in sultry climates. And, on the other hand, they can add a feeling of inner warmness when employed in prepared foods in cold temperatures. However, the eighty spices that we were talking about fall under one or a few categories mentioned in the above section. And, it is evident that a particular spice has several flavors, and they do not confine to one flavor profile. This is another plus factor as to why these flavoring agents do enchantments with our diets!
Just like spices as a whole, seasoning blends that are made out of spices and herbs are equally important when cooking. If you would like to spend some minutes, you can check out our article, here, about the difference between Cajun and Creole seasoning.
What Are The 3 Types Of Spices- The Three Main Spices That Have Won The Best Cuisines In The World.
The kitchen is one of the prominent places at home that unites and strengthens the entire family together. The palatability of foods prepared in a kitchen is a key determinant in safeguarding a family's happiness. When talking in terms of the deliciousness of the food, spices literally contribute in a way that cannot even be imagined.
Therefore, the home cooks and chefs in well-reputed cuisines around the world use spices to flavor and aromatize their dishes in order to satisfy their loved ones or customers. So, now let us have a look at the top ten cuisines in the world and their best-used three spices.
Cuisine
Top three spices used
Italian
Anise
Basil
Garlic
French
Nutmeg
Saffron
Garlic
Thai
Galanga
Turmeric
Ginger
Indian
Red Chili
Turmeric
Cumin
Mexican
Cumin
Garlic
Epazote
Japanese
Wasabi
Ginger
Garlic
Greek
Coriander
Cinnamon
Cumin
Spanish
Cumin
Cinnamon
Black pepper
USA
Paprika
Black pepper
Allspice
Chinese
Chilies
Garlic
Ginger
Thai cuisine is a wonderful place that makes use of many spices. So, if you need to discover more, click here for a detailed version of the Thai Spices.
Summing-Up
As we presented you throughout this article, we hope you understand that spices are the conquerors of our diets. In fact, they have unique flavor profiles, colors, aromas, and textures that could give life to a certain dish. The categories that we have shared with you in the above sections will help you acquire better knowledge about their flavors, origins, and growth. When you know what spices and how to include them in a particular food, you will literally make yourself a perfect master chef!