Quesadilla, actually pronounced as keh-sah-diya, is a cheesy-loaded grilled tortilla that can be simply filled with anything you have at home. Its filling is usually seasoned with various flavorings. Thus, this article will cover how quesadilla spices bring flavor to this beloved Mexican food.
The usage of spices comes down to seasoning the fillings that go in this dish. However, in order to season meat, seafood, or poultry used in fillings, the following spices are generally used:
Garlic
Onion powder
Black pepper
Cumin
Cayenne Pepper
Paprika
In addition, dried oregano is used as a key herb, and some recipes even include herbs and spices like chopped cilantro, taco seasoning, chili powder, serrano pepper and red chili flakes.
So, let's check out how these flavors help to spice up your quesadilla!
Jump to Recipe
What Spices Are In Quesadillas?
You can actually pop in anything inside your quesadillas, followed by cheese, as we mentioned earlier. The magical taste of this food lies in the cheesy bite and the filling you use.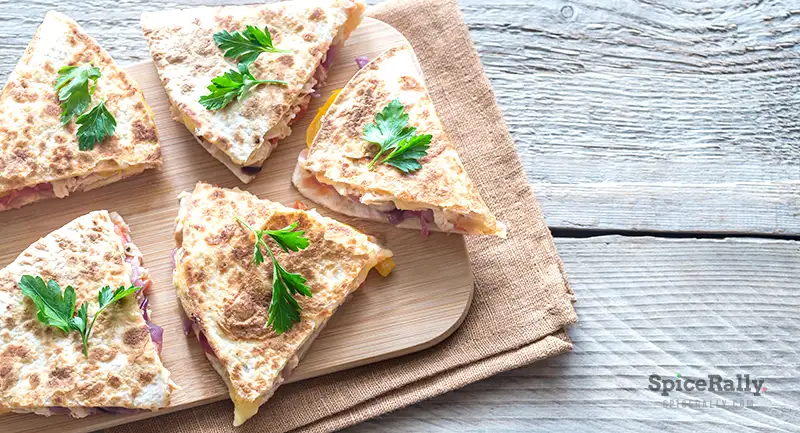 Most ones come together with a simple cheese filling or, most prominently, chicken, ground beef, seafood, pulled pork, and vegetable fillings. However, there are no standard or must-use quesadilla spices. 
But a set of general and mostly used flavorings plays a significant role in seasoning the ingredients used in their fillings. And that is what we will be focussing on from this section.
01 – Garlic
The unique pungency and the strong bite of this spice is undoubtedly a spotlight flavoring of this dish. Most of the time, garlic powder is used to season chicken or seafood that goes in the stuffing. And minced garlic often accompanies ground beef, vegetables, and sometimes even chicken.
02 – Onion Powder
Onion powder makes friends with most ingredients that go in the fillings. This spice is primarily found in non-veg quesadilla recipes like chicken and shrimp. Its distinctive sulfur-like hint with sweet, savory, and garlicky notes matches well with ingredients like garlic, meat, and seafood.
While these spices add flavor to quesadillas, many other spices are used in traditional Mexican cuisine. Click on this link and refer to our comprehensive post to learn the essential spices that define Mexican cooking.
03 – Black Pepper
Ground black pepper is often paired with salt as a seasoning. Freshly ground black pepper is simply used in most meat-based, seafood, and vegetable fillings in this food. Most of the time, its earthy, piney, and peppery flavor profile provide the perfect flavor support to chicken when seasoned.
If you ever need to learn about adaptability in life, you better watch how a quesadilla fixes with every filling that goes in it!

SpiceRally
04 – Cumin
Ground cumin is a prevalent spice in most quesadilla recipes. This spice is predominantly used to season chicken, beef, shrimp, and even vegetables that go into the fillings. Cumin holds a nutty, slightly sweet, and warm flavor that can particularly complement meat and seafood.
05 – Cayenne Pepper
This could tantalize your taste buds with a hot, fiery kick and a depth of flavor. Adding cayenne pepper is actually a personal choice, but we found many recipes with this spice. Cayenne pepper gets along well with meat and gives a subtle spiciness to the creaminess of the cheese.
06- Paprika
Sweet, smoked, or hot paprika varieties are typically used in many non-veg quesadilla recipes. The flavor it adds depends on the variety we use but any type of paprika would give a nice tone to the filling.
Herbs Used In Quesadilla
01 – Dried Oregano
Dried oregano is a leading addition to many recipes of this dish. Apparently, it is the only dried herb that we found in a majority of the recipes. Oregano is bold with a slight bitter-sweet, earthy flavor.
Did you know that dried oregano is also a key ingredient in Herbes de Provence mix? For more information, click here and read our article.
02 – Fresh Cilantro (Coriander Leaves)
Sometimes, fresh cilantro is used in fillings. Again, this is another personal choice for an extra punch of taste.
What Are The Other Ingredients Used In Quesadilla?
As stated before, the fillings of this dish can be made with anything on our appreciation. But, there are some staples used as the base. They are:
Corn of flour tortillas
Cheese ( Monterey Jack, Cheddar, Mozzarella, Oaxaca, Colby Jack)
Fillings can include:
Meat (chicken, pork, beef)
Seafood
Sausages
Vegetables
Sauces
Corn
Guacamole
Black beans
Tomato paste
Tomato
Salsa
Salt
Beef broth
Water
Butter
Oil
Quesadilla sauce is indeed a flavorful addition to this dish that you cannot resist. Want to know what it is made of? Click for our featured article on quesadilla sauce!
How Do You Spice Up A Cheese Quesadilla?
A cheese quesadilla is the most basic type that you can put together easily. Since no spices or herbs are typically used in a basic cheese quesadilla, you can find it a bit bland without many flavors. 
Therefore, we tried to find what you can do to spice up your regular cheese quesadilla. Some recipes suggest that you can use additional ingredients like:
Hot sauce
Taco seasoning
Onions
Jalapenos
Sour cream
Guacamole
Salsa
Green chilies
In addition to these suggestions, you can absolutely use anything you like that goes with cheese!
Grilled cheese is a cheesy loaded treat just like a quesadilla. To discover the best spices that can be used for grilled cheese, click here for our fully detailed feature.
What's In Taco Bell Quesadilla?
This is nothing about revealing trade secrets. But since many of you have this question, we conducted our broad research to find out what they really have in their quesadillas.
So, here's what we found from Taco Bell official website and other sources.
Type of tortilla they use
Flour tortillas
Main ingredients in the fillings
– A blend of three kinds of cheese
– Grilled chicken
– Steak
– Black beans
Dressings and sauces
– Sour cream
– Creamy Jalapeno sauce
– Chipotle sauce
– Nacho cheese sauce
– Spicy ranch
Other add-ons
– Seasoned rice
– Seasoned beef
– Guacamole
Ending With Your Favorite Mexican Delish…
Every bit of savor of this dish depends on the filling that goes in. And, in that case, spices have a significant part in flavoring the ingredients. 
So, as you just read on the top, quesadilla spices like Garlic, Onion powder, Cayenne pepper, Chili powder, Cumin powder, Black pepper, Dried oregano are generally used to season the meat, seafood, or vegetables used in the fillings.
So, what's your favorite type of quesadilla? Let us know in a comment down below!
Related Topics