Ranking among the top ten cuisines in the world, Mexican cuisine is ample, with delicious dishes that have mesmerized the world. So, in this article, we will share the essential Mexican spices that spike up their dishes.
The most commonly used Mexican spices include the following:
Cinnamon (canela)
Anise (anís)
Cloves (clavos de olor)
Vanilla (vainilla)
Chile peppers (chiles)
Allspice (pimienta de Jamaica)
Cumin (comino)
Annatto (achiote)
Paprika (pimenton)
Coriander seeds (semillas de cilantro)
Garlic powder (polvo de ajo)
Indulge in the goodness of Mexican spices; use this complete guide to help you with your dreamy Mexican dish that is full of flavor!
The Ultimate Guide To Mexican Spices- Refining The Art Of Mexican Cooking
Tacos, fajitas, enchiladas, pozole–the diversity of Mexican cuisine is simply unexplainably amazing! Traditional Mexican dishes habitually come with tons of flavors and aromas, while spices have a significant role to play in them.
They are the essence of Mexican foods incorporating various dishes and culinary approaches. Although endless variations and ingredients are used in Mexican cooking, almost any of the same spices are used constantly.
Owing to these spices and the medley of fragrances, colors, textures, and flavors, the history of Mexican cuisine has accomplished international recognition. Accordingly, UNESCO declared Mexican cooking an Intangible Heritage of Humanity in November 2010.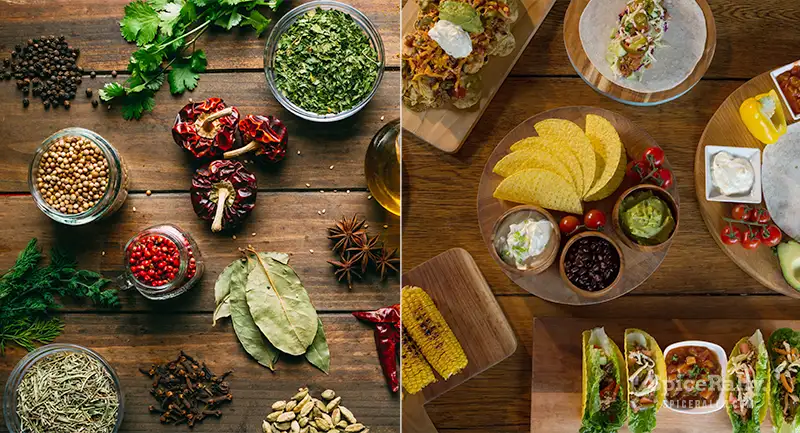 If you were ever wondering why you cannot get the same flavor in your homemade Mexican food as what you enjoyed in a Mexican restaurant, then there must be some issue with the spices you use.
Therefore, using these spices as a foundation, you'll be able to experiment and start making your own homemade Mexican spice mix to season the most classic tasting fajitas and traditional varieties of tacos, along with every type of beans, soup, chili, salsas, and many more!
01- Cinnamon (Canela)
The cinnamon mainly used in Mexican cuisine is called Ceylon cinnamon, or Canela in Spanish. And it is also known as true cinnamon, which is quite different from Cassia cinnamon used in the US.
Ceylon cinnamon has a woodsy, pleasantly sweet, warm taste with an almost floral aroma. It adds depth to many Mexican traditional recipes, such as:
Mexican Buñuelos
Pan de Canela (Cinnamon tea cakes)
Horchata (Cinnamon Rice Milk)
Mexican Atole (Warm Cornmeal Drink)
Mexican Churros
While cinnamon gives so much flavor and upgrades the quality of Mexican food, it also helps with the following health benefits:
Lowers diabetes
Reduces heart diseases
Fights against cancer cells
Rich in antioxidants and anti-inflammatory properties
Click here to discover and learn about Mexican herbs that give Mexican essence to their dishes.
02- Anise (anís)
Anise seed is also known as aniseed. This spice is the seed of the anise plant, which is native to Southwest Asia and the Eastern Mediterranean region. It has a licorice-like, fruity flavor with a tinge of a bitter taste. Anise seeds are incorporated into authentic Mexican foods such as:
Pan de anís
Buñuelos (Mexican Sugar Crisps with Anise Seed)
Mole Poblano
Molletes – Mexican Anise Seed Rolls
Pan de Polvo (Mexican shortbread cookies)
Biscochitos (Traditional New Mexican Cookies)
Rosquitas (Sweet Anise Ropes)
Polvorones de Nuez (Mexican Pecan Cookies)
With the distinctive flavor profile anise seeds add to the food, it also gives the following health benefits:
Reduce your risk of iron deficiency anemia
Reduce the symptoms of clinical depression
Could protect against stomach ulcers
Prevents growth of bacteria and fungi
Alleviates menopause symptoms
03- Cloves (Clavos de olor)
Commonly known as "clavos de olor" in Spanish, the distinctive peppery-sweet flavor of cloves adds richness across the Mexican food range. At the same time, its mildly astringent property adds an enjoyable mouthfeel.
But you should be careful since cloves are robust and can easily take over a dish if not properly balanced. This spice gives depth to traditional Mexican foods like:
Mole Poblano
Mexican Birria
Mexican Pozole
Capirotada (Mexican Bread Pudding)
Mexican Ponche
Café de Olla Recipe
Carnitas (Mexican Pork Confit)
Mexican Tinga de Pollo (Authentic Mexican Chicken)
Pozole Rojo (Mexican Pork and Hominy Stew)
Cloves can give the following health benefits as well:
High in antioxidants
It may help protect against cancer
Can kill bacteria
May improve liver health
It may help regulate blood sugar
04- Vanilla (Vainilla)
Vanilla is the pod of a flowering vine in the orchid family native to Mexico and South America. Its flavor is sweet and smoky. It is usually paired with cloves and cinnamon.
In Mexico, it is used broadly in desserts like cake, flan, and ice cream and also to make hot chocolate or flavor coffee. Occasionally, you can find it in savory dishes, especially in the Veracruz region. The traditional Mexican dishes with vanilla include the following:
Mexican Atole
Jericalla
Churros
Dulce de Leche
Sopapillas
Pineapple Empanadas
Mexican Sweet Bread (Conchas)
Mexican Sweet Corn Cake (Pastel De Elote)
Incredibly aromatic and flavorful gives the following health benefits as an added advantage:
Rich in antioxidants
Provides anti-inflammatory properties
May benefits in brain health
Reduce added sugar intake
Mexican rice is not so spicy. Yet it is one of the delicious staples in Mexican cuisine. Click on this link and follow up on this recipe to learn how to make an authentic version of Mexican rice.
05- Chile Peppers (Chiles)
Authentic Mexican food often comprises a large variety of fresh, dried, and powdered chile peppers. These chile peppers are of different heat levels.
But all of them add depth, giving a serious punch of flavor and vibrancy to whatever they are called for. Here are the mostly used types of chile peppers in this cuisine:
Guajillo chiles
Ancho
Serrano
Poblano
Mulato
Pasilla Negro
Cascabel
Pasilla de Oaxaca
Puya (Pulla)
Chipotle Meco
Chipotle Morita
Costeno Rojo
Chile de Arbol
Japones
Pequin
Chiltepin
Habanero
These chile peppers are used to make authentic Mexican dishes such as:
Enchilada sauces
Salsas
Chilaquiles
Moles
Tamal fillings
Tacos
Fajitas
Tinga
Chiles Rellenos (Stuffed Peppers)
By adding chile peppers to your diet, you can achieve the following health benefits:
Improves digestive health and metabolism
Alleviates migraines
It may reduce the risks of cancer
Fights fungal infections, colds, and flu
Provides joint pain relief
Fights inflammation
06- Allspice (Pimienta de Jamaica)
Allspice is the dried unripe fruit of the pimenta dioica tree, native to Southern Mexico, Central America, and the Caribbean. It has an exciting flavor combination of cinnamon, clove, and nutmeg.
Accordingly, the name allspice, can be paired with those same spices.  This spice is used mainly in Central and Southern Mexico. Following are the traditional Mexican recipes that contain allspice:
Mole sauce
Mexican rice
Picadillo
Birria tacos
Charred orange colada
This spice can give some fantastic health benefits such as:
Aids digestion
Contains anti-inflammatory properties
Boosts immunity
Rich in antioxidants
Aids in dental care
07- Cumin (Comino)
This seed has a robust flavor, described as earthy, pungent, warm, and hearty, with a bit of citrus. Cumin has the weight to stand up to other intense flavors but can also provoke surprisingly mild nuance from sweeter vegetables or bread. This spice is used in authentic Mexican dishes, namely:
Chili con carne
Burritos
Tacos
Fajitas
Chimichangas
Guacamole
Birria
Mexican salads
Mexican rice
Incorporate cumin to reap the following health benefits:
Has anticancer properties
It may help treat diarrhea
It helps control blood sugar
Fights bacteria and parasites
It has an anti-inflammatory effect
It may help lower cholesterol
08- Annatto (Achiote)
Achiote, known as annatto, gives a deep red color and a subtle earthy flavor to all sorts of Mexican dishes. You can find it in seed form, in a refined paste, or in blocks seasoned with other spices and vinegar, called recados. Some popular traditional Mexican dishes with annatto include the following:
Cochinita pibil
Tacos al pastor
Pollo asado
Chorizo
Pescado en Achiote
Annatto seeds are high in vitamin E and give the following health benefits when consumed regularly:
Protects skin cells
Improves digestion
Helps to manage diabetes
Strengthens bones
Reduces signs of aging
09- Paprika (Pimenton)
Paprika, especially smoked paprika is one of the most essential Mexican spices that gives a subtle flavor with a vibrant color to whatever it is added to. It helps to upgrade many Mexican dishes with a hint of smokiness and mild spiciness. Some of the traditional Mexican dishes that include paprika are as follows:
Tacos
Fajitas
Burritos
Mexican rice
Paella
Mexican-style chicken
Paprika also comes with a bunch of health benefits, such as:
Reducing the risk of cancer and heart diseases
Boosting immunity
Promoting healthy vision
Improving bad cholesterol levels
Treats autoimmune conditions
10- Coriander Seeds (Semillas de Cilantro)
This spice is the gently citrusy, nutty seed of the cilantro plant. Coriander is much less bold than cilantro since the citronellol compound that gives cilantro its assertive green flavor lacks in coriander seeds. It adds a warm, sweet, nutty flavor with an edge of citrus to many traditional Mexican dishes such as:
Salsa
Mole sauce
Escabeche
Tacos
Fajitas
Cochinita Pibil
Coriander seeds can give the following health benefits when consumed regularly:
Help to lower blood sugar
Rich in antioxidants
Beneficial for heart health
Protects brain health
Promotes digestion and gut health
11- Garlic powder (Polvo de ajo)
The assertive, pungent, and sharp flavor of garlic powder is one of the most-wanted flavors in Mexican cuisine. This ingredient is often used hand-in-hand with onion powder.
However, Mexican cooking contains fresh garlic as well, but garlic powder comes with more versatility to be included in a variety of dishes, including spice mixtures and seasoning blends. Some of the authentic Mexican recipes with garlic powder include:
Tacos
Enchiladas
Burritos
Fajitas
Mexican rice
Carne Asada dry rub
With its bold flavor and aroma, garlic also gives tons of health benefits such as:
Boosting immunity
Reducing high blood pressure and harmful cholesterol levels
Aids in weight loss
It contains antibacterial and antifungal properties
Help to prevent cancer
Popular Mexican Spice Mixtures And Seasoning Blends
Mexican chefs and homemakers are pretty enthusiastic about flavoring their dishes with spice mixtures and seasoning blends rather than using spices alone. These combinations are the key to the most flavorful authentic Mexican dishes.
And they are very versatile in terms of usage, flavor, texture, and aroma. So, here are some popularly known spice blends and seasoning mixtures that come from Mexican gastronomy:
Taco seasoning
Fajita seasoning
Burrito seasoning
Mexican spice mix
Tajin seasoning
Quesadilla seasoning
Chipotle seasoning
Guacamole seasoning
Sazon seasoning
Adobo seasoning
How Do Mexican Spices Pair With Other Ingredients?
The secret of the palatability of Mexican dishes that require spices depends on how they are mixed and matched with complementary ingredients.
The best type of ingredients to fit almost every spice are herbs. Like the list of symbolic spices we have listed above, a few herbs are iconic to Mexican cooking. You can learn about those herbs and how they are used in Mexican cuisine if you click this link and refer to this post.
In addition to the herbs, there are more ingredients you should be pairing with the spices to create magical recipes. On that note, you can refer to the table below.
Spice
Ingredients that go well
Cinnamon (canela)
Apples, pears, apricots, blueberries, almonds, chicken, squash, citrus fruits, milk, chocolate, coffee, sweeteners
Anise (anís)
Coconut, citrus fruits, melon, raisins, almonds, powdered sugar, eggs, cooking wine, chicken, oils, flour, milk
Cloves (clavos de olor)
Apples, beets, red cabbage, ham, pork, pumpkin, squashes, sweet potato, chicken, oranges, onions, bell peppers, sweet potatoes, pumpkin, sweeteners
Vanilla (vainilla)
Mango, pineapple, coconut, chocolate, coffee, milk, cherries, berries, figs, syrups, pumpkin seeds, pecans, peanuts, walnuts, caramel, honey
Chile peppers (chiles)
Any type of meat and seafood, eggs, poultry, tomatoes, tomatillos, avocado, cheeses, pasta, butter
Allspice (pimienta de Jamaica)
Sweet potatoes, squash, apples, berries, apricot, milk, butter, shallots, flour, eggs, ham, plums, pork, beef
Cumin (comino)
Apples, beans, beef, chickpeas, couscous,
eggplants, lentils, potatoes, rice, squash, tomatoes, onions, chicken, beef, seafood

Annatto (achiote)
Grains, legumes, chicken, pork, turkey, savory sauces, rice, poultry, onion, corn, vinegar, citrus fruits, Worcestershire sauce, cheeses
Paprika (pimenton)
Sausages, potatoes, cream sauces, eggs, chicken, pork, beef, pineapple, cantaloupe, avocados, bell peppers, onions, seafood
Coriander seeds (semillas de cilantro)
Apples, beef, chicken, citrus fruit, eggs, ham,
lentils, onions, plums, pork, potatoes, cabbage, broccoli, mushrooms, coconut, avocado, cauliflower, seafood
Garlic powder (polvo de ajo)
Beans, beef, pork, chicken, lamb, seafood, cheeses, bell pepper, potatoes, sweet potatoes, tomatoes, oil, butter
What Are The Traditional Mexican Spices?
The characteristic flavor, distinctive aroma, and vibrancy of most Mexican dishes usually come from the traditional spices used in them. Out of the 11 spices we have discussed above, some elements help to bring out the exotic flavor, texture, and aroma combination of their authentic dishes. These spices are as follows:
Chile peppers
Annatto seeds and paste
Anise seeds
Coriander seeds
Cumin seeds
Garlic powder
Allspice
Vanilla
Smoked paprika
Cloves
Mexican Spices Literally Open A Gateway To A Heaven Of Vibrant And Flavorful Food!
Mexico ranks as the fourth most megadiverse country, which has a ton of spices that authentic cooks have utilized for centuries. A guiding code across regions and centuries has been to take uncomplicated, local ingredients and develop as much flavor as possible. Thus, spices like cumin, cinnamon, coriander seeds, chile peppers, garlic powder, etc., are commonly used in almost every traditional Mexican recipe that requires a zesty touch!
Related Topics