The dynamic flavor profile of pizza seasoning enlivens many dishes we enjoy daily without confining only to pizzas. In fact, not having it in hand can be a bit bothersome. Therefore, we thought of tackling the five best pizza seasoning substitutes that you can easily find around.
The best alternatives that could replicate the flavor of pizza seasoning include:
Hence, if you were ever worried about not having this seasoning mix in your pantry to be added to any of your dishes, check out the list below and pick the most convenient one for you!
The 5 Best Pizza Seasoning Substitutes That Will Always Come To Your Rescue!
Pizza seasoning can be considered one of the most versatile, among the many seasoning mixtures you have on your spice rack. And it typically comes together with ingredients such as:
Red pepper flakes
Onion powder/flakes
Fennel seeds
Oregano
Basil
Thyme
Rosemary
Parsley
Marjoram
Salt
The flavor profile of this seasoning blend is pretty myriad. Thus, a few other seasoning blends with comparable flavor profiles could be found to mimic the flavor of pizza seasoning.
However, a majority of these options do not typically contain salt. Therefore, you get the efficacy to control the amount of salt that goes into your dish. So, refer to the section below and see how you could use these pizza seasoning substitutes effectively.
01- Italian Seasoning
If you ever run out of pizza seasoning and need to find the closest flavor replication, Italian seasoning would be your best bet! With the same origin, these two seasoning blends are like siblings who share the same family bond.
Italian seasoning shares a similar set of ingredients with our topic leader, such as:
Thyme
Oregano
Rosemary
Basil
Marjoram
However, this option does not typically contain spices like red pepper flakes, onion powder, black pepper, fennel seeds, etc. Therefore, if you need a better flavor approximation, it would be best to throw in a dash of red chili flakes and garlic powder (if required).
Consequently, you can use Italian seasoning with pizzas, sauces, gravies, on top of garlic bread, and many other dishes that call for pizza seasoning. You can use this in a 1:1 ratio or a little more or less according to your taste preference.
Although Italian seasoning works best as a substitute for pizza seasoning, they have some significant differences that you need to know. So, we are ready to share our knowledge with you- just click here and refer to this article.
02- Poultry Seasoning
Poultry seasoning is another flavorful blend of spices and herbs that can be easily found around. And it will give a similar taste to our topic leader since it contains the same elements like:
Thyme
Rosemary
Ground black pepper
Marjoram
Poultry seasoning may also include additional ingredients like nutmeg, coriander, and sage. And, since it does not contain any hot elements, you may want to adjust the flavor by adding some red pepper flakes.
This option goes as a better replacement for sauces, gravies, meat, and roasted vegetable dishes. It would help if you start with a small amount and proceed until you get the desired taste.
I would rather fall in love with Pizza than a human because Pizza never hurts!

SpiceRally
03- Herbes de Provence
Herbes de Provence is a blend of aromatic herbs and can undoubtedly counterpart the herbal undertone of pizza seasoning. It shares ingredients such as:
Basil
Oregano
Marjoram
Thyme
Rosemary
Parsely
Fennel seeds
But, it does not typically contain spices like garlic powder, onion powder, red pepper flakes, and black pepper. Therefore, you may need to incorporate at least one or two of them additionally in order to get a closer flavor.
Nevertheless, this is indeed an excellent substitute to be used in pizzas, salad dressings, slow-simmering sauces, and bread doughs. Use in a 1:1 ratio or adjust the amount according to your taste preference.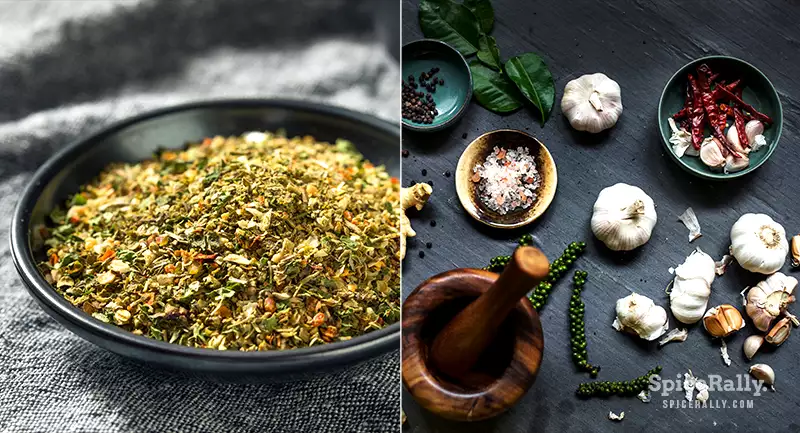 04- Greek Seasoning
Greek seasoning is another easily accessible option that you could get from most stores and supermarkets when pizza seasoning is not around. This replacement contains a set of similar ingredients such as:
Garlic powder
Black pepper
Onion powder
Thyme
Oregano
Parsley
Marjoram
Salt
In addition to these elements, Greek seasoning may also include nutmeg, cinnamon, and dill weed. Thus, you will savor a slight intensity in flavor than our topic leader.
But still, it is good to go as a great substitute in many dishes like sauces, meat dishes, roasted vegetables, soups, etc. We suggest you begin with a small amount and adjust the taste if you feel like adding more or less.
05- Homemade Pizza Seasoning
If you are not comfortable with either option we have mentioned on our list, the next best thing is to make your own batch of pizza seasoning at home! In fact, it is an effortless recipe that could be put together with readily available ingredients in your spice cupboard.
To help you with a simple recipe, we have shared an easy step-by-step guide right in this article. Click on this link and check it out!
Winding Up With The Best Pizza Seasoning Substitutes…
As you see, if you run out of pizza seasoning at home, you don't have to worry ever again! Substitutes like Italian seasoning, poultry seasoning, Herbes de Provence, Greek seasoning, etc., will definitely come to your rescue!
Related Topics