Japanese curry powder is one of the most versatile ingredients in oriental cuisine. But what if you can't find it around? In that case, we've got you covered with the best Japanese curry powder substitutes.
The alternative that can work effectively in place of Japanese curry powder includes the following:
Throughout the rest of this article, we wish to show you how to use these substitutes and incorporate them into your dishes.
The Best 09 Japanese Curry Powder Substitutes
Packed with savoriness, Japanese curry powder is usually recognized as a not-so-hot type of curry powder. It is aromatic, spicy, earthy, warm yet mild, and less intense than other kinds of curry powder used worldwide. Japanese curry powder typically comes together with ingredients such as:
Turmeric

Coriander seeds

Cumin seeds

Fenugreek seeds

Ground ginger

Cloves

Cinnamon

Black pepper

Cardamom

Star anise

Nutmeg

Cayenne pepper powder

Fennel seeds

Dried mandarin/ orange peel

Bay leaves

Sage

Thyme
Some variants contain additional ingredients and come with or without salt. However this spice blend is nothing new to Japanese cuisine, but sometimes you might have trouble finding it outside Japan.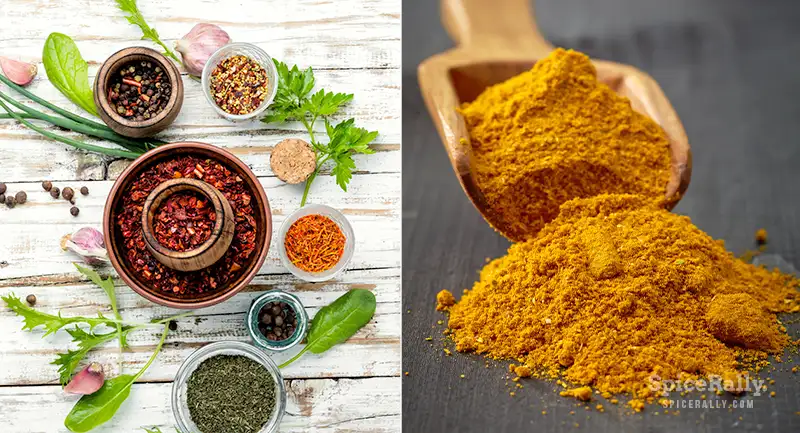 That being said, we hope to educate you with possible alternatives you can use in place of Japanese curry powder if you can't find it or run short of it.
01- Homemade Japanese Curry Powder
A DIY blend of basic ingredients used in Japanese curry powder is the best option if you need to have the exact flavor and effect you get from any shop-bought variants. This curry powder is not a challenging combination to put together on your own at home when you have the right ingredients.
Once you prepare it, you are good to go with it in anything that calls for the original blend. All the ingredients used in store-bought options are not necessary- you can follow up with the basic elements and make a fresh batch within a very short time.
So, if you're looking for a place to get started, we have shared a simple and delicious recipe right in this article. Do not miss to check it out!
02- Japanese Curry Roux Cubes
Curry roux cubes typically come in packets and are very familiar to Japanese cuisine since they commonly use this ingredient as much as curry powder. The main thing you should remember when using these roux blocks is that they come with less versatility than our topic leader.
They are different in texture, and Japanese curry powder is used as one ingredient when making these curry roux cubes. In addition, they usually contain extra ingredients such as wheat flour, oil, sugar, and other seasonings, preservatives, etc.
Due to this reason, the versatility of this substitute is limited to Japanese curry, curry rice, and curry noodles. The usage instructions are usually given on the packaging. Therefore, you can adjust the amounts accordingly if you wish to count curry roux cubes.
03- Curry Powder Used In Western Cuisine
The curry powder variant used across Western cuisine is one of the most easily accessible options you can use instead of Japanese curry powder. If you live outside of Japan, this curry powder variant will come to your help with a similar effect to our topic leader.
This option shares a lot of similar ingredients but does not contain dried mandarin/orange peel, dried sage, or thyme, as you get in the original product. And it might also have additional spices, such as mustard seeds and curry leaves.
But still, this is good to go with any dish that initially calls for Japanese curry powder. Thus, you can go for a 1:1 ratio or start with a small quantity and adjust accordingly as you build up the taste.
04- Indian Or Madras Curry Powder
This is another possible option you can use if you can't find or run short of our topic leader, which can be compared in terms of flavor and texture. But you should thoroughly remember that Indian or Madras curry powder can be spicier and hotter, depending on the proportions of the ingredients used in each variant.
Therefore, since Japanese curry powder is generally considered a milder spice blend, some might find this option too intense for their palate. So, it is essential to choose wisely and use it accordingly. 
Indian or Madras curry powder shares the same ingredients but typically does not contain dried mandarin peel or dried thyme and sage. This will, however, make a delicious, spicier twist to your classic Japanese curries. It is always thoughtful to start with a small amount and adjust the amounts as you go.
05- Garam Masala
Garam Masala is a ubiquitous spice blend used in a wide variety of dishes. The ingredients used in this option can range up to 100 different elements, depending on the variant. Hence, you can enjoy a similar flavor and texture to that of our topic leader.
However, Garam Masala contains less ground turmeric than Japanese curry powder. And you will also not find dried mandarin peel or herbs like thyme or sage. Nevertheless, Garam Masala is fortified with the goodness of other fundamental ingredients used in Japanese curry powder.
You can use this option with any recipe that originally requires our topic leader. Since this is an Indian blend, sometimes you might find it a bit spicier, so it is better to start moderately and then adjust the quantity according to your preference.
Follow up on this link and read our informative article on Japanese curry powder and its ingredients to discover why it stands out from the rest of the spice blends!
06- Thai Curry Powder
Ground turmeric, featuring as the base Thai curry powder, is another type of simple curry powder you can use in place of our subject leader. This option typically contains a minimal amount of ingredients but shares some similar elements, such as:
Coriander

Cumin

Ground ginger

Red chiles

Ground cinnamon

Ground nutmeg
Its flavor profile is not as complicated as Japanese curry powder and often lacks the citrusy profile and herbal undertones. Therefore, Thai curry powder imparts a milder flavor than of our topic leader.
But still, this is good to go with anything that first called for Japanese curry powder, yet you will have to make some adjustments to get a better flavor approximation. Consequently, use Thai curry powder in a 1:1 ratio or a little more, depending on how spicy and deep the flavor you want it to be.
07- Chinese Curry Mix
While you are grocery shopping for Japanese curry powder and can't find it but still come across something called "Chinese Curry Mix," you shouldn't think about it twice!
This option contains the oriental flavors you expect to have from Japanese curry powder and is ideal when making curries, curry rice, curry roux, or curry udon. Chances are high for it to include other ingredients such as thickening agents, added MSG, oils, other preservatives, and spices.
But still, you can always count on this as a secondary option if you can't get hold of our topic leader by any means. This option will adorn your dishes with a nice depth of flavor– use according to the package instructions or adjust the amount depending on your palate.
08- A Mixture Of Turmeric, Coriander, Cumin, And Fenugreek
Let us enlighten you with something easy-peasy when you don't have time to run to the store or have no spice blend to help you replicate the taste of Japanese curry powder.
You can take equal parts of ground turmeric, coriander powder, ground cumin, and ground fenugreek, dry-roast them over low heat until aromatic, and then use the mixture as a substitute for our topic leader. These basic ingredients typically come in Japanese curry powder, so it'll help you considerably.
This combination is not the ideal option when you need to make traditional Japanese curry. But still, this is good to go in place of the original blend in the recipes that calls for it as a secondary ingredient.
09- Sambar Powder
Sambar powder is a flavorful spice blend widely used in South Indian cuisine. This option shares some similar elements with our topic leader, such as:
Coriander

Cumin

Fenugreek seeds

Turmeric powder

Black pepper

Red chiles
In addition to these ingredients, sambar powder also contains roasted and ground lentils such as chana dal, urad dal, and toor dal.
This combination will give your curries, soups, and stews a pleasant depth. We do not recommend this option as a substitute for traditional Japanese curries.
But you can count on this when you need to give a touch of curry flavor to certain rice dishes, gravies, sauces, snacks, etc. Sambar powder is not an overpowering spice blend. Thus, you can always start with a small amount and adjust the amount accordingly.
Packing Up With The Best Japanese Curry Powder Substitutes…
It is essential to understand the characteristics of each spice blend we use so that we learn how to choose a proper substitute to replicate its effect. So, in this article, we discussed all the possible and most effective alternatives you could use whenever Japanese curry powder is not around.
Fortunately, you could count on several ready-made, readily available substitutes such as Japanese curry roux cubes, Indian curry powder, Garam Masala, etc. At the same time, a homemade blend of Japanese curry powder will help you, giving you a similar effect to the original product.
Related Topics