A flavorful spice blend is key to coming up with various delicious dishes, breaking the blandness in your cuisine. Let's check out some fantastic ways to use Japanese curry powder in daily cooking.
Apart from the traditional methods, Japanese curry powder can be used in the following ways:
Read along to learn what wonders this spice blend can create in your kitchen to make tasty meals for your entire family!
7 Amazing Ways To Use Japanese Curry Powder
It is indeed a blessing to have a versatile spice blend in your spice rack so that you can come out with a different dish each day. Japanese curry powder combines flavorful and aromatic spices and herbs blended with a few other elements.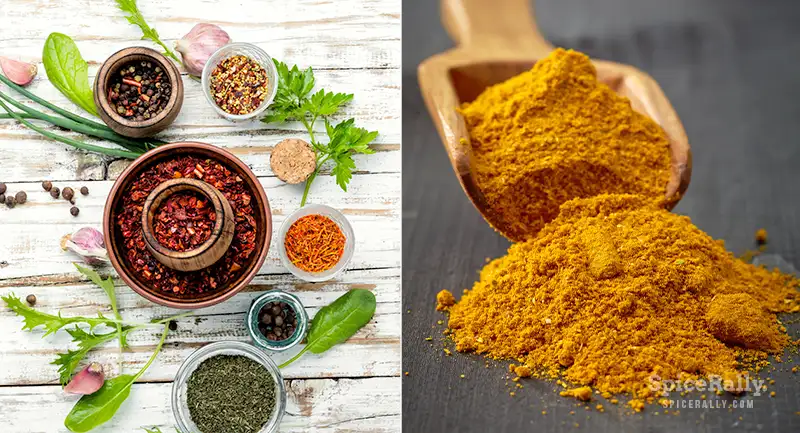 This ingredient can add a characteristic, bold Asian twist to your meals with an exotic curry flavor. Japanese curry powder comes together with many components, so it has a bit of a complex flavor profile yet with mild and hearty touches.
This spice blend is widely and commonly used in Japanese cuisine to make curries, curry rice, curry noodles (curry Udon), and curry roux. While you can bring these dishes into your home, you can also try a few more unconventional ways to use this curry powder in a genius manner. So, let's discuss what they are!
01- To Toss With Roasted Vegetables
Let us start with one of the simplest ways to use Japanese curry powder. Roast your vegetables just as you do and toss them with a dash of this spice blend while they are warm and crispy to do the magic!
Vegetables like cauliflower, potatoes, carrots, green beans, onions, and bell peppers pair well with the taste of our topic leader. The citrus peel powder included in this mixture will give the perfect tart zing to your veggies, while you can follow up with some salt and black pepper if desired!
Depending on your preference, you could also try this with grilled, baked, or air-fried vegetables. Make the real twist with your next batch of vegetables to surprise your loved ones with a mystical Asian touch!
02- It Spices Up Snacks Like Fries, Chips, Popcorn, Etc.
Snacks become our ultimate comfort food wherever we need to fix our mood. So, with a jar of Japanese curry powder in hand, your snack no longer has to be ordinary! You can toss this spice mixture with ready-to-eat snacks you buy from the store to make them better.
Or else, season your chips and fries, or use this curry blend as the base of your corn kernels if you pop them on your own. Pair our topic leader with olive oil, butter, or margarine to create the foundation flavor, followed up with extra ingredients like garlic powder, onion powder, dried oregano, parsley, etc. Give a tweak to roasted nuts and seeds, or jazz up any savory trail mixture!
03- It Adds Depth To Soups And Stews
Have you ever tried curry powder in your regular soup or stew? If not, we bet that Japanese curry powder is a great place to start! Make a hearty, cozy bowl of soup or slow-cooked stew with this spice blend.
Use this with a source of fat, such as oil or butter, to build up the base for your soups. Or add it to your stew to give an incredible depth of flavor. The ingredients used in this curry powder go well with any meat, seafood, or vegetable.
Thus, it comes in handy with super versatility to pair with any creamy and rich soup or stew. The curry flavor of our topic leader complements the creaminess of coconut milk or cream, and it will give amazing results if you use this with well-spiced recipes.
04- To Incorporate As A Base For Marinades And Rubs
Mixing into marinades and rubs is another effective way to use Japanese curry powder. This is also one of the simplest ways to give your chicken, steak, fish, shrimp, and even tofu the desired Asian curry kick in a matter of a few minutes.
Mix this spice blend with Greek yogurt or curd to create a delicious, thick marinade for chicken when making rice dishes like biryani. You can do the same with fish, mutton, lamb, and beef.
Moreover, you can also incorporate this with liquids like vinegar, soy sauce, fish sauce, or olive oil to make a lighter marinade. In addition, Japanese curry powder can also work wonderfully as a dry or a wet rub when you need to make your fried, roasted, grilled, or baked recipes.
Did you know that most variants of Japanese curry powder even contain some unexpected ingredients like dried seaweed and dried mandarin peel? Click on this link and refer to our comprehensive article to learn more about this flavorful spice blend and its ingredients.
05- It Amps Up Savory Batters And Doughs
Introduce a unique flavor dimension to your savory batters and dough mixtures with our topic leader. Stir this curry powder into your pancake batter to coat chicken, shrimp, and fish.
Or knead it into your savory dough when you need to make an upgraded version of savory pies, pastries, flatbread, or burgers. While it gives an intensified flavor, it also offers a beautiful color to your batter mixtures and doughs.
06- It Can Spice Up Pasta And Spaghetti Dishes
Are you bored of making classic creamy pasta or spaghetti recipes? Why don't you try some curry powder in them to make a subtle yet scrumptious tweak? You don't have to create new recipes; Japanese curry powder can take traditional pasta or spaghetti recipes to a whole new level.
Pair this spice blend with cream, cheese, tomato paste, sauce, fresh herbs, and spices to get an incredibly flavorful dish. Try curried spaghetti or pasta on your next weeknight meal, and let us know how your family loved the new change you made!
07- To Flavor Up Sauces, Dips, And Gravies
Japanese curry powder is a great way to upgrade your sauces, dips, and gravies. It gives them a profundity of flavor through the warmth, savoriness, and spiciness of the ingredients used in this blend.
Mix with mayonnaise, greek yogurt, sour cream, or cream cheese to whip up a decadent dip. Or else, stir it into your classic sauces or make a curry sauce or gravy to go with Naan bread, plain rice, couscous, etc.
Sprinkle some Japanese curry powder onto your ketchup and enjoy it with your fries or potato wedges. This spice blend is so versatile that you can add more or less to make anything better per your preference!
Reasons Are Endless To Reserve A Place For Japanese Curry Powder In Your Cuisine!
As you see, the exciting and intriguing flavor profile of Japanese curry powder can make a remarkable difference in your ordinary dinner table. Its earthy, warm, sweetly spicy, and tangy flavor elements can give a mysterious Asian kick to a variety of dishes apart from regular curries.
So, what is your favorite way of trying out this spice blend? Is it with soup, a stew, vegetables, pasta, or spaghetti? Let us know in the comments below so we feel we have enlightened you about something important!
Related Topics